WMTW 032: Mike O'Hagan – Mini Movers Marketing and Philippines Outsourcing
Podcast: Play in new window | Download
Subscribe: RSS
Updated on January 4th, 2017
""I have lots of crazy ideas and then test them as cheaply as possible" Mike O'Hagan (Tweet this)
The guest today is Founder and CEO of Mini Movers, Mike O'Hagan.
Mike started Mini Movers 27 years ago with $200 and a single ute into an award winning business that turns over $23 million today. He has never lifted a piece of furniture in his life. He's a huge systems guy and a massive fan of experimentation and measurement.
Mike has also built a reputation for international outsourcing over the last few years and now runs regular trips to Manila in the Philippines to help business owners understand the details of Business Process Outsourcing.
He's been a friend and mentor over the years to our business and an incredible online marketer.
Enjoy the show!
Show notes:
Founder of Mini Movers – 27 years ago
Earn a crap load of money for himself and his family
Always worked on the business not in it
"Test, measure and duplicate" – one of Mike's favourite concepts of business
"Test, measure and duplicate" Mike O'Hagan (tweet this)
"I invented Mini Movers so I could choose how I spend my time."
Running – 6-8 business.
During GFC had too many eggs in one basket – that basket might be Australia
Other businesses: lead generation, deep sea diving lights out of China.
Enjoy the game of business
Lots and lots of crazy ideas
Test them as cheaply as possible.
Doesn't forward plan
Wants a lifestyle with big houses and jets
Doesn't like to guess
World is changing
Buy things, sell things, now employ anywhere in the world.
World's Best Value – any one can get the products from anywhere and sell them anywhere.
As long as you are sourcing products and manufacturing at the best prices in the world, the business will always be very viable.
Australian businesses are world competitive.
Mike's Manila Business Tours:
Used Philippines to save Mini Movers – outsourced administration and marketing
60% reduction in market size
Mentorees were keen to learn more
every 2-3 weeks
"I believe you can learn entrepreneurship."
Mini Movers' web marketing journey:
2007 – spending $1.3M in the yellow pages and generating 18 million in business
Started building websites all over the place – hundreds
Access to dataminers in the Philippines
Allows them to find people thinking about moving
Cross checking databases
Phone, email, mail
Web developers
Marketing Team
30 people
Back office process
Last year $19,000 in yellow pages
1.2 M people servicing businesses
Supports growth of business and therefore creating Australian jobs
Outsourcing in the Philippines:
Extremely good at following processes
Over expectation of what people will get
Cultural differences inhibit innovation across cultures
Expat on top, Filipino managing Filipino works well
2 expats
7 different ways of outsourcing
Seat leasing – ramp up or ramp down
Learn to deal with cultures
Voice has worked really well
Accent is not an issue
Improve what we do with our customers – increased contact and organised and confirmed
Security is not an issue
Americanism is his biggest challenge
What's next:
The future of Australia is through entrepreneurs
Embrace globalisation
Learn from:
Connect:
Email – mike [at] ohagan.com.au
Linkedin
Did you like this podcast?
If you liked this podcast, please click to tweet this show >>
Review & Subscribe
If you have a second, we would really appreciate it if you leave us a review on iTunes (or Stitcher)! It really helps us to keep getting great guests on the show. Leave a review on either:
Bonus 33 Free Templates
Download the 33 free templates (11.2 MB – zip file) from our new book.
Or order the book online: Web Marketing That Works: Confessions from the Marketing Trenches (Wiley 2014).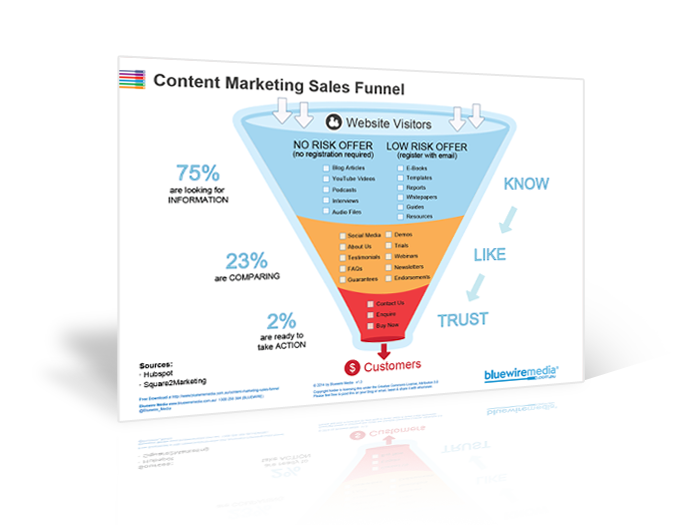 Content Marketing Sales Funnel
Your content marketing sales funnel is all about getting people to know, like and trust you by nurturing them with the right information at the right time.