WMTW 033: Keith Ferrazzi – The Critical Importance of Deep Relationships in a Digital World
Podcast: Play in new window | Download
Subscribe: RSS
Updated on February 20th, 2015
I believe that relationships are the most important factor in a person's happiness and Keith Ferrazzi's book, Never Eat Alone, has been a huge influence on me. Much more than just another business and marketing book, Never Eat Alone was the inspiration behind our Aspirational Contacts Template that we've used to get in touch with people who we admire, helped me with my personal relationships and has inspired many a dinner at my home.
NEA has been updated to reflect the changes that technologies like social media have had on the world of relationships so I invited Keith on the show to share his insights – the elements that have changed, and the foundational principles that have not.
In a world flooded with superficial contacts, I can't recommend this book highly enough.
I hope you enjoy the show.
>Subscribe on iTunes
>Subscribe on Stitcher
If you have a second, we would really appreciate it if you leave us a review on iTunes (or Stitcher). It really helps us to keep getting great guests on the show.
>Download the 33 free web marketing templates
Show Notes:
Criticality of relationships:
Wanted to teach others how to build those relationships
World has changed over the last 10 years:
Technology has changed but the principles are the same
Lead with generosity
Accountability
Beth Comstock:
One of the best followings on LinkedIn
Because she is so authentic
People lean in
Technology has been used as an excuse and a crutch
Aspirational Contacts:
Reaching out and being curious
"Asking good questions because you give a damn about the answers is something that's rare and valued."
Taking a point of view and sharing it with others is always valued
Long Slow Dinners:
Less and less time sinking in and cultivating those long slow dinners
Very very important and very very valuable because it's so rare
How do you systemise it in your own life:
Look aheads – who will I eat with when I get there?
Planning for relationships
Relationship action plan
Lost art to be this purposeful, this process oriented about relationships
Got to be planned and got to be purposeful
Relationship action planning:
All your goals and dreams there will be relationships that will be critical
Write them down
Be clear
Prioritise these relationships
Squeamish? We do this all the time eg with our kids vs the neighbors kids.
Why would these people want to spend time with you?
What are going to be the reasons?
Reach out with generosity and authentic kindness
When you show up, be your authentic self
Connect with Keith:
Did you like this podcast?
If you liked this podcast, please click to tweet this show >>
Review & Subscribe>
We would love you to subscribe to Web Marketing That Works and please leave your honest reviews via:
Bonus 33 Free Templates
Download the 33 free templates (11.2 MB – zip file) from our new book.
Or order the book online: Web Marketing That Works: Confessions from the Marketing Trenches (Wiley 2014).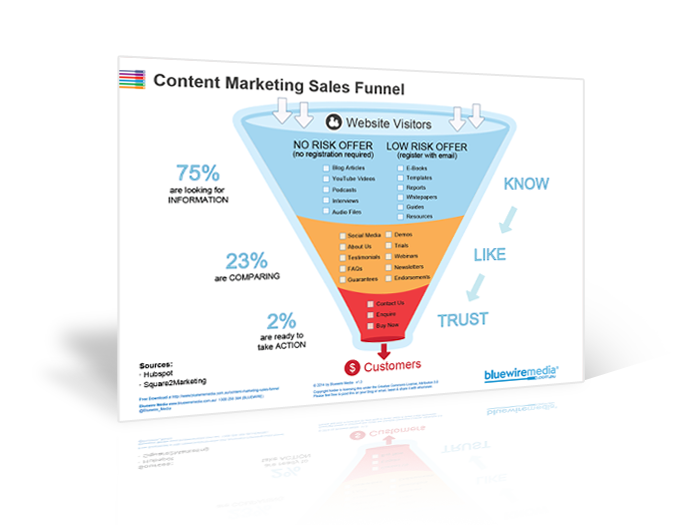 Content Marketing Sales Funnel
Your content marketing sales funnel is all about getting people to know, like and trust you by nurturing them with the right information at the right time.