WMTW 036: Podcasting lessons from our first 10,000 downloads
Podcast: Play in new window | Download
Subscribe: RSS
Updated on February 20th, 2015
Show notes
After 2 months, 35 shows, 10,000 downloads and what we suspect will be our last few days on iTunes' News and Noteworthy, Toby and I decided to reflect on what went well and what we've from our mistakes!
We discuss the tremendous help that John Lee Dumas and Dan Norris provided in the pre-launch phase as I got my head around all the technical components of setting up a podcast. John's book Podcast Launch was the best $2.99 I've spent on Kindle (it's now free at this link).  It covered all the technical parts, and came with 15 tutorial videos.  And Dan was brilliant with help on the phone evert now and again!
And also the luck of deciding to listen to Mike Stelzner's podcast chat with Brian Clark and Chris Ducker where I discovered why Podcasts Are Hot New Way to Launch a Product that I should launch the podcast before the book to help.
We followed John's launch strategy of getting a stockpile of shows ready before we launched, so we could have plenty of shows for people to listen to.
We decided to include CTAs (calls to action) in the intro and outro chat of each show so we also helped our greater marketing efforts by growing our subscriber list.
As for the types of show and its duration, we've tried long format interviews (50mins+) and short sharp, one-person podcasts (14 mins).  Both are enjoyable and have their merits.
Mistakes:  As Toby will say, the active listening noises, like "Hmm" "Hmm"  doesn't work very well on podcasts and he says it sounds as though he is mooing like cow!  Plus my mic settings have been a bit off on a few shows, plus its hard with background noise like leaf blowers, traffic on Bondi Road and renovations next door!
Subscribe
We would love you to subscribe to Web Marketing That Works via:
Stitcher radio
iTunes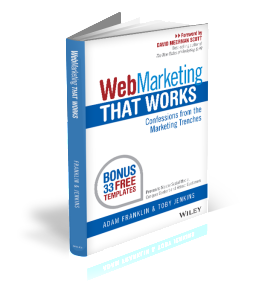 SoundCloud

Bonus 33 Free Templates
Download the 33 free templates (11.2 MB – zip file) from our new book.
Or order the book online: Web Marketing That Works: Confessions from the Marketing Trenches (Wiley 2014).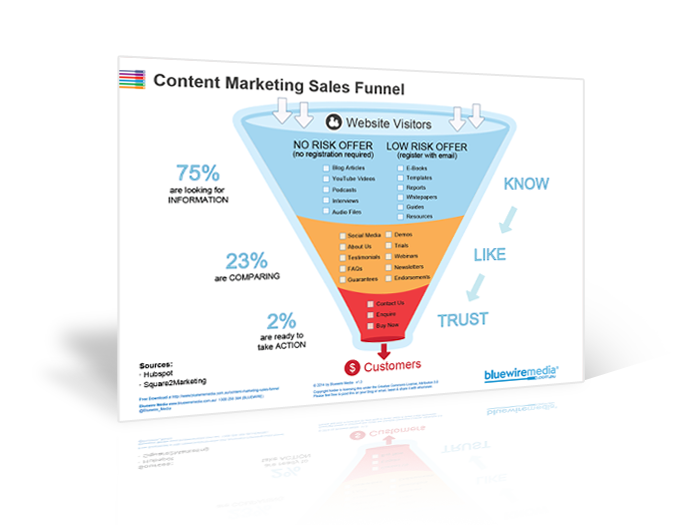 Content Marketing Sales Funnel
Your content marketing sales funnel is all about getting people to know, like and trust you by nurturing them with the right information at the right time.