WMTW 037: KPI's Glen Carlson on using partnerships to reach $1m profit
Podcast: Play in new window | Download
Subscribe: RSS
Updated on February 18th, 2015
Glen Carlson is best known as the co-founder of the Key Person of Influence program which is now in 7 cities.

"The a-ha moment was realising that income follows assets" Glen Carlson (Tweet this)
Show notes
Marketing philosophy
Sell yourself first. As in: ask yourself would I buy this?
"95% of our business comes through partnerships"
Glen spoke about partnerships in this artice: How to make your first million – The Age
A-ha moment
"Income follows assets". Intellectual property (IP) holds more value than plant and machinery. A database of customers is an asset, a business framework or methodology is an asset, contractual assets, a book is an asset. Something that creates more value without the creator of that asset needing to do anything extra.
Once Glen changed the focus from sales and marketing (a treadmill) to building as asset, the game changed!
The good: What's worked well?
Partnerships!
The bad: What's not worked well?
Getting too clever with his marketing.
The ugly: any shockers?
Paying for advertising does not frickin work!
Advice for people starting out
Focus on the value proposition of your product, not your product. Sell it before you make it. For example, Richard Branson sold $60m worth of airfares before he even bought a plane. You need to validate your business's value proposition before you invest your money in a product!
What brings you the most joy?
Asking questions of his audience.  Glen talks about this particular poster that he emailed to his subscribers which got hundreds of replies.

Who do you learn from?
James Tuckerman from Anthill magazine suggested that Glen use his "thank you" pages more effectively to make another offer.  So after someone's bought a ticket to his event, Glen added a call-to-action where you could get an audio version of the KPI book if you shared the event on social media.  This led to a 90 per cent share rate!
Connect with Glen
Key Person Of Influence
glen[at]keypersonofinfluence.com.au
Come to the Key Person of Influence event
If you click through these links below, they will unlock a 40% discount for you. Plus you'll get 2 books as well.
26 July in Sydney
15 August in Melbourne
5 September in Brisbane
Tickets are from $59.
Did you like this podcast?
If you liked this podcast, please click to tweet this show >>
Subscribe
Subscribe to Web Marketing That Works via:
Stitcher radio
iTunes
Soundcloud
Bonus 33 Free Templates
Download the 33 free templates (11.2 MB – zip file) from our new book.
Read the free, 28 page sample chapter (948 KB – PDF)
Or order the book online: Web Marketing That Works: Confessions from the Marketing Trenches (Wiley 2014).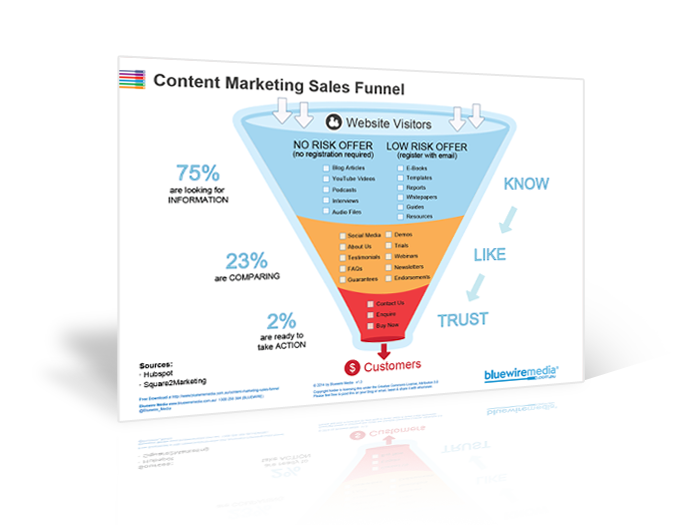 Content Marketing Sales Funnel
Your content marketing sales funnel is all about getting people to know, like and trust you by nurturing them with the right information at the right time.