WMTW 040: Donna Moritz on creating visual content [podcast]
Podcast: Play in new window | Download
Subscribe: RSS
Updated on February 18th, 2015
Donna Moritz from Socially Sorted is the winner of Australia's Best Business Blog.
Show notes
Background
Donna's journey was inspired by Darren Rowse's advice to follow the sparks and then fan the flames.
Donna originally wrote about social media in a broad sense but then pivoted to focus on the visual content niche. The keynote that Donna mentions is this talk by Darren Rowse at World Domination Summit.
A-ha moments
Be real and just respond to people.
Word of mouth is the biggest driver, always has been.
Consistency of content underlies everything.
Start building an email list of people you can build relationships with
The good, the bad and the ugly
The good: Guest posting to websites that have an audience. Donna was posting 4 guest articles to 1 of her own blog articles.  Donna did an epic blog post for Amy Porterfield which got big traction thanks to an infographic that was included.
How do you get infographics done?
You can do infographics yourself with Piktochart (great templates), Ease.ly or Canva.
Or find a designer on Fiverr.
Or else go all out on a custom designed infographic which range from $2000 to $10,000 for a fully animated one.
The bad: getting caught up doing too much guest posting once established. Instead focus on where your content is best placed and start politely saying No to some guest blog post requests.
Advice
Some of the best advice Donna received was from Nikki Parkinson who said "just start writing".  Then you simply improve from there.
Mentions
Leo Widrich, Belle Beth Cooper and Kevan Lee from Buffer. Ian Cleary from Razor Social, Amy Porterfield, Nikki Parkinson, Darren Rowse and Social Media Examiner.
Who Donna learns from
Social Media Examiner, Michael Hyatt, Derek Halpern, David Siteman Garland, Rework by the Basecamp guys (Jason Fried and David Heinemeier Hansson), Thrive by Arianna Huffington, Gary Vaynerchuk's books especially Jab, Jab, Jab, Right Hook.
Final advice
Get your own blogging platform set up as your starting point because it really does work!
Did you like this podcast? 
If you liked this podcast, please click to tweet this show >>
Subscribe
We would love you to subscribe to Web Marketing That Works and please leave your honest reviews via:
Stitcher radio
iTunes
SoundCloud
Bonus 33 Free Templates
Download the 33 free templates (11.2 MB – zip file) from our new book.
Or order the book online: Web Marketing That Works: Confessions from the Marketing Trenches (Wiley 2014).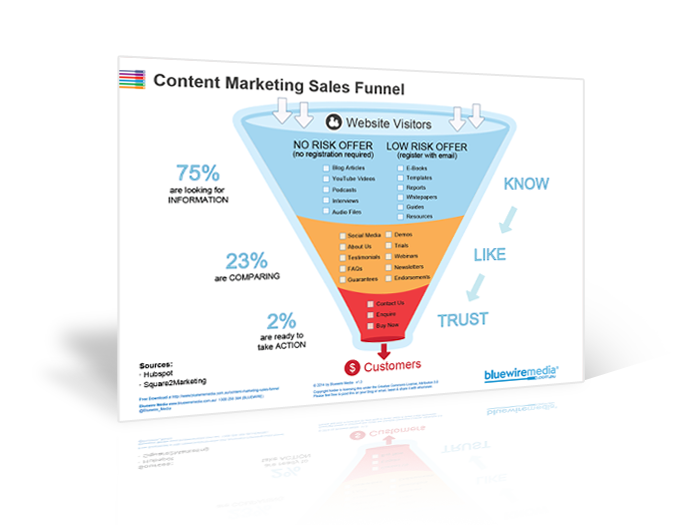 Content Marketing Sales Funnel
Your content marketing sales funnel is all about getting people to know, like and trust you by nurturing them with the right information at the right time.