WMTW 041: Book review of Chris Ducker's Virtual Freedom
Podcast: Play in new window | Download
Subscribe: RSS
Updated on February 18th, 2015
Show notes
I decided to start reading Chris Ducker's book Virtual Freedom on a flight to Bali, which was part a lifestyle experiment to see how I could help run the business from overseas (which was a success by the way!)
The book is fantastic and I dive into my favourite parts in this podcast. Ok let's get into the book.
Highlights from the book
This is information from a table that helped me create lists for the types of things I could find virtual assistants (VAs) for.
Thing you DON'T LIKE doing
Checking email
Managing social media
Handling basic enquiries
Researching travel options
Things you CAN'T do
Web development
Editing a podcast
Designing logos or infographics
Book keeping and accounting
Things you SHOULDN'T do
Updating your Facebook page
Handling tier one support
Managing your company blog
7 roles to hire VAs for
General Virtual Assistant (aka a GVA)
Web developer
Graphic designer
SEO and/or Web Marketing specialist
Content writer
Video (and podcast) editor
App developer
Listen to the show for my detailed review!
Did you like this podcast?
If you liked this podcast, please click to tweet this show >>
Subscribe
We would love you to subscribe to Web Marketing That Works and please leave your honest reviews via:
Stitcher radio
iTunes
SoundCloud
Bonus 33 Free Templates
Download the 33 free templates (11.2 MB – zip file) from our new book.
Or order the book online: Web Marketing That Works: Confessions from the Marketing Trenches (Wiley 2014).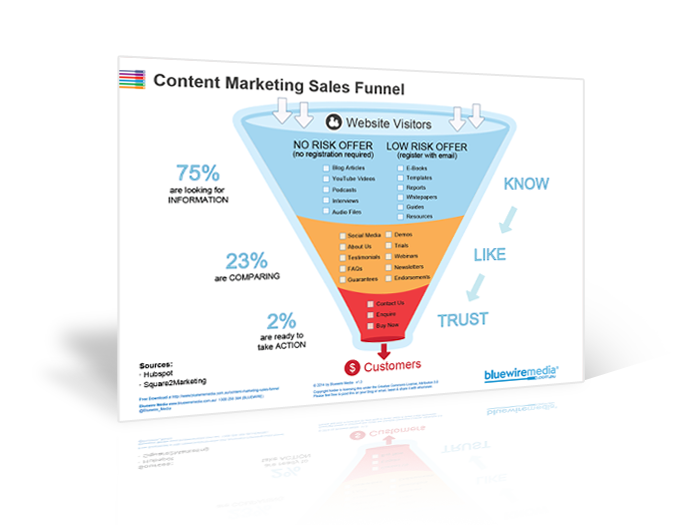 Content Marketing Sales Funnel
Your content marketing sales funnel is all about getting people to know, like and trust you by nurturing them with the right information at the right time.