WMTW 044: Tim Reid – Podcast lessons from one of iTunes hottest marketing podcasts
Podcast: Play in new window | Download
Subscribe: RSS
Updated on February 12th, 2015
"The fact that you podcast is not the magic, it's what and how you podcast, that's the magic." Tim Reid (Tweet this)
I talk to Tim Reid about how he has grown his podcast Small Business, Big Marketing from scratch to become one of the hottest podcasts on iTunes globally. Tim shares his experiences from over 205 podcasts and the incredible impact that the podcast has had on his business. Subscribe on iTunes.
Show Notes:
Key points:
Podcasts are great tools for marketing.
Been a speaker to different parts of the world, LA, Singapore, Shanghai, just to name a few.
Has 205 podcast episodes and counting, has listeners around the world, even in Madagascar.
Started his podcast "subconsciously".
Technology is there. It's cheap and easy, creating good content is the magic.
Content creators should focus on the Content; let others do the other work.
Podcast sponsors should be right for you and your audience.
Be selective with your guests; it is great for your content.
Tim keeps his interview questions spontaneous and follows the flow of conversation.
Podcasting is a great opportunity to create a bond and learn from your guests.
His next step will be running his own event.
For new Podcasters, his advice is "Do not ask the forbidden question", Listen and learn what to find out what it is.
Get in touch with Tim:

Did you like this podcast?
If you liked this podcast, please click to tweet this show >>
Review & Subscribe
We would love you to subscribe to Web Marketing That Works and please leave your reviews via:
Bonus 33 Free Templates
Download the 33 free templates (11.2 MB – zip file) from our new book.
Or order the book online: Web Marketing That Works: Confessions from the Marketing Trenches (Wiley 2014).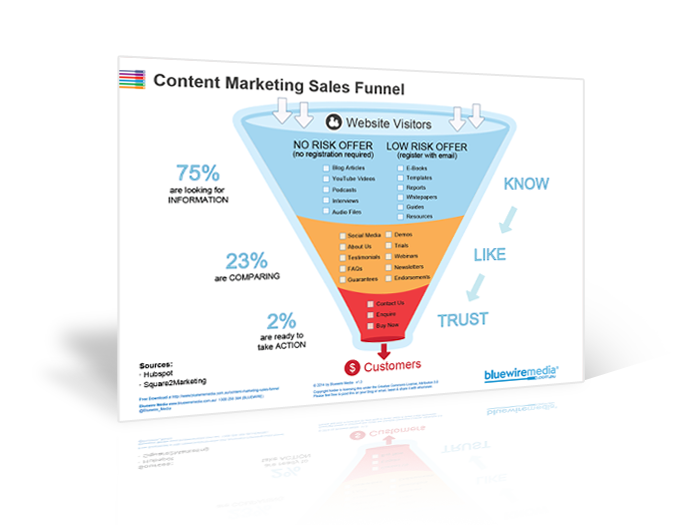 Content Marketing Sales Funnel
Your content marketing sales funnel is all about getting people to know, like and trust you by nurturing them with the right information at the right time.