WMTW 045: Dan Norris – How to Activate Ambassadors and Leverage Free Content [podcast]
Podcast: Play in new window | Download
Subscribe: RSS
Updated on February 12th, 2015
"People do not know what they want, until they are forced to open their wallet." Dan Norris (Tweet this)
Toby Jenkins talks to Dan Norris, Founder of WP Curve about how he has activated ambassadors to spread the word for his book launch and is leveraging his new book "The 7 Day Startup" to help grow his business.
Show Notes
Key points
Dan started wpcurve after starting a software company that used all of his resources.
He went from idea to paying customers in 1 week and still continues to grow at 15% every month.
According to Dan, you can do all the right things and still end up not having the momentum for your business.
Do not take a year to launch an idea, make it a week.
Make decisions after launching while observing customers behavior and patterns.
Focus on what is important instead of over analyzing.
For startups, do whatever you love to do, an "enjoyable daily task".
Use a marketing strategy that suits you personally, focus and grow with it.
Took about 30 podcast interviews and blog posts to market his Book.
Has 500 people signed up to become ambassadors of his book.
Gives a "Pre-released" version of the book using social media, and has followers tweeting and writing review, a free and effective way of marketing.
People mentioned
Links mentioned
Get in touch with Dan
Did you like this podcast?
If you liked this podcast, please click to tweet this show >>
Subscribe
We would love you to subscribe to Web Marketing That Works and please leave your honest reviews via:
Stitcher radio
iTunes
SoundCloud
Bonus 33 Free Templates 
Download the 33 free templates (11.2 MB – zip file) from our new book.
Or order the book online: Web Marketing That Works: Confessions from the Marketing Trenches (Wiley 2014).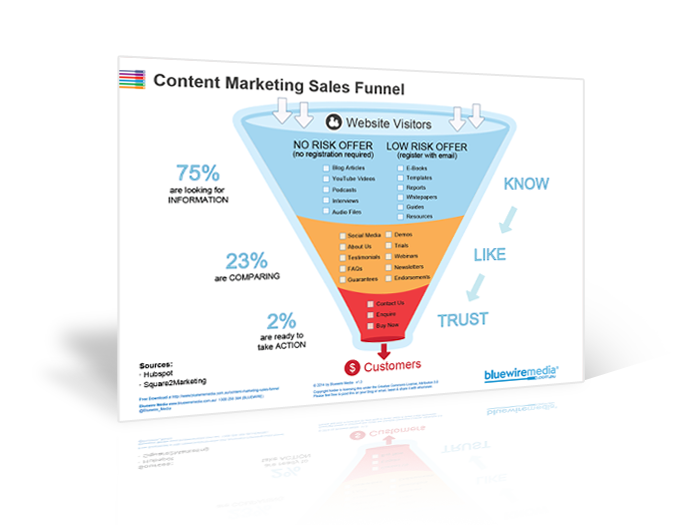 Content Marketing Sales Funnel
Your content marketing sales funnel is all about getting people to know, like and trust you by nurturing them with the right information at the right time.