WMTW 048: Jon Hollenberg – Love At First Site [podcast]
Podcast: Play in new window | Download
Subscribe: RSS
Updated on February 12th, 2015
 "A site should be a beautiful extension of your character and your brand." Jon Hollenberg (Tweet this)
Show-notes
Key points
He created fivebyfive, a website building company based on the Gold Coast.
They created the websites for companies such as Qantas, Jeep and Currumbin Wildlife Sanctuary, check out their work.
"Love At First Site", an entry level book that gives an overview of the business and follow Steve's journey thru the web design business.
They focus on 3 areas, mainly Design, Usability and Conversion.
Design elevates businesses in the market place; it can convert lead into sales.
Simplicity of a website is the key, remove all the clutters and let the design speak the message.
Learn about the different Content Management system as Jon explains the difference between a propriety Content Management System and an Open source Content Management System.
Discover the 7 content ideas that Jon shared on his book.
One way to get an idea is to talk to your customers and ask what their problems are.
Quality content should be well optimized on your website to provide value on the market place.
Content is the new "SEO".
One mistake that Jon acknowledges is "ignoring social media".
Jon got help from Adam Houlahan, a social media expert, to increase their twitter followers.
The book "Love at first site" elevated their web marketing by delivering free content; you can get the book at Amazon from October 14 – 19, 2014.
Jon's pro tips
Give away something that is of high value.
Invest in decent website hosting.
People mentioned
Links mentioned
Get in touch with Jon
Did you like this podcast? 
If you liked this podcast, please click to tweet this show >>
Subscribe
We would love you to subscribe to Web Marketing That Works and please leave your honest reviews via:
Stitcher radio
iTunes
SoundCloud
Bonus 33 Free Templates
Download the 33 free templates from our new book.
Or order the book online: Web Marketing That Works: Confessions from the Marketing Trenches (Wiley 2014).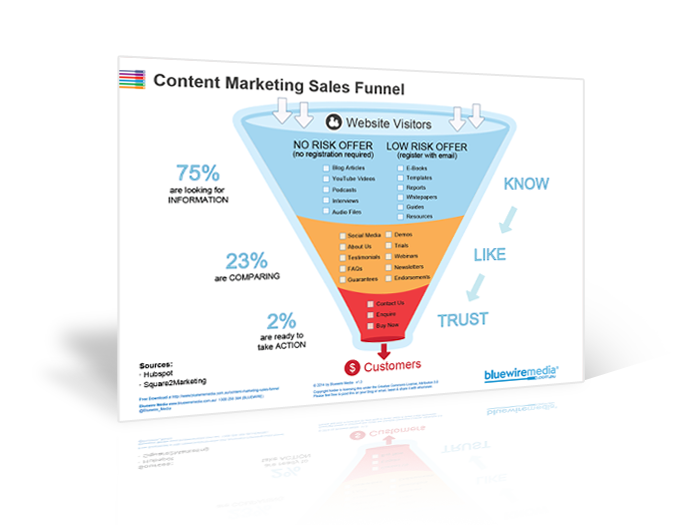 Content Marketing Sales Funnel
Your content marketing sales funnel is all about getting people to know, like and trust you by nurturing them with the right information at the right time.