WMTW 051: John Buchanan, Australian Cricket Coach – Why Process and Philosophy Matters When Coaching Winning Teams [podcast]
Podcast: Play in new window | Download
Subscribe: RSS
Updated on January 4th, 2017
"If it ain't broke, break it." John Buchanan (Tweet this)
In this show, I talk with the most successful cricket coach in history – John Buchanan.
I was really interested to hear about John's background because he shares with me his unorthodox path to becoming head coach of the Australian Cricket Team.
For 8 years he was in charge of one of Australia's most prestigious and scrutinized sporting teams. He had a 75% winning record including a number of world records for consecutive victories. At the time of his retirement, the Australian Cricket Team were the Champions across World Cup, Test and One Day forms of the game.
He's also written 3 books:
He now consults to the business world on building winning teams.
John is a man who is never satisfied and I loved his favorite saying: "if it ain't broke, break it". He knows what it's like to perform under pressure so in this show we dig into the good, the bad and the ugly from John's years of experience and the specific lessons that relate to business and marketing.
We also spoke about his philosophy of vision, culture, people and planning that enables him to create high performance teams and the importance of process.
Show-notes
Key points
Being a leader and coach of the Australia's cricket team, John enters business coaching where he conducts leadership training.
Learn how John interrelates managing a sports team into managing a business team.
John shared has a single coaching philosophy and how it consists of vision, culture, people and planning.
Why being somewhere you have not been before gives you a competitive edge.
The importance of knowing your staff as people, not just staff.
Why you can always be better and how to get there.
The importance of setting up alliances to expand your business.
Why your focus needs to be on the process to the result, not the results themselves.
Content marketing and content generation are essential in attracting people to your website.
How John uses referrals and quality content to build his business.
Why filtering what is important and what is not is essential in business.
Links mentioned
Get in touch with John
Did you like this podcast?
If you liked this podcast, please click to tweet this show >>
Subscribe
We would love you to subscribe to Web Marketing That Works and please leave your honest reviews via:
Stitcher radio
iTunes
SoundCloud
Bonus 33 Free Templates
Download the 33 free templates (11.2 MB – zip file) from our new book.
Or order the book online: Web Marketing That Works: Confessions from the Marketing Trenches (Wiley 2014).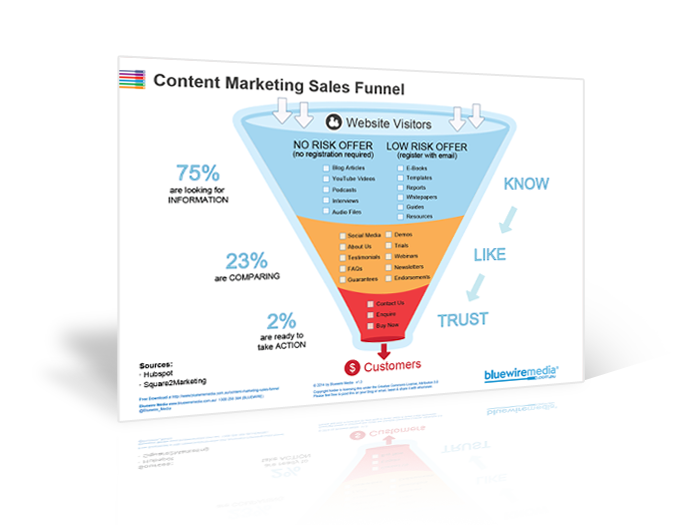 Content Marketing Sales Funnel
Your content marketing sales funnel is all about getting people to know, like and trust you by nurturing them with the right information at the right time.