WMTW 052: Kate Toon on SEO Copywriting
Podcast: Play in new window | Download
Subscribe: RSS
Updated on June 15th, 2016
"It is all about clarity and making it usable and easy for the readers to digest." Kate Toon (Tweet this)
Adam talks to Kate Toon about SEO, copywriting and the importance of working with people who laugh at your jokes!
Show-notes:
Key points
Kate is an award winning copywriter and she recently founded The Clever Copywriting School.
Copywriting nowadays is about writing for humans first, and then second is Google.
Make sure your content is on focus or in target and at the same time pleasurable and enjoyable to read.
Kate's advice on marketing your business is "Be yourself."
Her "aha" moment is when she stop seeing her competitors as competition but rather as "creative allies."
Her website The Clever Copywriting School is what really elevated her marketing online.
First step to building your business is creating a website or a WordPress site, second would be the financial area, and the last is the marketing.
Kate considers outsourcing as a very important part of a business.
SEO and SEO copywriting is understanding what Google is looking for.
Google looks for a fast site, a site that works on different devices, and a site that is focused on its product.
Experiment, fail and find out what works for you.
People mentioned
Links mentioned
Get in touch with Kate
Did you like this podcast?
If you liked this podcast, please click to tweet this show >>
Subscribe
We would love you to subscribe to Web Marketing That Works and please leave your honest reviews via:
Stitcher radio
iTunes
SoundCloud
Bonus 33 Free Templates
Download the 33 free templates (11.2 MB – zip file) from our new book.
Or order the book online: Web Marketing That Works: Confessions from the Marketing Trenches (Wiley 2014).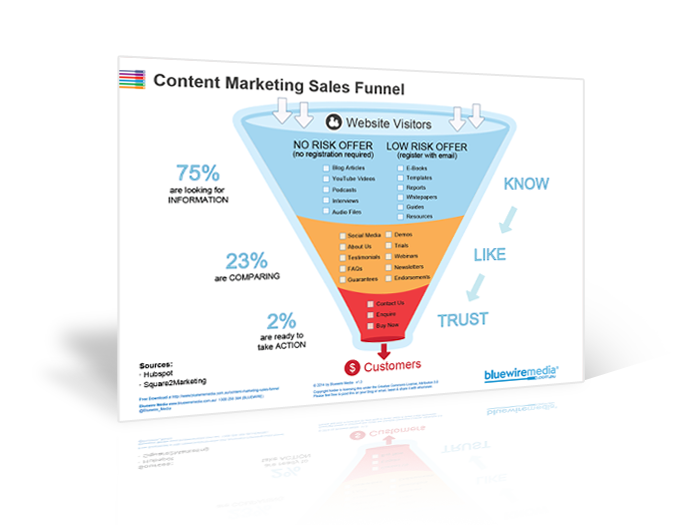 Content Marketing Sales Funnel
Your content marketing sales funnel is all about getting people to know, like and trust you by nurturing them with the right information at the right time.