WMTW 054: Chris Raine – 33,000 members, 80,000 posts, 500,000+ comments, non profits as tech startups and Hello Sunday Morning.
Podcast: Play in new window | Download
Subscribe: RSS
Updated on January 4th, 2017
"We all have a plan until we're punched in the face." Chris Raine (Tweet this)
Chris spoke to me about the obstacles and challenges non profits face, the kinds of marketing that has worked for them, how they've found and appointed ambassadors and much much more.
Show-notes:
Key points
Chris is the founder of Hello Sunday Morning, a non profit on a mission to change the world's relationship with alcohol.
Chris shared how he changed his alcohol consumption through blogging at the age of 21
How HSM has attracted 33,000+ members, 80,000 blog posts and almost half a million comments.
Why their focus is on the technology that will help people change.
How they increased engagement and involvement.
His favourite marketing techniques from ad and pr campaigns, SEO, facebook advertising and Google Analytics.
Why referral style marketing didn't work for them.
How they secured high profile media ambassadors.
Their single biggest challenge.
Chris's advice on how to deliver value to your customers.
People mentioned
Links mentioned
Get in touch with Chris
Did you like this podcast?
If you liked this podcast, please click to tweet this show >>
Subscribe
We would love you to subscribe to Web Marketing That Works and please leave your honest reviews via:
Stitcher radio
iTunes
SoundCloud
Bonus 33 Free Templates
Download the 33 free templates (11.2 MB – zip file) from our new book.
Or order the book online: Web Marketing That Works: Confessions from the Marketing Trenches (Wiley 2014).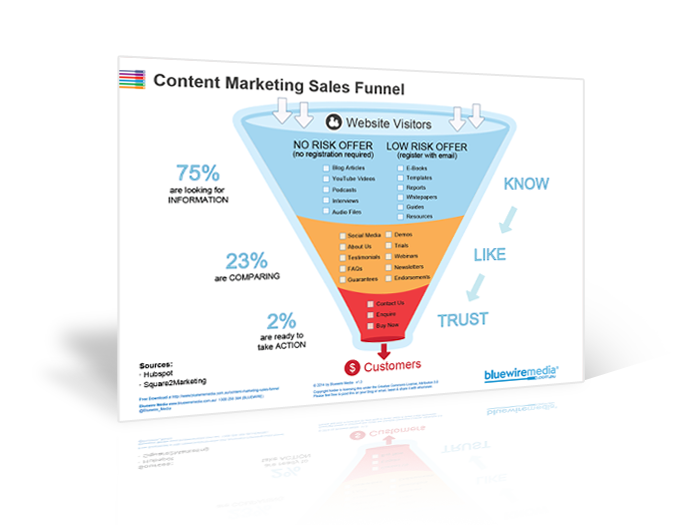 Content Marketing Sales Funnel
Your content marketing sales funnel is all about getting people to know, like and trust you by nurturing them with the right information at the right time.