WMTW 055: Matt Michalewicz on goals and meeting high-level influencers [podcast]
Podcast: Play in new window | Download
Subscribe: RSS
Updated on February 11th, 2015
"The primary mover for success is the desire to achieve success."
Matt Michalewicz (Tweet this)
Show-notes:
Key points
Matt is the author of the book "Life in Half a Second: How to Achieve Success Before it's Too Late", a book that teaches how to achievesuccess using scientific approaches.
3 components of a business are marketing, sales and delivery.
Generating leads is the measure of success in marketing.
Convert leads into customers.
Deliver what is agreed upon.
It is important to know the behavior of your customer and understand their psychology.
Marketing needs to educate customers more about your product.
Big purchases are more sales focused while low value items are more marketing focused.
Physical print style of marketing has lessened its value and weight as a marketing tool.
Breaking a bigger goal into smaller goals makes it more achievable.
Have an attitude and mentality of life-long learning and education.
Look only into people that have accomplished what you want to do.
According to Matt, It is not the best product that wins rather it is the product with the best marketing and sales.
People mentioned
Links mentioned
Get in touch with Matt
Did you like this podcast?
If you liked this podcast, please click to tweet this show >>
Subscribe
We would love you to subscribe to Web Marketing That Works and please leave your honest reviews via:
Stitcher radio
iTunes
SoundCloud

Bonus 33 Free Templates
Download the 33 free templates (11.2 MB – zip file) from our new book.
Or order the book online: Web Marketing That Works: Confessions from the Marketing Trenches (Wiley 2014).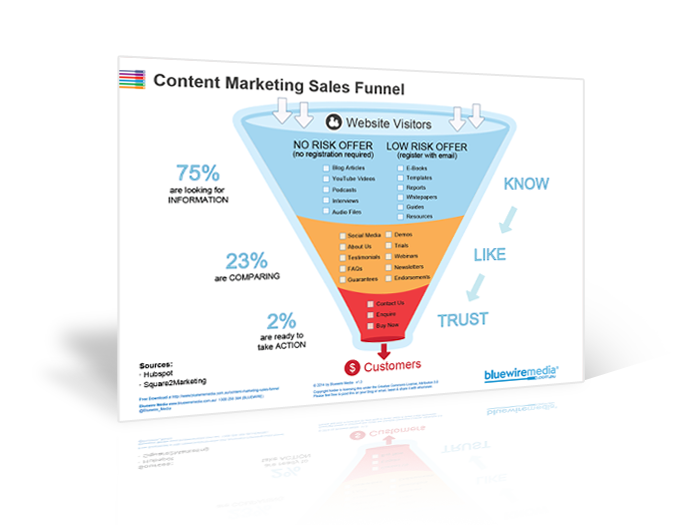 Content Marketing Sales Funnel
Your content marketing sales funnel is all about getting people to know, like and trust you by nurturing them with the right information at the right time.