WMTW 057: Mark Carnegie on Wisdom of the Crowd, PR, Community & Failing Fast and Small. [podcast]
Podcast: Play in new window | Download
Subscribe: RSS
Updated on January 4th, 2017
"A group of people can come up with a better decision
than any individual." ~Mark Carnegie
(Tweet this)
In this episode, I was thrilled to interview Mark Carnegie, one of Australia's most successful investors, philanthropist, polymath and social activist. He shares some of his hard won investing advice and I was fascinated by his active search for variety in all aspects of his life.
Show-notes:
Key points
Mark is the owner of MH Carnegie & Co., a venture capital, private equity, and corporate advisory firm in Australia.
How Mark moved from zoology and law to investment banking and the advice that guided that path.
The importance of reading and how being a misanthrope (someone who dislikes humanity – his own words!) can be useful.
His marketing philosophy that was inspired by Australia's best known advertising man – John Singleton
Marketing is getting people in a tent and sell them something but first, entertain them.
Why he actively focussed on building a community around his business
Why you need to make it enjoyable and engage people.
Why you must become your own public relations firm.
"Fail fast, fail small and try again."
The 3 criteria to look for in an investment
The 3 things you need to become a successful investor
What he keeps pinned to his wall to prevent him forgetting about his failures.
Group intelligence is better than individual intelligence.
People mentioned
Links mentioned
Get in touch with Mark
Did you like this podcast?
If you liked this podcast, please click to tweet this show >>
Subscribe
We would love you to subscribe to Web Marketing That Works and please leave your honest reviews via:
Stitcher radio
iTunes
SoundCloud
Bonus 33 Free Templates
Download the 33 free templates (11.2 MB – zip file) from our new book.
Or order the book online: Web Marketing That Works: Confessions from the Marketing Trenches (Wiley 2014).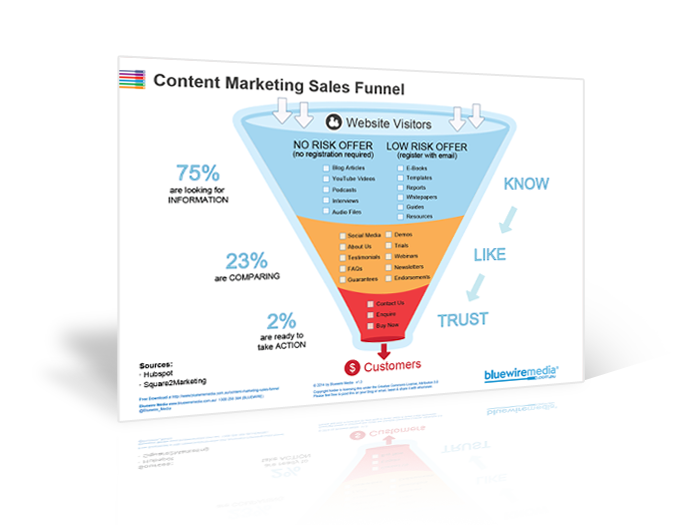 Content Marketing Sales Funnel
Your content marketing sales funnel is all about getting people to know, like and trust you by nurturing them with the right information at the right time.