WMTW 060: Jeremy Miller from Sticky Branding [podcast]
Podcast: Play in new window | Download
Subscribe: RSS
Updated on February 10th, 2015
"People buy from people and we buy from the people we like." Jeremy Miller (Tweet this)
Adam Franklin chats to Jeremy Miller about building a sticky brand that stands out and attracts customers. What we can learn from big brands like Google and how that applies to small and medium businesses too.
Show-notes:
Key points
Jeremy is the President of Sticky Branding, a company that helps company's build brands that stand out.
Branding is the macro marketing strategy of what you are trying to create in terms of customer experience.
2 elements of a brand (and when these two match up, then you have a Sticky Brand)
Internally: It's the mission and vision that you say.
Externally: It's how you are perceived by other people.
Customer relationship is what makes a brand stick.
For small businesses, it's not how you market, it's how you serve your customers.
Invest in online marketing to create a sticky brand as the web is the first point of contact nowadays.
Sticky brands use tools to connect with their customers.
Jeremy is not a fan of inbound marketing when it lacks the human relationship side.
Marketing strategy serves the business strategy.
Re-branding should always be the last resort.
Crisis arises when a company goes against its core values.
People mentioned
Links mentioned
Get in touch with Jeremy
Did you like this podcast?
If you liked this podcast, please click to tweet this show >>
Subscribe
We would love you to subscribe to Web Marketing That Works and please leave your honest reviews via:
Stitcher radio
iTunes
SoundCloud
Bonus 33 Free Templates
Download the 33 free templates (11.2 MB – zip file) from our new book.
Or order the book online: Web Marketing That Works: Confessions from the Marketing Trenches (Wiley 2014).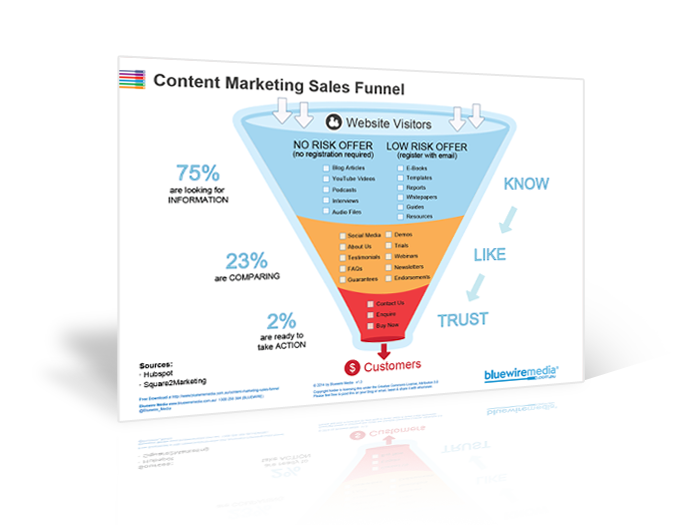 Content Marketing Sales Funnel
Your content marketing sales funnel is all about getting people to know, like and trust you by nurturing them with the right information at the right time.