WMTW 062: Email frequency: how often should I send emails?
Podcast: Play in new window | Download
Subscribe: RSS
Updated on February 10th, 2015
"Always be adding value" Adam Franklin (Tweet this)
Adam Franklin shares his three tips on how often to email your subscribers.
Show-notes: How often should I send e-mails?
1. Send at least weekly
Always send e-mails that are of value.
Emails should be every two weeks or every week as a starting point.
Once a month email will increase the chances that the customer will forget you.
2. Segment appropriately
Segment your database on what are your customer's interests, or by geography. That way not every subscriber is getting every email.
3. Increase frequency at different time
Deliver your highest valued content to individuals who are new to your email list by creating an auto-responder sequence for them
Increased frequency of e-mails can be used on if you're running an event or program and you are getting close to the sales deadline. Only send it to people who are interested (as indicated by previous clicking behaviour) but if they are genuinely interested they will appreciate the extra help reaching a decision.
People mentioned
Get in touch with Adam
Email him at  Adam.Franklin [at] bluewiremedia.com.au
Connect with him at twitter @Franklin_Adam
Did you like this podcast?
If you liked this podcast, please click to tweet this show >>
Subscribe
We would love you to subscribe to Web Marketing That Works and please leave your honest reviews via:
Stitcher radio
iTunes
SoundCloud
Bonus 33 Free Templates
Download the 33 free templates (11.2 MB – zip file) from our new book.
Or order the book online: Web Marketing That Works: Confessions from the Marketing Trenches (Wiley 2014).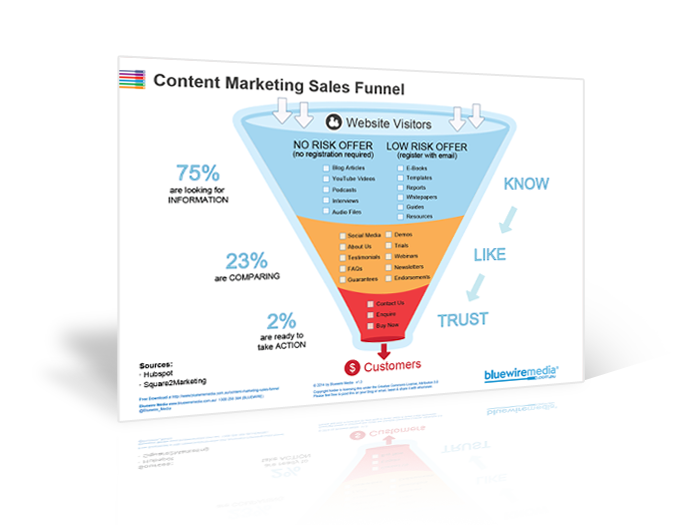 Content Marketing Sales Funnel
Your content marketing sales funnel is all about getting people to know, like and trust you by nurturing them with the right information at the right time.