WMTW 065: How to invite an influencer on your podcast
Podcast: Play in new window | Download
Subscribe: RSS
Updated on February 24th, 2015
"If you do all the prep work, you're likely going to get a response." Adam Franklin (Tweet this)
Adam Franklin shares his process and tips on how to invite an influencer to be a guest on your podcast.
Show-notes:
How to invite influencers into your podcast.
Key points
Subscribe to their podcast and blog
Get familiar with their work.
Observe what type of content they produce.
Subscribe to their e-mail list
Follow their social media accounts
Gradually builds up the knowledge about the person.
Get their attention on social media.
Set up an interaction and leave a good impression.
Reach out to them
Do not be afraid to ask.
Make it short and simple.
Get in touch with Adam
Email him at  Adam.Franklin [at] bluewiremedia.com.au
Connect with him at Twitter @Franklin_Adam
Did you like this podcast?
If you liked this podcast, please click to tweet this show >>
Subscribe
We would love you to subscribe to Web Marketing That Works and please leave your honest reviews via:
Stitcher radio
iTunes
SoundCloud
Bonus 33 Free Templates
Download the 33 free templates from our new book.
Or order the book online: Web Marketing That Works: Confessions from the Marketing Trenches (Wiley 2014).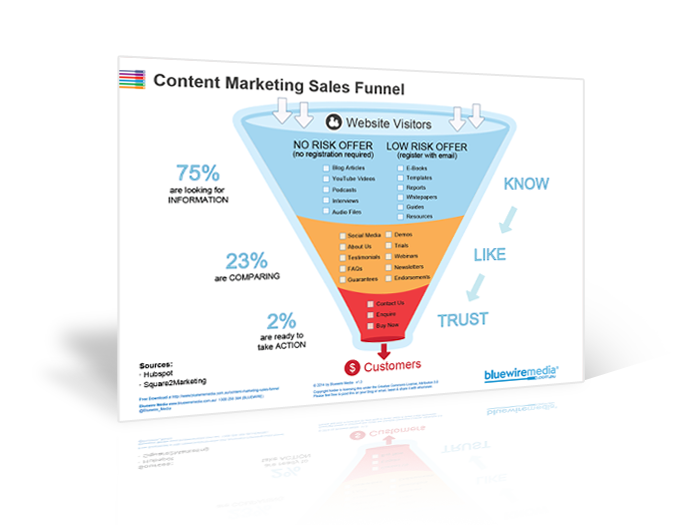 Content Marketing Sales Funnel
Your content marketing sales funnel is all about getting people to know, like and trust you by nurturing them with the right information at the right time.