WMTW 067: Sean d'Souza from Psychotactics [podcast]
Podcast: Play in new window | Download
Subscribe: RSS
"Marketing shouldn't be any different from life" Sean d'Souza (Tweet this)
Adam Franklin chats to Sean d'Souza from Psychotactics about the marketing psychology, why you only want customer who consume your material and the Bikini Principle of content.
Show-notes:
Key points
Sean is the host of the podcast "The Three Month Vacation." Subscribe in iTunes.
Started working as a cartoonist and ended up being in the marketing business.
Integrate marketing to be exciting and interesting.
Marketing should be accompanied with filtering.
Product – Training – Consultancy.
Sean's marketing philosophy is "Consumption is key."  Customers only come back if they 'consume' and implement your product, (book or service).

You get attracted to a product
You buy
You consume

Consumption works by:

Intimidation (reduce intimidation)
Isolation (isolate what they need to do)
Implementation (allow them to implement easily)

Feedback is different from testimonials.
Advice for start-ups.
Go on to vacation but do not lose revenue.
Download Sean's headline report.
People mentioned
Get in touch with Sean
Did you like this podcast?
If you liked this podcast, please click to tweet this show >>
Subscribe
We would love you to subscribe to Web Marketing That Works and please leave your honest reviews via:
Stitcher radio
iTunes
SoundCloud

Bonus 33 Free Templates
Download the 33 free templates from our new book.
Or order the book online: Web Marketing That Works: Confessions from the Marketing Trenches (Wiley 2014).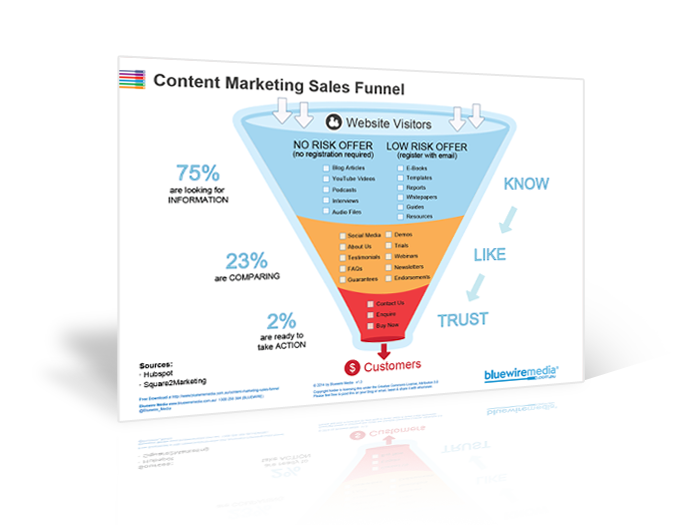 Content Marketing Sales Funnel
Your content marketing sales funnel is all about getting people to know, like and trust you by nurturing them with the right information at the right time.