WMTW 069: John Corcoran from Smart Business Revolution [podcast]
Podcast: Play in new window | Download
Subscribe: RSS
"A sincere complement is always appreciated." John Corcoran (Tweet this)
Adam Franklin chats to John Corcoran on how to talk to Presidents, writing great speeches that end up on The West Wing and adding value to VIPs.
Show-notes:
Key points
John is the owner of SmartBusinessRevolution.com and CorcoranLaw.com.
He is also the host of The Smart Business Business Revolution Podcast. Subscribe in iTunes.
Worked as a speech writer for the President of the United State of America.
Networking is connecting and building relationships with people.
Keep it "Stupid personal" when initiating conversation.
Deposit first before withdrawing.
Core Strategies for keeping in touch with your network.

Mindset
Choose the people you want to build a relationship.

60%-70% of jobs are not advertised.
Consistently add value to your customers and you will see growth.
People mentioned
Links mentioned
Get in touch with John
Did you like this podcast?
If you liked this podcast, please click to tweet this show >>
Subscribe
We would love you to subscribe to Web Marketing That Works and please leave your honest reviews via:
Stitcher radio
iTunes
SoundCloud
Bonus 33 Free Templates
Download the 33 free templates from our new book.
Or order the book online: Web Marketing That Works: Confessions from the Marketing Trenches (Wiley 2014).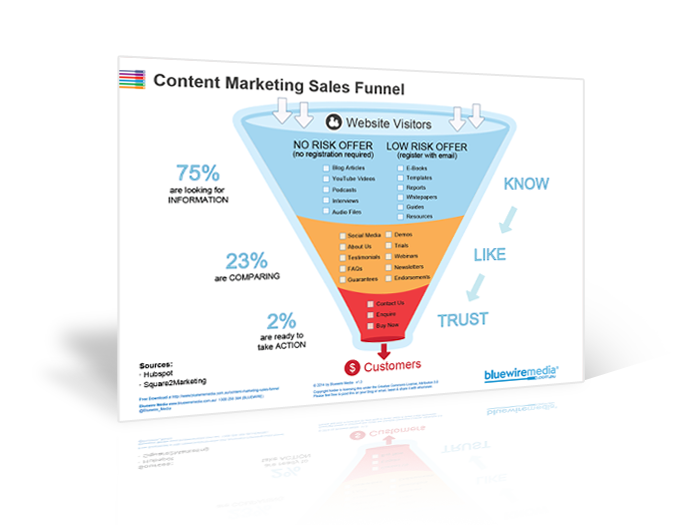 Content Marketing Sales Funnel
Your content marketing sales funnel is all about getting people to know, like and trust you by nurturing them with the right information at the right time.