WMTW 070: David Nihill from FunnyBizz [podcast]
Podcast: Play in new window | Download
Subscribe: RSS
"The end of laughter is followed by the height of listening" David Nihill (Tweet this)
Toby Jenkins chats to David Nihill about the importance of humour in business presentations and the 5 specific steps to make your speaking much funnier.
Show-notes:
Key points
Co-founded FunnyBizz and is the author of the book "Do You Talk Funny? 7 Comedy Habits to Become a Better (and Funnier) Public Speaker."
Their goal is to abolish "Boring content."
Comedic principles and storytelling helps you stand out on a presentation.
Information delivered by opinion tends to lose the attention of listeners.
Information delivered by story attracts attention and tentativeness.
Top TED talks have high laugh per minute rate.
Running an event without any sponsorship is not the best plan.
People mentioned
Links mentioned
 Get in touch with David
Did you like this podcast?
If you liked this podcast, please click to tweet this show >>
Subscribe
We would love you to subscribe to Web Marketing That Works and please leave your honest reviews via:
Stitcher radio
iTunes
SoundCloud
Bonus 33 Free Templates
Download the 33 free templates from our new book.
Or order the book online: Web Marketing That Works: Confessions from the Marketing Trenches (Wiley 2014).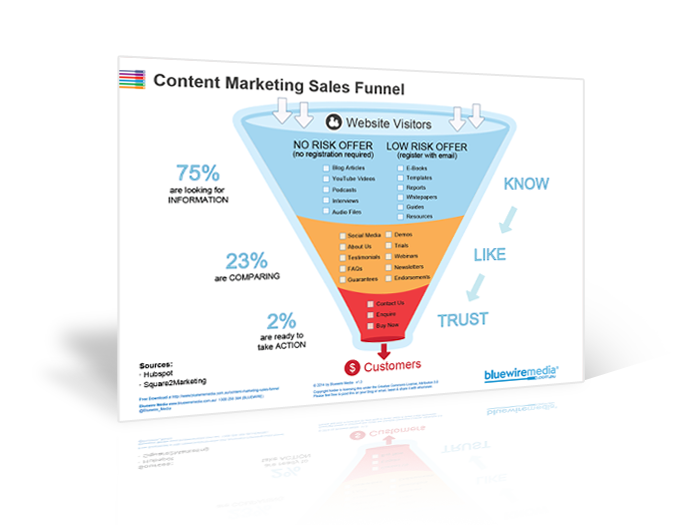 Content Marketing Sales Funnel
Your content marketing sales funnel is all about getting people to know, like and trust you by nurturing them with the right information at the right time.