WMTW 076: Ben Love from Grassroots IT [podcast]
Podcast: Play in new window | Download
Subscribe: RSS
Updated on May 18th, 2015
"My marketing philosophy focuses on 2 things: Community and Education" Ben Love (Tweet this)
 Ben Love shares some of his surprising results from using Webinars to drive Enquiry.
Show-notes:
 Key points
Ben is the owner and founder of Grassroots IT, an outsourcing IT company. 
He is also the host of The Small Business Technology Show Podcast.
The business started from a garage with an old computer.
How Ben has broken down his business journey into 3 phases and why marketing is just now absorbing most of his time.
Why giving back and sharing knowledge with their community is central to Ben's marketing philosophy.
His tip for writing
How small tweaks to the sequence of his webinar increased enquiry rates to 70%.
People mentioned
Links mentioned
Get in touch with Ben
Email him at ben[at]grassrootsit.com.au
Connect with Ben at LinkedIn
Follow him on Twitter @_benlove
Did you like this podcast?
If you liked this podcast, please click to tweet this show >>
Subscribe
We would love you to subscribe to Web Marketing That Works and please leave your honest reviews via:
Stitcher radio
iTunes
SoundCloud
Bonus 33 Free Templates
Download the 33 free templates from our new book.
Or order the book online: Web Marketing That Works: Confessions from the Marketing Trenches (Wiley 2014).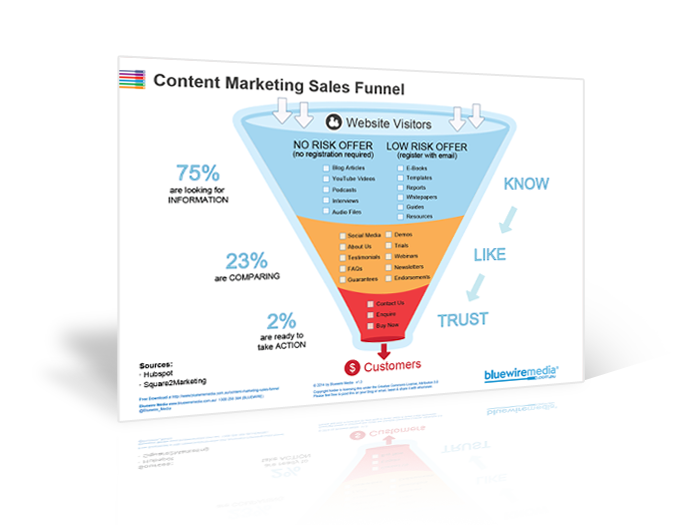 Content Marketing Sales Funnel
Your content marketing sales funnel is all about getting people to know, like and trust you by nurturing them with the right information at the right time.