WMTW 139: Greg Cassar from The Collective Part 1 [Podcast]
Podcast: Play in new window | Download
Subscribe: RSS
Updated on November 23rd, 2019
Greg Cassar – The Collective
"E-commerce is still in its very early days." Greg Cassar (Tweet this)
In this episode I talk with Greg Cassar all about maximizing an e-commerce store.
Show-notes:
Key points
Greg Cassar is back on the podcast to talk about e-commerce.
E-commerce is the new trend in purchasing online.
It's important to create and design your own brand name for your store.
16 Components for creating the perfect e-commerce business:

Repeat purchases
Demand
Re-targeting
Price
Cost effective shipping
Good multi supplier chain
Cost of goods sold
Google and Facebook like it

Get the next 8 in part 2 of Greg's interview.
Links mentioned
About Greg Cassar – Digital Marketing Profit Strategist
Greg Cassar lives an an active coastal family life with great work/life balance. He loves his wife, his kids, surfing, motorbike riding and fun outdoors. He is famous for being extremely honest and 'what you see is what you get' with no surprises.
After his  Agency years, Greg morphed to become a coach and ran the highly successful Digital Marketing Mastermind 'The Collective'. Over the next 6 1/2 years he helped over 100 businesses grow by as much as $50m in additional sales in some cases.
Plus Greg:
In the top 1% of Marketers on the Planet
Worked with/in 350 Businesses
Driven over 2 Million Leads
Responsible for Over $500m in Sales Online
Managed over $10m in Clicks
Performed over 400 Split Tests
Speaker/Educator for the Australian Government
Positively impacted a lot of lives
Get in touch with Greg Cassar from The Collective
Did you like this podcast?

If you liked this podcast, please click to tweet this show >>
Subscribe
We would love you to subscribe to Web Marketing That Works and please leave your honest reviews via:
Bonus 33 Free Templates
Download the 33 free templates from our new book.
Or order the book online: Web Marketing That Works: Confessions from the Marketing Trenches (Wiley 2014).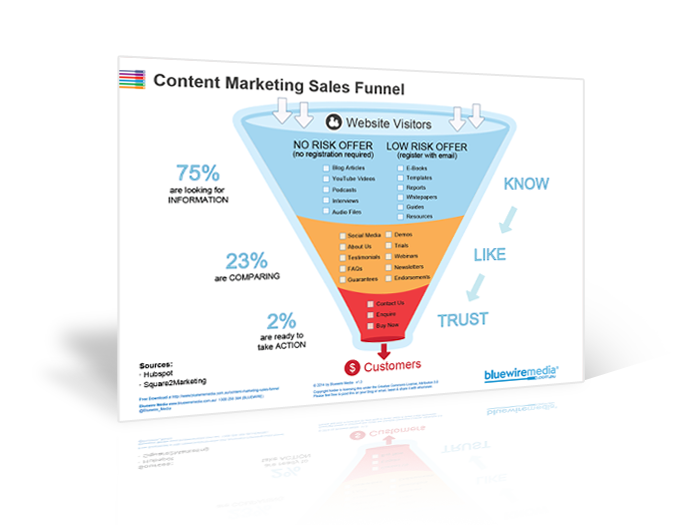 Content Marketing Sales Funnel
Your content marketing sales funnel is all about getting people to know, like and trust you by nurturing them with the right information at the right time.