WMTW 144: "How Do You Scale Influencer Outreach in a Non Spammy Way?" [Podcast]
Podcast: Play in new window | Download
Subscribe: RSS
Updated on January 6th, 2017
"Have that direct relationship with the influencer." Adam Franklin (Tweet this)
In this episode I answer a question from a podcast listener, Adithya Murali who is the content marketer at Techwyse. He asks, "How do you scale influencer outreach in a non spammy way?"  In today's show I answer Adi's question.
Show-notes:
Key points
Here are the stages to building a relationship with an influencer:
1st stage

Identify the influencers in your industry
Find out what you can about them. Get a virtual assistant for this.
Create touch points before reaching out.

2nd stage

Ask for something that is beneficial to them, give them backlinks and more presence online.
Podcasts and videos are great examples of content sharing.

3rd stage

Send them a "Thank you" gift.
Be personal to scale up.
People mentioned
Links mentioned
Get in touch with Adam
Email him at Adam.Franklin[at]bluewiremedia.com.au
Follow him on Twitter @Franklin_Adam
Did you like this podcast? 
If you liked this podcast, please click to tweet this show >>
Subscribe
We would love you to subscribe to Web Marketing That Works and please leave your honest reviews via:
Bonus 33 Free Templates
Download the 33 free templates from our new book.
Or order the book online: Web Marketing That Works: Confessions from the Marketing Trenches (Wiley 2014).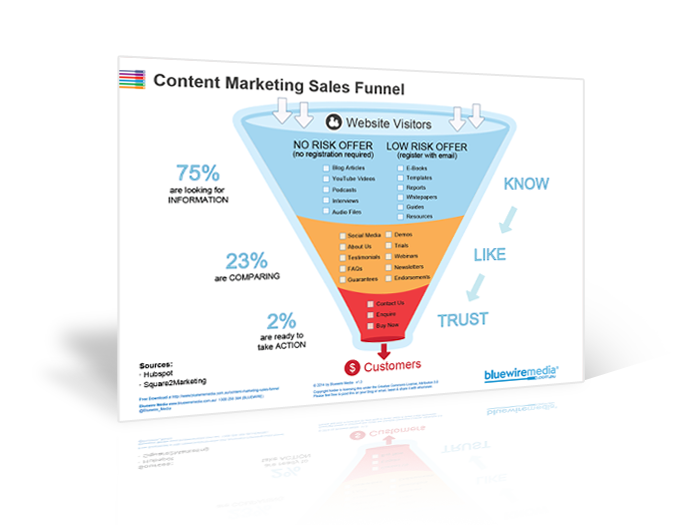 Content Marketing Sales Funnel
Your content marketing sales funnel is all about getting people to know, like and trust you by nurturing them with the right information at the right time.