WMTW 024: Lachlan Harris – How to use the media cycle for business
Podcast: Play in new window | Download
Subscribe: RSS
Updated on March 2nd, 2015
Click to tweet this show >>

It was my great pleasure to have on the show a master of media and mate Lachlan Harris.
He's followed an adventurous path. Here are a few highlights:
journalist and legal correspondent for Australian indigenous affairs.
one of the founding members of online activist group GetUp.org.au.
Press Secretary to then Prime Minister Kevin Rudd.
founded numbers of businesses: Budgy Smuggler, Bondi Belts and now his latest business – One Big Switch.
The theme through all of these is Lachie's natural gravitation towards the news – how to make it, how to get coverage, and how to understand the news cycle to use it to boost stories.
That's what we dive into in this show.
Lachlan Harris Show Notes:
What's a day in the life of Lachlan Harris look like?
Basics of his career haven't changed. He's focussed on creating content for the media across all the roles.
Creating reportable facts.
Drive people to an action.
Gravitated to the media side through an intellectual interest.
Understand the media's needs and outputs and how they need to be filled. Connect that with a determination to have a call to action in every piece.
Create a great product – Atlassian
Media business:
you need to flip it around, understand the media cycle first:
What will the media report?
What do they want to report?
How do we build a process that allows us to turn 1 story into 10?
Free media cycle:
Design a business model that fits into the cycle, not the other way round.
Know what they need, and give them what they need and want.
Print, radio, TV – all interconnected
Press influences radio, and in turns influences TV and how this feeds itself.
Not a linear process. It's cyclical
News and events will reset the cycle at any given time.
How to place a story and then elevate it.
Use each element of the cycle
Craft the story, but understand the structure – eg sundays and public holidays are quieter, so you can fill up more of the cycle.
Understand the competitive tension between channels and papers etc to maximise exclusives.
Online vs Offline:
Big change is not necessarily online/offline.
Has changed the content process and media business had a monopoly. Massive reduction in cost in creating and broadcasting content. So structure has flattened dramatically.
Traditional media still has the massive audiences.
Businesses turning into media companies – traditional advertising is harder and harder to crack. If you are communicating through content, then you are in part a media company.
Broadcast their own content to their own audience, and monetise that audience by putting them directly in touch with the products.
Who do you learn from?
Political Advocacy Campaigning in the US:
Media experts:
New York Times media section every day – David Carr
Media section in the Guardian
Media section in Financial Times
What's up next?
Launch a petrol campaign here in Australia
Grow in Ireland and UK
Connect with Lachlan:
Did you like this podcast?
If you liked this podcast, please click to tweet this show >>
Subscribe
We would love you to subscribe to Web Marketing That Works and please leave your honest reviews via:
Bonus 33 Free Templates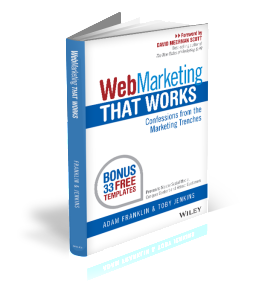 Download the 33 free templates (11.2 MB – zip file) from our new book.
Read the free, 28 page sample chapter (948 KB – PDF)
Or order the book online: Web Marketing That Works: Confessions from the Marketing Trenches (Wiley 2014).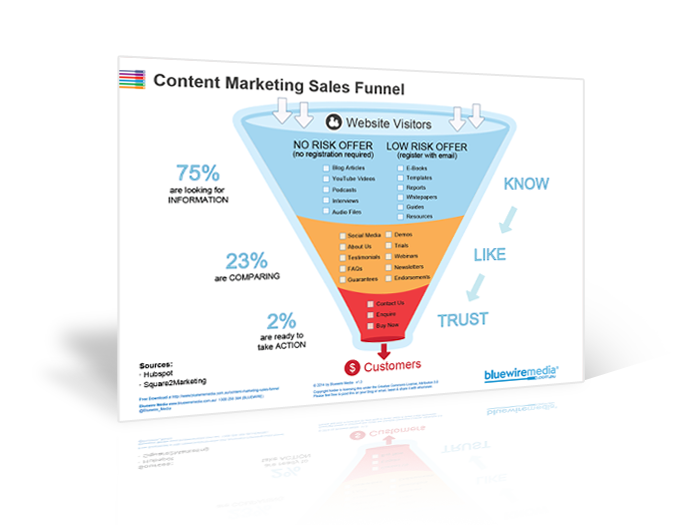 Content Marketing Sales Funnel
Your content marketing sales funnel is all about getting people to know, like and trust you by nurturing them with the right information at the right time.