Working with Words: Tips from Practical SEO Copywriting by Glenn Murray
Updated on June 15th, 2016
Kangaroos and Coffee
Glenn Murray does it with kangaroos, but it could be with anything. Try it with ice-cream, or cars. Coffee or air conditioning. If you want visitors to find your website (and find it remarkable), you need to write copy that helps them find you. Relevant, quality content and strategic, keywords act as signals for your readers. And if signals are important for humans, they are doubly important for Google.
Google Knows Murray
When it comes to Google (and quite a few other things), Glenn Murray knows what he's talking about. The Sydney-based copywriter has lent his expertise to some leading companies to enhance their search engine rankings, and has risen to become one of Google's top ranked copywriters. And now, there's a new ebook.
Practical SEO Copywriting
The book begins with the kangaroo experiment: a speedy, rolling page of text impossible to comprehend. In the following pages, Murray outlines how to take an enormous number of ideas (your ideas about what you want to say to your readers) and refine them to direct clients to your website. For example, a page relevant to Google will feature lots of "kangaroos", as well as "marsupial", "wallaby" and "roo".
Smart Readers
Rightly, Murray warns against liberally applying your key word to each and every page (not too many kangaroos, thank you.) Savvy readers can spot the difference between relevance and overload. The golden rule? For good copy, always have your reader in mind. As Murray puts it, "visitors buy; search engines don't".
Give Google a Hand
Murray admits that Google is smart, but "it's nowhere near as smart as a human visitor." Google can't infer or "make sense of pictures, colours or music." So it needs help. Google needs help to recognise the things it cares about: inbound links that indicate your popularity, frequently used words, headings, bulleted and numbered lists, links, bolded, italicised and underlined words. Murray's tips come in a clear, conversational style that's easy on the jargon.
Ignoring the Search Engines (for a bit)
Choose keyword frequency over keyword density. Like Sarah McVeigh showed in last week's Weekly Round-Up, try running one of your pages through Wordle. How happy are you with the words that appear frequently?
Murray's book proves that where the copy goes, the visitor will follow.
Want to know more?
You can follow @divinewrite on twitter. Practical SEO Copywriting is available from Glenn Murray's website.  You can find out the lot and write quality copy like Glenn's.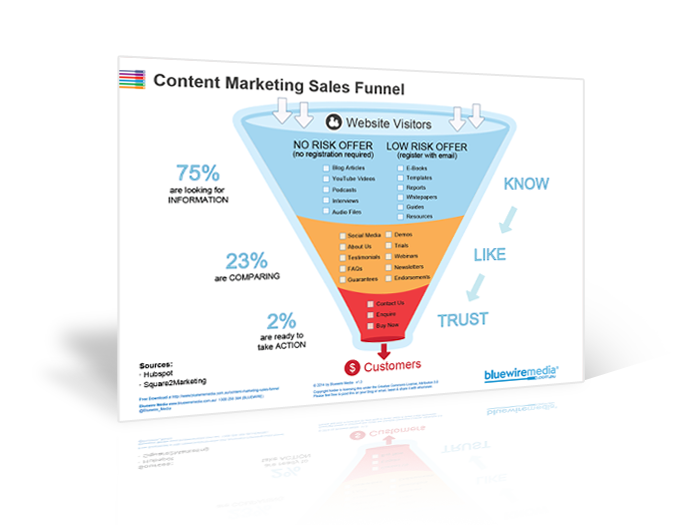 Content Marketing Sales Funnel
Your content marketing sales funnel is all about getting people to know, like and trust you by nurturing them with the right information at the right time.