How to Write Your Next Article 2 Hours Faster (Without Sacrificing Quality)
How to write your next article faster
Time. It's something we can't buy, stockpile, or earn back. It's like those annoyingly productive people say: we all have the same 24 hours in the day.
Finding time is one of the biggest challenges for marketers, especially when it comes to writing high-quality content. I'm going to share seven techniques I use to save a heap of time when I'm writing articles and blog posts for my clients.
But I'm not talking about cutting corners or missing steps out completely.
These tips will save you time without compromising quality.
All in all, if implemented, this will save you over two hours on each article you write. Think of what you could spend that time doing…
Sipping a coffee in the sunshine?
Doing that lunchtime yoga class you've been putting off for ages?
Floating in a pool of champagne, mainlining espresso martinis while a team of servants hand-feed you Twisties?
I'm not going to take up any more of your precious time with my absurd daydreams. Here they are, my seven time saving tips for writing better articles and blog posts.
1. Plan your article (and beat the blinking cursor)
You might be a superstar who can open up a document and pump out a blog post quicker than I can say "whotookmyfavouriteredpen". But if you're like most of us normal humans, a blank page and a blinking cursor is the stuff of nightmares.
For me, starting from scratch is a sure-fire way to bring on writer's block.
Mapping out the key elements of your article not only saves you from the curse of the blank screen, it also ensures you have all the key elements of a good content marketing piece. Here's the blog planning template I use with some handy tips for what to include in each section.
Time saved: 30 mins
2. Write your questions when you're thinking of a topic
If you rely on subject matter experts (SMEs) within your business to provide information for your blog (e.g. your top sales person, a product developer, your head of R&D), this one will come in handy.
When I'm planning out my blog topics, I always spend five minutes writing down some key questions I would need to ask an SME to get the info I need. That way when it comes to interview time, which could be months away if you plan your content calendar in advance (yes, you absolutely should do this), you aren't spending time trying to get back up to speed about the topic and figuring out the right questions to ask.
This can also work if you are the brains behind your business. Use these questions to interview yourself (no, not literally, that would be a bit nuts but amazing to witness) and get the info you need for your article.
Time saved: 10 mins
3. Get help choosing a headline
Nailing the headline is fundamental to the success of your article. On average, 8 out of 10 people will read headline copy, but only 2 out of 10 will read the rest. Meaning, the better your headline, the more chances your readers will continue on.
If you were on a date with your reader, a bad headline is the equivalent of walking up and breathing hot garlic breath all over them.
Chances are your date is going to high tail it out of there. Don't let your readers do the same.
Rather than staring at your 20 different headline options and wondering why none of them sound right, then creating a poll asking your colleagues to choose the best option, get some help from the experts.
I use this headline analyser to run my headline options through. It gives you a neat score for each option, explains where you can improve and even shows you what it will look like in Google. This tool is great for narrowing down the options but keep in mind this is simply a tool – please use your own judgement rather than just going for the highest scoring headline.
In the end you know your customers the best so choose one that you think is going to resonate with them.
Time saved: 20 mins
Bonus tip: Keep the headline options you didn't end up choosing and use them for social media updates and email subject lines.
4. Use a transcription service
Again, this tip works well if you are interviewing a subject matter expert to get insights for your article. Rather than wasting time post interview transcribing it yourself, outsource this.
There are a few options here. I use Rev which is pretty reliable. There are also some free options like Otter.ai, an free AI-powered transcribing service. Keep in mind this is essentially a computer program so your transcription will need a fair bit of editing to get it into shape. (I've seen some insanely weird translations of seemingly normal words!)
If your interview is around 20 mins, it's going to take you at least twice as long to transcribe it yourself, so this alone will help you write your next article faster.
Pro tip: before you send it off to be transcribed – edit it
Top and tail any bits you don't need transcribed (like small talk at the start and end). Treat yourself to a coffee with the $ you just saved.
Time saved: 40 minutes
5. Interview in batches
If you're interviewing a subject matter expert for info on one post, are there other posts you can interview them for at the same time? E.g. You might be writing a post about trends in your industry, but you have also got a "how-to" post planned (this is where having at least 6 months' worth of content ideas comes in handy).
Interview your SME on both topics at the same time to save yourself the hassle of making another appointment and starting off the small talk again. You also won't have to waste time setting up another interview which can often take lots of back and forth. I find batching interviews gives me better information as the SMEs often get on a roll once they start thinking about the topic.
Time saved: 10 minutes
6. Set aside time to gather external sources
Having some statistics and info from other sources is a great way to back up your ideas and give your readers more information beyond your expertise. It also has added SEO benefits like incentivizing links back to you and building a reputation of trust.
But if you're looking for these insights while you're writing, you can often fall down the content rabbit hole and get majorly side-tracked. Reading other people's content can also derail your tone of voice. When you come back to writing your own article it can be hard to make yours consistent.
I recommend putting aside some time to search for statistics that are relevant to your company's expertise. Make this a separate exercise to writing your article.
Gather a whole bunch and file them somewhere (I use Pocket and Evernote) but you could use a simple word doc. Then when it comes to writing your next post, you can simply whip out your stats file and pluck out one that backs up your message.
Time saved: 15 minutes
7. Use a checklist when editing
There's no point writing a killer article or blog post if it doesn't have all the content marketing goodies in there. Things like a link to your product/service or a clear call to action.
When I was a content marketing newbie I often found myself having to go back and edit my post multiple times to make sure I had all the elements right.
Here's a handy content editing checklist for you to write your next article faster. Have it in front of you when you're editing.
Time saved: 20 minutes
Total time saved = 145 minutes
That's 2.4 hours. Now you know how to write your next article faster!
Now that I've saved you over 2 hours, go ahead and treat yourself to watching 10 minutes of oddly satisfying things. You're welcome.
About Clare Hastings
Clare Hastings helps companies position themselves as a trusted authority by turning their expertise into content. She writes brand-boosting content like articles, whitepapers, eBooks, case studies and more.
She also creates helpful resources like The Marketer's Guide to Subject Matter Experts, a step-by-step guide to creating insightful, inspiring content using the resources you already have in-house.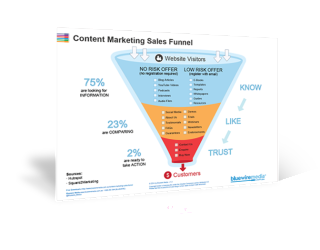 Content Marketing Sales Funnel
Your content marketing sales funnel is all about getting people to know, like and trust you by nurturing them with the right information at the right time.