What is Wrong with Customer Service and How can Marketing Fix it?
Updated on March 16th, 2020
What is Wrong with Customer Service and How can Marketing Fix it?
Customer service is constantly being compromised by companies who prioritize other departments. This should not be happening because companies need customers and clients to survive. The culture in so many companies today has put competition ahead of customer retention. Instead of driving to make existing customers happy, many companies continue to focus on winning over new customers. These companies need to understand that they are spending more on customer acquisition but then not doing anything to try to retain those customers which is essentially wasting the investment and alienating the customers they paid to acquire in the first place. This is where marketing comes in because marketing usually drives customer acquisition; customer service can help the marketing department achieve their goals and work together in symmetry.
Does This Sound Familiar to You?
Many people can relate to a scenario like this one. You receive an introductory offer with a low rate for a service such as cable television, mobile phone usage, satellite radio, or similar. Once the introductory period is over, the price you were paying for the service skyrockets. No one wants to pay a higher price tomorrow for the same exact service they were receiving yesterday. Coincidentally, their competition is offering the same "new customer deal" and woos you to switch to their company to receive essentially the same service for their discounted offer for new customers only. Why are these companies ignoring the customers they already have? They already are connected with these customers and know that they pay their bill on time; more importantly, they know their preferences.
In other cases, retention is taken too far. Have you ever decided to cancel service with a provider and before they terminate your service they send you to a "retention specialist"? As marketers, we know that retention is important; however if too much emphasis is put on retention, who is focusing on current customers? When talking to the retention department, most customers have already made their mind up about canceling services and learning that the company will offer them the same service at ½ the price or a 1/3 of the price they were paying. Wouldn't that make you mad? Wouldn't that make you regularly try to cancel service to see if you can get "the lowest" price a company offers?
If you don't appreciate when companies treat you this way, why are you maintaining the same policy in your company?
Focusing on Customer Service for Existing Customers
Developing a corporate culture that is rich in customer service and putting customers first is the best way to combat the price wars, the introductory offer sales, and customer attrition. Studies show that customers will pay more for customer service; the key is finding out what your customers want and what their preferences are and then changing how you do business to meet their needs. Happy customers equal a prosperous and successful company. How can you get started on developing this type of atmosphere and policy to put your customers above all else?
Poor Customer Service Hurts Marketing Efforts
With the popularity of social media today, most companies know that upset customers are likely to complain about a bad experience on their social channels. In fact, the statistics show that people are twice as likely to post on social media about a negative experience as a positive experience. Only when a company goes above and beyond in the customer service department does that statistic change. Good customer service helps the marketing department do their job better, especially when it comes to social media, online consumer reviews, and other reputation management issues.
Steps To Prioritise Customer Service and Delivering an Excellent Customer Experience:
Customer Service Must Be a Priority for Every Department and Every Employee. Emphasizing a culture rich in customer service values must come from the top levels of a company and trickle down to every department and each employee. This includes proper training in customer service techniques to ensure consistency. A customer should experience consistent service when dealing with different people and different departments.
Empower Your Employees and Make Them Accountable: Employees should be accountable for their actions, and they also need to be empowered to resolve problems should they crop up. Studies have shown that customer satisfaction increases if a problem is resolved quickly and without having to speak to supervisors or managers to resolve a situation.
Go beyond Service and Develop Consumer Advocates: Companies like the Ritz Carlton empower employees to ensure that guests have nothing short of an amazing experience. Each employee is given an "allowance" to spend at any given time for any reason to make a guest happy. This is not just for resolving problems, but just making a guest feel welcome. This policy develops company advocates who will not only choose the Ritz Carlton hotels over other less expensive hotels, but will also tell their friends and social networks.
Listen to Your Customers. Regularly interview your customers to learn their preferences. Focusing your service based on their priorities, wants, needs, and suggestions makes for a perfect blend of service and satisfaction.
Treat Customers How You Want to Be Treated. This simple Golden Rule that you learned as a child applies to businesses today. If the way that your company is structured is angering your customers, evaluate what you can do to change it. Do not be afraid to make major changes to the way your company is structured. Think of how T-Mobile is leading the change in the mobile phone service industry by eliminating contracts and allowing their customers to get the newest device without having to wait for a contract to end and without having to be a new customer. They completely changed their business model to avoid the negative customer reaction and turn customer attrition around.
About Eric Thomas
Eric Thomas is blogger and Brand Manager for Brandme.com.au. He enjoys sharing marketing and business tips and ideas. Connect on Google+.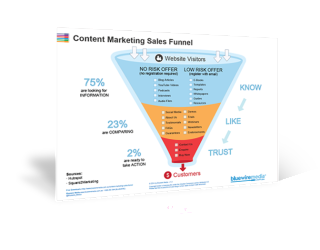 Content Marketing Sales Funnel
Your content marketing sales funnel is all about getting people to know, like and trust you by nurturing them with the right information at the right time.