What I do wrong on my videos (I wear sunglasses!) [#41]
Updated on May 16th, 2019
[Brisbane River, Hamilton, Queensland, Australia]
I know I do some things 'wrong' on my video.. like wearing sunnies! But here's why I do it anyway.
VIDEO
TRANSCRIPT
Hi it's Adam Franklin and on this video I just want to talk you through one of the things that I know I do wrong on these videos, but I do it anyway, and that is I sometimes wear sunnies. So, a lot of people have asked me, "How come you're wearing sunnies in these videos Adam? Is there a reason? Did you know that if you're wearing sunnies on videos then you're blocking your eyes and therefore it puts a barrier between you and the viewer and often that means that people don't trust you as much."
Now yes, I do know that. The reason I wear sunnies mainly, it's the simplest reason, it's because it's sunny. It's actually sunny. So I feel more comfortable putting them on to talk to you at this time of day, which obviously is like the middle of the day. I do try and do my videos early morning or dusk when the light is a lot softer, but if I'm at a nice spot and I've got something to say, then I'm not going to let stuff that's not perfect slow me down.
So that's the reason I wear them. I'm not reading a script behind me, I'm not… no other reason, aside from the fact that it's sunny and I feel more confident. But then again, I've done it this way because I feel all squinty and my face is screwed up like this, I don't feel confident. I don't know how it comes across, but I'd love your thoughts. Sunnies or no sunnies for these types of videos in the middle of the day?
Yes I know it's wrong, but I do it anyway and I encourage you to consider the same, because I'm thinking about the three videos that I did last year and I had sunglasses on in all of them, and it would have been very easy to say no, it's not the right time of day, it's going to be really crowded here soon, I can't wear sunnies because it's not professional. But I did it anyway. I didn't feel like it, but I did it and those three videos were my three most popular videos that I posted to LinkedIn. Collectively those three videos had over 250,000 views. Probably, I think about three or four thousand comments and that lead to so many email subscribers, so many online questions, as well as coaching clients, that I'm so glad that I just got in and did it, and had the sunnies on, and didn't let perfection stop me from getting stuff done.
So that's my tip today. I know it's not right and I'm going to share more of the stuff that I know I do wrong, but I do anyway, on future videos. But that's it for me. I'm here in Hamilton in Brisbane, on the Brissy River, and I hope you have a fantastic afternoon. See you later.
100 videos in 100 days. Want more?
This is part of my 100 videos in 100 days challenge.
For all my videos, join my Facebook page
For more videos and tip, let's connect on LinkedIn:
Or subscribe via my website and download my popular Web Strategy Planning Template.
PS. When you're ready, here are 6 ways we help
consultants & advisors

grow:

1. Web Strategy Planning Template (PDF). Our flagship 1-page tool we co-created with David Meerman Scott. It's been downloaded over 1 million times and featured on Forbes.

2. Read a free chapter from our book. Web Marketing That Works --- an Amazon #1 best seller.

3. Join the private group on Facebook. Access free training resources, and hang out with 2,300+ peers.

4. Discover your marketing score. Take the 40 point Marketing Scorecard (in < 6mins) and get a customised report.

5. DIY for $7. Get the Complete 50+ Script Library for connecting with people to winning clients.

6. Let's brainstorm how to fill your marketing funnel.

DM the word "INTERESTED"

via Messenger

 or 

book a 20 min slot to talk

 on Zoom.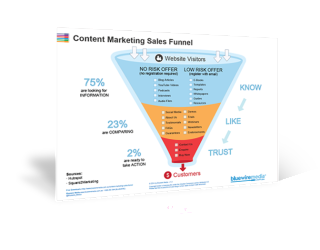 Content Marketing Sales Funnel
Your content marketing sales funnel is all about getting people to know, like and trust you by nurturing them with the right information at the right time.