Get our Amazon #1 best selling book plus the bonuses and offers.
Updated on May 1st, 2018
PAPERBACK BOOK (Basic) $25 USD inc free shipping anywhere in the world
PAPERBACK BOOK + "All-Access" Starter Pack (Upgrade) $97 USD
Get the paperback book Web Marketing That Works, plus 6 keynote presentations, slides + cliff notes by Adam Franklin
What if your marketing could attract leads on autopilot and you could kick your advertising addiction forever?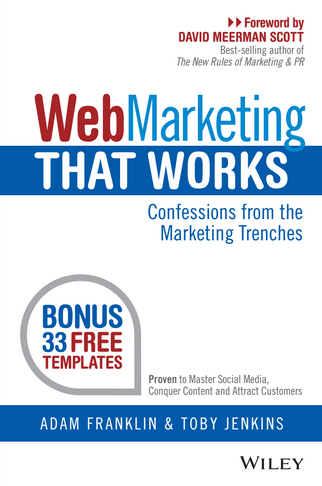 Written for time-starved business owners, entrepreneurs and marketers who are sick of pouring money into advertising and crossing their fingers, Web Marketing That Works is your step-by-step guide to building a web marketing asset that generates revenue, appreciates in value and compounds over time.
Drawing from over a decade of experience in the marketing trenches, Adam Franklin and Toby Jenkins reveal the truth about what works on the web.
If you're looking to master social media, conquer content marketing and attract customers online, this book is your blueprint.
In this step-by-step guide to web marketing you will learn:
how to distill your digital marketing strategy to a single page (pg 6)
how to uncover your flagship content (pg 23)
how to avoid the 5 key pitfalls that risk derailing every website project (pg 47)
why premium content and landing pages in tandem can be the difference between failure and knockout results
why email is the ultimate web marketing tool (p 77)
how to amplify traction on your blog. Hint: you don't need more content (p 90)
how to connect with influencers in 10 simple steps (pg 140)
why the secret to online is offline (pg 149)
how to create your editorial calendar (pg 116)
how to top Google search results without knowing SEO (pg 125)
how to sell online without losing your integrity (p 161)
how to develop a social media strategy and guidelines (pg 178)
With over a decade in the marketing trenches of their own business Bluewire Media, Adam Franklin & Toby Jenkins reveal the truth about Web Marketing That Works.
Order today and get 5 bonus videos
PAPERBACK BOOK (Basic)
PAPERBACK BOOK + "All-Access" Starter Pack  (Upgrade)
Get the paperback book Web Marketing That Works, plus 6 keynote presentations, slides + cliff notes by Adam Franklin
Amazon #1 Best Seller
Web Marketing That Works: Confessions from the Marketing Trenches by Adam Franklin & Toby Jenkins is an Amazon #1 best seller.

Some Amazon reviews
This book is for you, if you are a:
Marketing manager
If you're employed as a marketing professional, then this book is for you. You will learn what needs to happen and how to implement. Adam is a marketing manager himself.
Business owner, entrepreneur or CEO
If you own or run a company and want a no-nonsense explanation of how to succeed online, this is for me. We are business owners ourselves and Toby is our CEO, we're not authors who sit on the sidelines!
Marketing consultant or run an agency
If you help your clients with their web marketing, this book is your complete guide. Read the book, download the templates and use all the material with your own clients.
Student or aspiring professional
If you want to work in any of the roles above and kick start your career or business, this book will be very valuable.
Testimonials
David Meerman Scott
Bestselling author, The New Rules of Marketing & PR
"In Web Marketing that Works, you'll learn everything you need to know to generate attention for your business. Just like my two friends Adam and Toby, the book is fun, approachable, slightly alternative, and it delivers great ideas about how to develop strategies and implement tactics for success."
Verne Harnish
Author of Mastering The Rockefeller Habits and CEO, Gazelles
"A practical guide for CEOs looking to master marketing on the web. Adam and Toby have written a simple, no-fluff book as well as thrown in 33 templates so you can implement (and supercharge) your marketing today."
Dave Kerpen
NY Times Bestselling Author, Likeable Social Media & Likeable Business
"Most books on online marketing are neither comprehensive nor practical. This is both. Two huge likeable thumbs up for this must-read!"
Liz Wiseman
Bestselling author, Multipliers
"Adam Franklin and Toby Jenkins are the new power duo of digital marketing. Their how-to guide Web Marketing that Works is powerful blueprint packed with concrete insights and practical tools that will multiply your team's success."
Mitch Joel
Author – Six Pixels of Separation & CTRL ALT Delete, and President, Twist Image
"Is there a 'one-size fits all' strategy for brands to better understand the new myriad of ways that they can connect a message with a consumer? Adam and Toby think so. In Web Marketing That Works, you are given a real and practical how-to guide to get your business more digitally savvy. A lot of books on the market speak to the 'why' this is so critical for business success today. This books speaks to the 'how'… and it's something that every business needs to know and do."
Liz Strauss
Business Strategist and author of, The Secret to Writing a Successful and Outstanding Blog
"Adam and Toby deliver on the irresistible offer: a motherlode of ideas grounded in experience and insight, and focused templates to custom fit those ideas to your business."
Brian Solis
Digital analyst and author, What's The Future of Business (WTF)
"The problem with new marketing is that practitioners look for the easy route. They either copy other companies or leave it to their agencies to come up with ideas. Relationships between your business and your customers is just that…they're yours. Adam and Toby help you become the success story that others want to copy."
Chris Brogan
Publisher, Owner Magazine
"Tired of listening to the gurus? Listen to two veterans and gain real insight. Franklin & Jenkins deliver!"
Eric Keiles
Co-author, Reality Marketing Revolution and Fire Your Sales Team Today
"Adam and Toby have created an important resource for marketers, perfect for entrepreneurs and enterprise alike. This well-written volume provides coverage of a number of critical web marketing issues and an elegant journey from strategy to tactics not commonly covered in most introductory marketing books. If you want to drive leads, you owe it to yourself to read this book."
Jay Baer
New York Times Bestselling author, Youtility: Why Smart Marketing is About Help not Hype
"With comprehensive coverage, exceptional detail, and dozens of free templates, this is the most useful book on digital marketing ever. It's years worth of knowledge and insights packed into a couple hundred pages. Indispensable, and a must-read!"
Standard Book Bonuses
If you order the book, you'll get instant access to 5 bonus videos:
Video #1. The Truth About Social Media for Business full length keynote
Video #2. Killer Digital Strategies full length keynote
Video #3. How to cold email any VIP with John Corcoran & Adam Franklin
Video #4. How to start, grow and monetise a podcast with John Lee Dumas & Adam Franklin
Video #5. Power of content marketing with Adam Franklin
Plus this:
Marketing Course for Beginners explaining the 33 marketing templates
3 months trial of our Facebook community
Special offer
PAPERBACK BOOK (Basic)
PAPERBACK BOOK + "All-Access" Starter Pack  (Upgrade)
Get the paperback book Web Marketing That Works, plus 6 keynote presentations, slides + cliff notes by Adam Franklin
Chapter Outline
Chapter 1 Your web universe: content, web and inbound marketing
Chapter 2 Web strategy: defining your buyer personas
Chapter 3 Flagship content: the cornerstone of your web marketing
Chapter 4 Content marketing: know, like and trust
Chapter 5 Web marketing metrics and reporting ROI
Chapter 6 Building your own website
Chapter 7 Landing pages: design, psychology and leads
Chapter 8 Email marketing: the ultimate tool for web marketers
Chapter 9 From blogging to content marketing: attracting leads, not just readers
Chapter 10 Video, audio and image publishing: YouTube, webinars, infographics and podcasts
Chapter 11 Publishing content and finding your editorial rhythm
Chapter 12 Search and keywords: search engine optimisation
Chapter 13 PR on the web: influencer outreach
Chapter 14 The secret to online is offline: events and speaking
Chapter 15 How to sell online while keeping your integrity
Chapter 16 Social media in action: strategy and guidelines
Chapter 17 LinkedIn: the essential social network for business
Chapter 18 Facebook: a gold mine for marketers
Chapter 19 Twitter: a communication revolution
Chapter 20 The road ahead
Some 5 Star Amazon Reviews
Is Bluewire's
free

stuff better than other people's

paid

stuff?

Yes.  Or so we are told by some industry experts and students alike.  Here's some unsolicited praise that we were emailed.

If you've come this far, maybe you agree?
Have you already downloaded and started using our 33 free marketing templates?
Hopefully you've already experienced significant value first hand from the templates, and you are excited by what our paid, premium material can deliver. Anyway, if you've found the templates useful, now you are going to find our premium material valuable too.
Special book offers
PAPERBACK BOOK (Basic)
PAPERBACK BOOK + "All-Access" Starter Pack  (Upgrade)
Get the paperback book Web Marketing That Works, plus 6 keynote presentations, slides + cliff notes by Adam Franklin
Happy readers!
What the experts say
Why listen to us?
We've been in the marketing trenches every day for over a decade. We've not been playing it safe from the sidelines. Instead we've been getting our hands dirty and discovering what really works. Some reasons to read on include these accolades:
Our blog has been named one of Australia's Top 25 Business Blogs for the last 4 years and was #1 in 2015.
We've written for Startup Smart, Sydney Morning Herald, The Australian, Smart Company, Hubspot, Convince and Convert, ProBlogger, LifeHacker, Orbit Media and many more.
We've been interviewed on radio shows 2UE, ABC, 4BC plus many of iTunes most popular podcasts like Entrepreneur on Fire and $100MBA.
Inbound marketing software giant Hubspot recognised our company with the award for the "Most Inbound Leads – International" with 5,617 leads in one year; the most out of all Hubspot's international partners.
Bestselling author and keynote speaker David Meerman Scott has written about co-creating the Web Strategy Planning Template with us in classic marketing book, "The New Rules of Marketing & PR" (page 154).
Between us, we have been trusted to speak at over 100 conferences to tens of thousands of people.
We run our own annual events with other renowned industry leaders speaking in the lineup.
We were contracted by the publisher Wiley to write our first book called Web Marketing That Works: Confessions from the marketing trenches" and this is the course to help you implement everything.
27,300 email subscribers in over 95 countries
Our weekly 'Bluewire News' email newsletter goes to over 27,300 marketers all over the world, and this number grows every day.

Get the IP we teach in workshops
Happy workshop attendees
Our best IP for a fraction of the price
Many marketers have enjoyed our private workshops which cost $1000+ a ticket, and corporate clients have engaged us for private consulting which costs as much as five figures a day. This offer is your chance to access all the same IP that we share in these workshops and you can go through it at your own pace.
Book Endorsements
Rand Fishkin
Moz founder and author, Inbound Marketing and SEO
"Adam & Toby have put together a commendable and rare treat for those seeking to learn web marketing: a book that is both comprehensive AND easy to digest. By taking complex topics and boiling them down to their essence, the pair have made critical information on everything from SEO to blogging to social media and beyond accessible to everyone."
Brian Halligan
Hubspot CEO and author, Inbound Marketing
"The team at Bluewire Media has created a practical, actionable guide to help businesses launch, manage, and measure their inbound marketing efforts, including insights from their experience, templates to keep efforts organized and efficient, and best practices to guide your lead generation efforts. You won't want to miss it."
Joe Pulizzi
Founder of Content Marketing Insitute and author, Epic Content Marketing
"No 'pie-in-the-sky' theories with this book.  Web Marketing that Works is 100% actionable, includes dozens of easy-to-use templates and is built for marketers at the biggest brands to the one-person start up."
Robert Bloom
US Chairman/CEO of Publicis Worldwide and author, The New Experts and The Inside Advantage
"The web has changed marketing forever! Now buyers — not sellers — are in control.  Adam & Toby's book gives you the marketing framework for business today so that you're using the web to empower buyers at their 4 decisive moments."
Kevin Daum
Bestselling author, ROAR! Get Heard in the Sales and Marketing Jungle, and Video Marketing For Dummies.
"Most general marketing books are incomplete and lack practical application. This is a comprehensive primer that every business should read and apply. Now they can thanks to Adam and Toby's sharing of their own marketing laboratory. Take this book and go to market!"
John Lee Dumas
Host, Entrepreneur on Fire podcast (#1 business podcast on iTunes)
"If you want to be on the bleeding edge of marketing, this book is for you. "Web Marketing That Works" throws out yesterday's strategies and provides a roadmap for how to win in Web Marketing TODAY. Entrepreneur On Fire will be implementing these strategies, and I can't wait for the results!"
Valerie Khoo
Author, Power Stories
"Adam and Toby are the real deal. They are passionate about how web marketing can help business owners. This book is packed with practical advice and truly useful examples. A must-read for business owners. I devoured every page."
Andy Crestodina
Author, Content Chemistry
"Adam and Toby have combined some of the best marketing lessons and resources into a straightforward book that both makes the case for why and then gives step-by-step instructions on how to do it right. They humble share their mistakes, then they give insights into their secrets for results. It's a great example of itself: content that drives relevance and results. I recommend this book for marketers in virtually any industry. You'll read it in a weekend and refer back to it (and the templates it contains) over and over again."
Tim Reid
Host, The Small Business Big Marketing Show, Australia's #1 marketing podcast.
"A great read for any small business owner overwhelmed by theory who simply wants to take action.  We are who Google says we are. That's just how it is.  Web Marketing That Works will ensure the reader (who actions these tested ideas) sees an ROI from their marketing efforts that they deserve.  It's less a book, more a hardened battle plan."
Glenn Murray
Author, SEO Secrets and Practical SEO Copywriting
"Wow! That's all I can say. I've seen my fair share of books claiming to share the secret sauce of web marketing, but none of them have even come close to this. Adam and Toby really know their onions, and this book is full of practical examples, how-tos, and step-by-step instructions. It's the perfect guide for anyone who's just setting up their own business. For that matter, I think most established businesses could learn a lot from it too. I know I did, and I've been in the game since 2001! Well done, boys."
Thousands of copies sold worldwide
Some more reader reviews
Our UNBEATABLE "100% Risk-Free" 60 Day Money Back Guarantee
As always, we completely stand behind our products. If you change your mind, don't like it, or have even the slightest hesitation that you've not got massive value within 60 days from your date of purchase, we insist on respectfully refunding your money to your credit card! No guilt, no stress and no worries ;-) Plus you keep the book so can pass it onto a friend who might find it valuable.
Email us and your money is refunded to your credit card or PayPal account. We won't make you feel bad, ask to see your homework or interrogate you about what you implemented. Just make sure it is within 60 days of when you paid for the material. We trust you.
People might abuse this guarantee! Why on earth would we do this…?
There are 3 reasons:
Reason 1: Firstly, we want you to achieve your goals and if our book and material doesn't deliver, you shouldn't be out of pocket. However we are totally confident that you'll love the book and find the courses very valuable! Our money is where our mouth is.
Reason 2: As for the scallywags who might pinch the book… People who deliberately steal courses by knowing in advance that they're going to milk the refund, aren't actually customers at all, so we simply choose to focus on serving people like you who will hopefully be a customer for life.
Reason 3: Finally, if you've bitten off more than you can chew right now or you get cold feet, we want to support you. And the best way we can do this is to reimburse your investment, and wait until you are ready. This guarantee is extended for a full 60 days, which completely covers the time you need to read the book. If you don't love it, like it or find it remotely valuable, just email us WITHIN the 60 DAYS and we'll fix you up.
Just please don't ask for a refund after the 60 days is over. To keep it fair to all students we must keep our word and say no if you ask. So let's both avoid having the awkward and uncomfortable situation of us having to saying no. The 60 day period starts when you make your purchase! We hope you understand.
Does that sound fair? Ok, that's our promise to you. So, now hop along and join the rest of the marketers who are taking action right now!
The offer
PAPERBACK BOOK (Basic)
PAPERBACK BOOK + "All-Access" Starter Pack  (Upgrade)
Get the paperback book Web Marketing That Works, plus 6 keynote presentations, slides + cliff notes by Adam Franklin
Let's go into more detail…
What do I get in the Web Marketing "All Access Starter Pack"?
8 of Adam's most popular and keynote presentations, covering the most important web marketing fundamentals.
Lifetime Access to the following keynote presentations by Adam Franklin (and slide decks):
KEYNOTE #1: Effective Social Media Marketing in 15 Minutes A Day (56 mins) + slides + cliff notes
KEYNOTE #2: How to build relationships and influence using a podcast (21 mins) + slides 
KEYNOTE #3: Killer Digital Strategies (52 mins) + slides + cliff notes
KEYNOTE #4: Time-Effective Use of Digital Platforms to Elevate your Business (55 mins) + slides
KEYNOTE #5: Supercharge your Brand with Social Media (23 mins) + slides + cliff notes
KEYNOTE #6: Mining Your Existing Database (27 mins) + slides + cliff notes
KEYNOTE #7: Attracting New Business (37 mins)+ slides + cliff notes
KEYNOTE #8: How to grow an email list using a podcast (26 mins) + slides
Access to the exclusive private Facebook group: You get to meet fellow students, ask questions, find partners and contribute to the Web Marketing That Works community.
This is exactly what we teach private clients and in workshops around the world.
What book bonuses do I get?
Bonus Video #1: Full length Truth About Social Media for Business by Adam Franklin
Watch the full length 50 minute keynote called "The Truth About Social Media for Business" that Adam Franklin gave in Sydney to over 500 people.

Bonus Video #2: Adam Franklin's keynote "Killer Digital Strategies"
You get the full length 53 minute recording of Adam Franklin's keynote presentation to 600 mortgage brokers.

Bonus Video #3: John Corcoran's "How to Cold Email Any VIP" webinar with Adam Franklin
In this private 69 minute webinar recording, Adam and John discuss how to connect with influencers via email and social media. John Corcoran is a former speechwriter in the Clinton White House and relationship expert.

Bonus Video #4: How to start, grow and monetise a podcast with John Lee Dumas & Adam Franklin
John Lee Dumas from Entrepreneur on Fire teaches his practical 60 minute podcast training workshop.

Video #5. Power of content marketing with Adam Franklin
Adam Franklin is interviewed about content marketing as part of the Get More Done in Business Series.

Plus these:
Marketing Course for Beginners explaining the 33 marketing templates
Access to our private Facebook community
Here's what it looks like in the Student Centre
More expert endorsements
PAPERBACK BOOK (Basic)
PAPERBACK BOOK + "All-Access" Starter Pack  (Upgrade)
Get the paperback book Web Marketing That Works, plus 6 keynote presentations, slides + cliff notes by Adam Franklin
Why we models the masters
You're committed to learning, like us?
Ever since we started our business journey, we've been keen students of marketing and social media. Every year for over a decade we've invested thousands of dollars to learn from people who are doing what we'd like to be doing. This way we've been able to fast track our journey.
We've also been able to look over the shoulder of people we want to emulate. We prefer to learn from the people who have done what we want to achieve. Whether that's in business or life in general, we want to learn from the doers, not the talkers or the theorists. We'll choose the fit personal trainer, the healthy doctor and the accomplished business mentor. That's just us – each to their own, right? But if this approach to learning rings true for you, then you're at the right place. We can teach you, train you and mentor you, because we have runs on the board.
We've put together a robust framework that's been stress tested on the marketing frontline. We've synthesised all the best information out there, so you get the stuff that works. This is good news for you, since you're busy, you have your own expertise and like us, you're happy to pay to fast track your learning from people you know, like and trust. This material contains exactly what we wished we'd had available to us when we started our business in the mid-2000s.
Whether you choose the book on its own, or the blueprint or the entire course, you'll be taking a giant step in the right direction with your web marketing.
So why do people fail?
1. They have no clear goal.
If you don't understand and define who you want to buy from you, anything you do on the web will lack direction. You'll burn time, money and lose motivation. Fast.
2. They don't have a consistent nurturing process.
Without a systematic approach, any success will be unlikely, random and unscalable. With the right nurturing process you can guide a new lead to become a customer over time. We'll teach you what to do.
3. They don't take action.
This is the major one. Putting what you know into action is honestly where most marketers fall over. They get busy or distracted by the next shiny object. This course will show you how to develop and implement your plan. And we'll be around to help you get the results you want.
An easy win to start with
For starters, 95% of websites we see make one easy-to-avoid mistake. What is that….? Many marketers don't really appreciate that the majority of your website visitors are craving information. And instead of delivering this useful and interesting content, they inadvertently rush, pressure and cajole visitors to the enquiry form or the Buy Now button. It's like proposing marriage instead of asking someone on a date. You may be repelling your best customers!
On their first visit to your website, people are nowhere even close to picking up the phone, filling in your enquiry form or whipping out their credit card. They don't even realise you can solve their problem until you EDUCATE them with free yet valuable content.
The critical thing you can do to overcome this is… release a piece of flagship content. It should be so good that people would actually pay for it. Then with the right lead nurturing process, you'll have pre-qualified prospects coming to YOU to do business at the prices YOU want. No cold calling, no advertising and far fewer tyre kickers!
This is just the tip of the iceberg of stuff you learn from our book and material.
Reader reviews on Amazon
Book options
Frequently asked questions
Does this include a copy of your book?
Yes — it includes a physical copy of the book, shipped anywhere in the world. Plus you get all the bonuses.
Must I read your book?
Yes, if you want to get the best results. It is recommended reading.
What level is this aimed at?
Beginner to semi-advanced.
Is there an expiry date?
No. You have lifetime access.
Will the price go up?
Yes. The price you see today will definitely increase.
Do I have to pay for new updates or upgrades?
No, all updates are included. The good news for you, is you'll get all the future updates for free.
Can I use this material and framework to consult to my clients?
Sure. Once you learn something it's hard to un-learn it! So if you want to go through this course and skill yourself up in social media, you'll be more than qualified to pass your knowledge to others. In fact, you'll make your investment back in no time once you teach this to your own clients!
Will I get access to future updates?
Yes. In fact we will most likely add updates and new content to this material.
Will I need a budget for this to work?
No. Just time. Our philosophy is to help you build a web marketing asset, rather than get you hooked on advertising. What we mean by that is we'll teach you how to invest in things that you own and that live online forever and appreciate in value. In contrast, social media advertising depreciates fast. In fact as soon as your adverts have been clicked or displayed, they vanish and you need to keep on pulling out your credit card every time you want more. This is painfully addictive and expensive. We won't lead you down that path.
I run an agency, will I learn enough to add this material to my offering?
Yes. You can take what you learn and charge good money for consulting or for implementing this for your clients.
What if I get cold feet or feel overwhelmed?
That's OK. We want to support you, so if you decide within 60 days that you've taken on too much, we'll reimburse your investment, and wait until you are ready. Sound fair?
How do I pay?
You can select your payment preference — either credit card or PayPal. NB. Prices are in US Dollars.
Is PayPal secure?
Yes. PayPal is one of the most trusted payment gateways in the world.
I don't have PayPal, can I pay with my Visa, Mastercard or American Express?
Yes.
Why does PayPal sometimes request my phone number?
So they can help if there are any problems with your payment.
How do the refunds work?
You simply email adam.franklin[at]bluewiremedia.com.au and request a refund within 60 days of purchase, and your money is reimbursed to your credit card or PayPal account. No hassles. (Just please don't ask for a refund it's after 60 days from the date you purchased. It's awkward saying No and it would unfair to the other students if I did. Thank you!)
More reader reviews
Other guarantees
The 'lifeline' guarantee:
We want to see you move through this program successfully, because it's in your best interest and ours. We are here to help. So if you have any questions, get lost, feel overwhelmed or feel like giving up, please let us know directly. We're here as your lifeline, cheer squad or whatever you need!
The 'it's not too silly' guarantee:
Even if your question feels stupid, silly or 'if you're just a beginner'… please ask!! If you are confused, other students probably are too. And it's our responsibility to fix it up. We are continually refining the program and we appreciate everything you ask us or tell us.
Ok that's it from us!