[Infographic] LinkedIn Connection Guide
Updated on November 4th, 2019
[Infographic] Who do I connect with on LinkedIn?
Here is my handy LinkedIn Connection Guide as an infographic to use as a useful framework for deciding who to connect with on LinkedIn.
"Who do I connect with on LinkedIn?" is a question I am asked by coaching clients and workshop attendees a lot….
My philosophy is that every client, every business contact and even every friend was a stranger, once. Then we meet for the first time and we develop the relationship from there.
On LinkedIn, I encourage you to be open to connecting with new people, especially if you like what they do, if you have mutual friends or if they are in a related industry or city to you. Don't connect with 'everyone' but keep in mind that every stranger now could be a future friend, colleague or client.
[Infographic] LinkedIn Connection Guide

Embed this infographic on your site. Get the code.
Source: [Infographic] LinkedIn Connection Guide by Bluewire Media.
Feel free to share this infographic or embed it on your blog.
Download this infographic as a PDF

LinkedIn Connection Guide (PDF):
A simple checklist to help decide whose connections to accepts on LinkedIn.
Social media infographics
LinkedIn is a powerful platform to grow your personal brand and your business brand. You can see here the importance of growing your LinkedIn connections, and why you need a professional to guide you. This infographic was created by Venngage, the platform that delivers quality designs including social media graphics and more.
PS. When you're ready, here are 5 ways we can help you grow:
1. Web Strategy Planning Template (PDF). Our flagship 1-page tool we co-created with David Meerman Scott. It's been downloaded over 1 million times and featured on Forbes.
2. Read a free chapter from our book: Web Marketing That Works --- an Amazon #1 best seller.
3. Join my private invitation-only group on Facebook. It's a great place to get to know us better and hang out with peers.
4. Watch my pitch-free 'LinkedIn Masterclass' on optimising your profile, building your network and growing your B2B pipeline on LinkedIn.
5. Work directly with me. Book a LinkedIn Growth Session and we can explore how you can use LinkedIn to grow a pipeline of high-value B2B clients.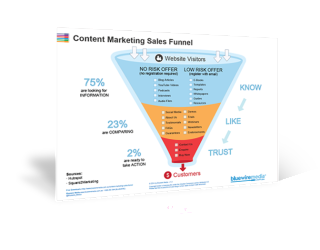 Content Marketing Sales Funnel
Your content marketing sales funnel is all about getting people to know, like and trust you by nurturing them with the right information at the right time.