17 Blog Post Templates That Will Make Your Life Easier
This is a guest post  – Aaron Agius is an online marketer, web strategist and entrepreneur and you can check him out at AaronAgius.com

Welcome Aaron…
Blogging block.
It happens to the best of us. You just can't seem to come up with the topic and style that will really resonate with your audience. And so you stare at the blank page, hoping that inspiration will strike like lightning.
Even seasoned pros that you see writing on Bluewire Media and other leading industry blogs struggle with this sometimes.
As someone who writes numerous posts each month – trust me – if I can overcome it, so can you. All it takes is having the right tools and templates in place.
Luckily, blogging is a proven art.
We took a look at the pros to see what works and what doesn't. After analyzing their posts, you'll notice a pattern of post templates for each new piece they publish.
Using these templates makes my life so much easier. They take the guesswork out of planning a post, while offering a familiar format that allows the inspiration to flow.
So what are these templates that make breaking through blogging block possible?
1. List Posts
These are a cornerstone in the blogging world.
A well-written list post headline is targeted and specific. If you fall into the audience persona, chances are you'll click to keep reading.
For example, if you're a "bro" that's about to turn 30, you'll automatically feel compelled to read the above post by BroBible. You'll start clicking before you even think about it.
Or, here's one I wrote for the Hubspot blog to help other marketers speed up their content creation process.
2. How-To Posts
My friends always think I'm much smarter than I actually am. Why? Because the online world is littered with helpful how-to posts on just about every topic imaginable.
If you want to learn something, there's probably an article out there with a step-by-step lesson.
Want to live a more compelling life? Inc.com has a how-to post on the topic.
 (source)
I did something similar for Bluewire Media in a post called "How to Build Your Personal Brand in 8 Specific Steps."
Action Tip: Brainstorm a list of topics you think your audience would like to learn. Boom. You just came up with a list of potential how-to posts.
3. Expert Interviews
Expert interviews have several perks:
You get to build a deeper connection with industry influencers.
Because they contributed to the content, they'll likely share it too.
You'll have the opportunity to learn firsthand from their expert knowledge.
Your audience will eat it up!
The team over at Mixergy has built their entire empire on the idea of expert interviews (and I'm honoured to have been one of their participants).
 (source)
But you don't even have to invest that heavily in this blog post template to succeed. Adding just a few expert interviews to your content strategy can make a huge impact.
4. "Behind the Scenes"
Who doesn't love an exclusive, behind-the-scenes look?
Your business has many nuts and bolts that the customer doesn't get to see. Peeling back the curtain and showing them the intricate details provides a new perspective.
It's a great piece of content, and builds the idea of transparency and trust with your audience.
 (source)
Appfolio nailed it with this behind-the-scenes look at their product development process.
5. Case Studies
Case studies – whether of your results or the results of others – help prove the worth of your product, service, strategy or idea.
D&AD shares case studies of those that win awards from their organization.
 (source)
Get creative with it!
Just because it's a case study doesn't mean it needs to lack flair, engagement or personality. Don't be afraid to show off the very best of yourself and your community.
6. Resources and Links
People appreciate a strong list of resources.
I don't know about you, but I spend hours each week learning new things on the web. When I come across a resource list, it makes the entire research process a lot easier.
 (source)
Action Tip: Find other sources of great content on a topic in your industry. Compile all the resources together for an awesome, unique piece of content for your audience.
7. Create a Walkthrough
This goes a step beyond your traditional product review or how-to post.
Chances are, you're using products everyday that could benefit your target audience. Create some content that shows exactly how you benefit from a product or service.
For example, task management – regardless of your industry – is a massive pain. Kelsey over at Paper & Oats used this knowledge to share how she runs her graphic design business.
 (source)
Action Tip: Identify a few things that you do every day that your target audience also does. Create a walkthrough to help others develop strategy and systemize their efforts.
8. Infographics
Infographics are a great way to communicate data in an efficient, easily digestible manner. A few things you could make an infographic out of include:
Quick Tutorials
Facts & Statistics
Industry Data
Currency Liquidator, for instance, recently used an infographic post to share some info about the security features found on the new 10,000 Indonesian Rupiah note:
 (source)
If Currency Liquidator can turn something as dry as currency security features into an interesting, engaging infographic, surely you can find some data that your audience would enjoy reading.
9. Monthly Reports
Monthly reports should benefit and inspire your audience. A few ideas include:
Income Reports
Expense Reports
Traffic Reports
Pat Flynn does a great job with transparency in this kind of content.
His monthly income reports inspire his target audience, and continue to generate a good number of shares and comments. What could you share each month that would resonate with your readers in this way?
10. Videos
Video is becoming more and more important in the marketing world.
It's an engaging, captivating way to connect with your audience. All social media sites are placing focus on this medium, and you should too!
Gary Vaynerchuk does a great job of sharing his videos as posts on his blog:
The great thing about video is that you can combine it with another template (e.g. how-to post or list post) to create an epic piece of content that blows your audience away.
11. Guest Blogs
You probably already know that guest blogging for others is a great way to build your brand. I use it regularly to establish my authority (as in the case of this recent post I published on Kissmetrics):
And this post you're reading right now is a guest post.
But it's not just for other people. You can internalize this strategy and use it to build your own blog. Getting influencers, experts and peers to contribute to your blog is an easy, effective way to tap into their knowledge and audience.
12. Epic Guides
Most online content stays very general.
Audiences tend to skim, and people are looking to digest content as quickly as possible. They want the information, nothing more and nothing less.
But that doesn't mean you shouldn't look for the chance to go deep.
Ultimate guides like this one posted by Shopify – or like the epic guide to building a blog audience I helped write for the Quick Sprout blog – share a wealth of knowledge on a specific topic.
If you're looking for a way to establish authority, give epic guides a try.
13. Research Posts
Every type of company can benefit from sharing exclusive research.
This template focuses on providing your readers with exclusive insider knowledge on something that matters in your industry.
As an example, Epiphany Studio shared the results of their architectural market research study.
They wanted to set themselves apart, and the time and effort that went into this study certainly made that dream a reality.
What type of research could help you stand out from your competitors?
14. Wake Up Calls
Sometimes you just need a wake up call.
These kinds of posts are blunt, straightforward and ruthlessly honest. The words cut deep. You may bleed a little.
But they'll change you for the better.
Look at this headline from Jon Morrow. It's the embodiment of this type of post.
No one wants to just be another nobody blogger. And we certainly want people to give a crap about what we're doing.
It hits home.
And that's why it works so well.
15. Personal Takeaways
I love it when people get a bit personal on the web. And no, I'm not talking about what your lunch plate looked like.
These templates go into valuable takeaways that add real value to your audience.
Vieo Design nails it with this takeaway post from their recent experience at the Marketing United Conference. By sharing what they learned, they were able to teach others that may not have had the opportunity to attend.
Action Tip: Create a list of events, experiences and lessons that you've learned throughout your life. All of these items are potential ideas for a personal takeaway post.
16. Strategic Newsjacking
There's always some sort of viral news going on out there – from politics to a popular entertainment series.
Creative companies can use these trends as an opportunity to catch attention in the moment. These posts aren't timely, but they work great for a particular trending topic or moment. (We are talking about news, after all.)
Action Tip: Always keep your eyes open for an opportunity to connect a trending topic with something in your industry. It's a great way to get a boost in readership.
17. Roundups
Contrary to popular belief, this isn't a quick way to post content. In fact, I've found that good curation is often more difficult and time consuming than original content.
Mari Smith does a stellar job with her roundups:
 (source)
What types of posts could you curate and share with your audience on a regular basis?
There you have it! These 17 blog post templates will help you break through any barrier.
Don't struggle through the pain of blogging block anymore. Comment below with the blog post template you'll use for your next post:
About Aaron
Aaron Agius is an online marketer, web strategist and entrepreneur and you can check him out at AaronAgius.com
Bonus 33 Free Templates
Download the 33 free templates from Toby and Adam's new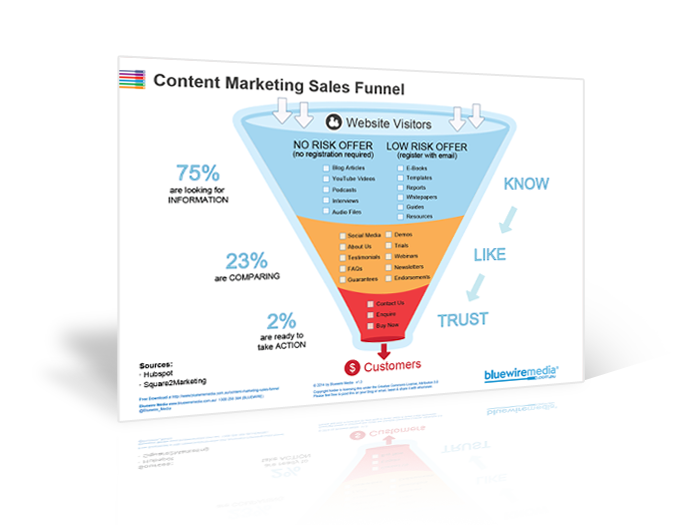 Content Marketing Sales Funnel
Your content marketing sales funnel is all about getting people to know, like and trust you by nurturing them with the right information at the right time.