5 Content Marketing Mistakes That Might Kill Your Business
Updated on November 2nd, 2019
Killer Marketing Mistakes
Creating fresh and unique content day in and day out is no mean feat which means content marketing mistakes are easy to make. It takes a lot of time and energy to write engaging blogs, find or create suitable images and discover people to read them. And to add to the pain, there are no quick rewards to your efforts with content marketing. At times it feels like all the hard work is going to waste.
But you need to understand that content marketing is not a race you need to finish quickly. It's more of a journey that you should cherish and wait for your destination patiently. It takes time to build trust for your brand with content. It takes time to understand the needs and tastes of your audience so that you can provide inspiration and valuable information to them.
You need to pay attention to the strategies you use for content marketing. A few marketing mistakes can affect the growth of your business.
Through this post, I will tell you about 5 common content marketing mistakes that could kill your business, and what you can do to avoid them.
1. Not Doing Search Engine Optimization (SEO)
An article published on Truconversion.com reveals that local searches lead 50% of mobile visitors to visit stores within a day. Therefore, not doing SEO can be a grave mistake.
While writing a blog, don't just keep in mind the tastes and preferences of your readers but also what will capture Google's attention. After all, there is no point creating high-quality content if it is not found by your audience while searching. Practicing SEO strategies will increase your traffic and leads as your content appears in the top pages of Google or any other search engine.
Keywords in your content hold a lot of importance when it comes to SEO. According to Searchenginewatch.com, your content needs to match the search terms that people are using and answer these search queries effectively. While writing titles, make sure that the keywords are towards the beginning. For instance, the closer the keyword is to the beginning of the title tag, the more weight it has with search engines.
(Image source: Backlinko)
2. Not Giving Enough Thought To Headlines
Marketers often don't give enough time to creating headlines, but they are the one thing that will encourage people to read your articles in the first place. So they are perhaps the most important element of a compelling piece of content.
Let's check out some stats about the importance of headlines:
So your headline should be informative and generate curiosity in your readers. The more you practice, the better you will get at crafting a compelling headline.
3. Not Writing Quality Content
Don't create content just for search engines, or just because you "need" to publish something. It will likely get boring for your audience. Instead, try keeping your content conversational and engaging so that people have fun while reading it.
According to Jeff Bullas, creating quality content is the most effective way to market a business. A high quality piece content will include eye-catching visuals, a great introduction that invokes curiosity, and is written in an easy-to-understand manner.
To make your content appear trustworthy, you can include stats or support it with some real life examples and case studies.
Your content should have the ability to solve the problems of people and inspire them. Simple, just keep your audience in mind while writing a post. Something that stands out.
An article published on Quick Sprout reveals that positive conversations produce oxytocin, a "feel good hormone," encouraging people to communicate and collaborate with others.
4. Not Distributing Content Appropriately
In today's digital word, distributing content across the right platforms is as important as creating content. Creating quality content is not enough. Distribution and promotion so your content is seen and shared by the right people makes a real difference to results.
In the past you could reach your audience through newspaper ads, magazines or mail outs. But now, the internet has provided an array of alternatives. To widen your reach and grow your website traffic, there are basically three types of platforms – owned, earned and paid media.
Owned Media
This type of media refers to the channels owned and managed by you, be it your social media profiles such as Facebook, Twitter, LinkedIn, etc., your website or your blog. Share as much content as you can on all these platforms that you have.
(Image source: Heidi Cohen)
Earned Media
This type of media refers to the channels that are not owned by you. These publications are famous and thus help in driving traffic. It can be done through social media shares, guest posts, events, media coverage and product reviews.
Paid Media
This type of media refers to the channels you pay for distribution of your content such as pay-per-click ads, display ads and social ads.
5. Not Paying Attention To Conversion
Last but not least, marketers get so obsessed with attracting traffic that they often don't pay attention to turning their visitors into customers. And this (converting) is the last but the most crucial step for the growth of your business.
An article published on Truconversion.com states that most companies spend $92 to acquire customers, but only $1 to convert them.
However, to remain ahead of your competitors, marketers should chalk out a plan this year for conversion optimisation. You can do this by A/B testing. Try tools such as Truconversion.com, Google Experiment API, Kissmetrics.com, etc.
Look to create responsive, mobile-friendly sites, and use diverse media such as video to build trust with your prospects.
Over to You!
So there you go… five common mistakes that marketers make with their content marketing strategy.
We hope that after going through this article, you'll be able to make necessary changes to your content marketing strategy, optimise conversions and help grow your business. But be advised results take time to show up! So be patient, diligent and determined.
What do you think? What are the top content marketing do's and don'ts? Please let us know in the comments below.
About Ankit Roy
Ankit Roy has been a columnist, digital marketing expert, blogger and editor at Designhill. He specializes in digital marketing strategies, technical and international creative SEO, web analytics, and business development strategy. He provides ghost writing, coaching and ghost editing services. You can engage with him on Twitter , Facebook and LinkedIn
Bonus 33 Free Templates
Download the 33 free templates from Toby and Adam's book.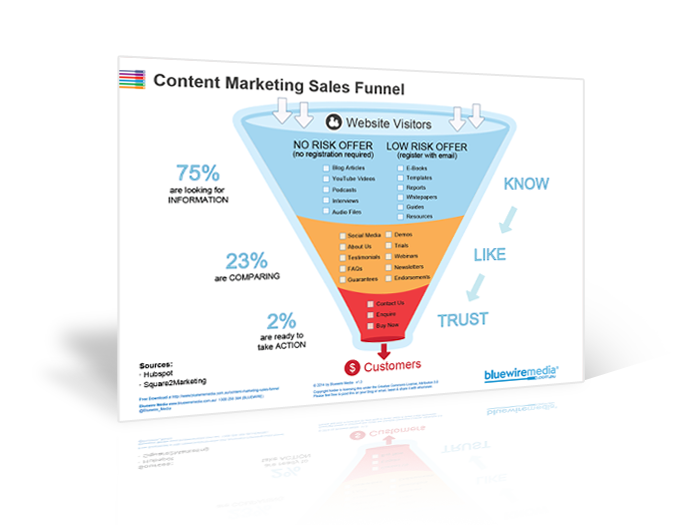 Content Marketing Sales Funnel
Your content marketing sales funnel is all about getting people to know, like and trust you by nurturing them with the right information at the right time.