7 Secret Ways You Can Repurpose Your Static Content
Updated on October 20th, 2020
Repurpose Your Static Content…!
This is a guest post  on how to repurpose static content. The author Ankit Roy has been a columnist, digital marketing expert, blogger and editor at Designhill. He specializes in digital marketing strategies, technical and international creative SEO, web analytics, and business development strategy. He provides ghost writing, coaching and ghost editing services. You can engage with him on Twitter , Facebook – and LinkedIn

Welcome Ankit…
Creating meaningful content to promote your business is not an easy task, especially given the appetite of today's consumers for regular content.
It's not always possible for even the most experienced and professional of writers to create new content day in and out. A dependable solution to this problem is repurposing the already available static content you have. Repurposing is the art of breathing new life into your old content and presenting it in a simpler, creative and engaging manner.
Writing afresh takes a lot of time and energy. According to a report revealed on Kapost, 69% of content marketers cite lack of time as their content marketing challenge. Plus, 47% of content marketers believe that producing the kind of content that engages is also a major challenge.
This has led marketers to start recreating old content into infographics, slide decks and instructographics to address a new audience who look for more personalised and creative experiences.
A blog published at Wishpond.com reveals that 90% of information transmitted to the human brain is visual and visuals are processed 60,000X faster than text. Naturally, a great way to make your brand stand out is to make it more visual.
Brafton.com reports that 95% of marketers say visuals are more effective than text-only content, and 9 percent say it's 10 times more effective. So, make sure you're investing in better visuals for your company, right from your logo design to your content. Repurposing gives you a pathway to MORE visual content, and hence more engagement.
Benefits of Repurposing Static Content
Better SEO Results – Over the years, search engines have become smarter. And freshness factor and engagement play a vital role in the site rankings in the search result pages. By smartly repurposing your old content, you can give a boost to your SEO efforts and ensure your chances of ranking higher. Another major benefit is that you can cross-link related content and ensure that your visitors spend more time on your site – this is considered a quality factor by the big search engines.
Enhanced Reach – Repurposing your existing content will help you extend your reach beyond your niche audience. Maybe your original content was meant for a certain group of consumers, but to succeed in your content marketing endeavours you need to constantly address and acquire a new set of customers. Repurposing content helps you reach out to more people and appeal to their preferred ways of absorbing information.
Increased Brand Recall – A good piece of content is memorable. And repurposing such content adds a dash of uniqueness and freshness that makes people like it and remember it for a long time. If your content is timeless, it never becomes boring for your target audience. Every year, companies spend billions just to create brand recall. And creating brand recall by just repurposing your existing content is perhaps the most cost-efficient marketing.
Improved Credibility – Great content is cohesive. And by repurposing a great piece of content in an entertaining and engaging way, you enforce your brand value. Whenever your target audience sees your content they think that the team behind the business are professionals and know what they're doing.
Increased Conversion Rates – Let's face it: Conversion remains a challenge for most businesses. Repurposing content can help you generate more views and clicks, and more customer engagement. Over time, this better customer understanding and increased awareness will facilitate increased conversion rates.
How do you determine which static content pieces should be repurposed?
Convince and Convert suggests to repurpose evergreen content. Simply put, evergreen content is an enduring and lasting piece of content that remains relevant and fresh for readers for a considerably long time.
Listed below is a little list of some common evergreen content types that you might consider to repurpose.
"How To" Guides
Lists
Top Tips
Answers
Product Reviews
Now, let's take a look at these seven ways to repurpose content. A common thing between all of them is to add further value to the original piece of content.
1. Create Interactive Infographics
Interactive infographics are a visual delight for readers. Presenting an otherwise difficult issue in a straightforward way, interactive infographics are informative and easy to understand. However, make sure your infographics are data-driven. Interesting visuals and interactive elements along with relevant data adds value to the infographic.
Social media influencers like Jeff Bullas believe that infographics have hugely impacted marketing.
According to Jeff Bullas "Just prior to the start of 2010 to the beginning of 2012, infographic search volumes increased by over 800%".
Here's an interactive infographic by Mesh Agency that's ranked alongside the top 10 data-driven infographics of 2015. This infographic, presented in the form of a periodic table, reveals vital data about the top digital marketing trends and predictions for 2015.
2. Create SlideShare Presentations
Most people respond to visuals strongly as compared to text. Slides offer an easy-to-read review of your existing content.
Platforms such as Slideshare give you an opportunity to engage with more people. An article on Huffington Post explains that SlideShare is one of the top 150 most highly-trafficked sites on the web, receiving 60 million visitors and generating 3 billion slide views every month.
Here's one of the most popular SlideShare presentations for 2015. This easy to read and follow presentation really holds viewers' interest with interesting flow charts and appealing graphics. In addition, this presentation provides vital information on how businesses can increase their ROI by using online content marketing tips and tricks.
3. Use Content to Tell a Fresh Story
There is a human instinct that if anything is told in the form of stories, one does not forget it. Therefore, you can convert your data based information to tell a cohesive story about your business and brand. To do this, a combined use of videos, infographics, microsites, memes and quizzes helps in keeping the audience engaged. Platforms like Storify are ideal to explore if you're planning to narrate your story.
Storify is one of the best tools for businesses to collect and share valuable and useful content from the social web. It is intuitive and easy to use. No wonder, a range of brands are using Storify to curate their best tweets, images, and posts and present them to their users as an exciting story.
Here's how Microsoft uses Storify to promote their Windows Phone.
4. Break Your Infographics Into Data Points
Once you have created infographics, you can further turn each point of the infographic into a separate piece of data.  This is a super effective way to repurpose static content
Furthermore, the small pieces of data can be shared on Twitter and other social networking sites along with an image. Popular websites also pick up such relevant, small data points for their articles.
A recent infographic…
Factors that Influence Startup Success, revealing vital data on startup success statistics by Designhill is a classic example of how a data-driven infographic can actually be broken into different data points to get more eyes on your content.
Data points from the infographic were published on some of the most popular sites including Forbes, Business2community, Smallbizdaily and Tnooz.
Pictured below is a data point from the infographic that was used by Forbes contributor, Amy Guttman for her article published on the website.
5. Modify, Refurbish & Repurpose Your Static Content
Often, we all forget an old piece of writing after its publication. Updating your old content or modifying it can become a wonderful tool to drive in fresh traffic. You can do this by scheduling in a date to go through an update a piece of content. On the scheduled date, find out what relevant information you can add to your published content and re-publish it. Also, re-promote it on social media sites.
Hubspot suggests you identify your top-performing posts if you're planning to refurbish and repost your existing content. Use analytics to check out the inbound links and traffic generated to identify your best blogs.
 In addition, it's important to add an editor's note specifying when the post was originally published and why it has been revamped, whenever you modify and republish your content.
In addition, it makes sense to remove the content that's no longer relevant. Also, update the meta description, change the title, but keep the keywords same. And don't forget to track the before and after performance.
6. Use Instructographics to repurpose static content!
Instructographics are similar to infographics. Instead of depending on data and statistics, instructographics offer information in a set of steps. If your blogs or articles describe how to do something, turn that into an instructographic. Pinterest is a social channel where you can find plenty of instructographics for inspiration.
Here's a snapshot of an instructographic from Portent.com that reveals some basic tips on how to write an effective outreach email to help marketers ensure an effective and successful outreach and link building campaign. You can see the complete instructographic here.
7. Create Quizzes
One of the best ways to repurpose your static content is to convert its information into a quiz. Rather than writing for your own blog site, you can engage your consumers with your brand, drive specific behaviors and motivate them to spend on your site by repurposing your static content into an engaging quiz.
Quizzes have extreme potential to go viral on the web. One of the highest performing articles on the New York Times was "How Ya'll, Youse and You Guys Talk", which was a 25 question interactive quiz. Within just a few days of going live, this quiz garnered more traffic than any other article on published on the site.
These tips can help you promote your business and drive traffic in a big way, without much of a time investment. In a blog published at Designhill, writer Michael Crawford reveals that 86% of marketers plan to repurpose content within 12 months.
Are you planning to recycle your content into visually appealing infographics or slide decks?
Please leave a comment below and let us know how you will use these tips to repurpose static content!
About Ankit Roy
Ankit Roy has been a columnist, digital marketing expert, blogger and editor at Designhill. He specializes in digital marketing strategies, technical and international creative SEO, web analytics, and business development strategy. He provides ghost writing, coaching and ghost editing services. You can engage with him on Twitter , Facebook – and LinkedIn.
Bonus 33 Free Marketing Templates
Download the 33 free templates from Toby and Adam's book Web Marketing That Works.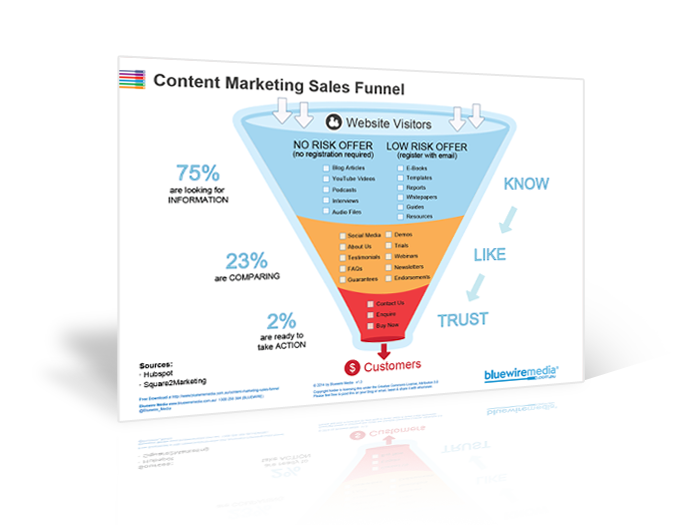 Content Marketing Sales Funnel
Your content marketing sales funnel is all about getting people to know, like and trust you by nurturing them with the right information at the right time.