8 Of The Best Traffic-Driving Content Syndication Tools
This is a guest post  – Rochelle Ceira loves blogging a lot and in her leisure time she dedicatedly updates insightful posts on latest trends, education, marketing, etc. Besides being a blogger, she's also a social media manager
Welcome Rochelle…
What good is content without an audience?
If you have just started publishing great content that deserves attention, don't sit back and wait for people to find you in the never-ending large pile of information that gets updated on the web every day.
Content syndication is a type of content marketing that allows you to push your content to other publishers or websites while (of course) you still get to keep the rights of that publication. It is a great way to drive traffic to your blog from sources that have already matured in terms of frequent visitors.
To get your content through to these respected sources under the headings of "Recommended" or "Similar Posts Around the Web", you can make use of content syndication tools that promise delivery. Different services enable different types of syndication and have various paid or free options. Usually, though, pay-per-click is demanded from these services.
Here is a list of popular and effective content syndication tools:
This network will aggregate and index content you want to market in various ad formats.
For example, your article could be indexed as "promoted recommendations", "in-text ads", "in-stream ads", or "sponsored content". Your story, brand, or post could be listed on a popular news site, blog, or for another popular publisher.
Zemanta also provides analytics on a personalised dashboard with insights on what has been performing well. Make sure you choose the right image, and title to get maximum exposure for your content – it could make all the difference!
Outbrain is another one that is regularly on the top of the list when it comes to content syndication tools.
It's safe to say that Outbrain is a market leader as a content syndication network and it doesn't seem to be dying down in its efforts anytime soon. The network is currently present in over 55 different countries.
Outbrain promises to recommend your content to some of the most trusted and respected media audiences such as People, CNN, and ESPN. The current global audience of OutBrain is over 557 million per month.
You can find out what others have to say about Outbrain and how well it worked for them under the success stories section on their website.
For instance, I use OutBrain for content syndication for my company's website Dissertation avenue in uk.
Addthis is a tool that will allow you to create sharing buttons, target your audience, promote a link, and increase your conversions through simple techniques. Xerox has used Addthis to successfully grow their email list by 84%!
The basic plan is free and the pro plan has a minimum of $10 per month.
Taboola is a great tool when it comes to content syndication – second only to Outbrain in its market share.
Taboola promises content recommendations on some of the most highly-trafficked websites around the world. The tool was built to help publishers and content developers increase engagement levels, drive traffic, and monetize their content. Taboola has partnered with top publishers including Tribune, the Atlantic, Yahoo Japan, NBC, Mail Online, and Business Insider.
Currently, their reach amounts to 300 billion recommendations on popular blogs and 550 million unique monthly users. This is slightly less than Outbrain, but it seems like it will tally up pretty soon.
Disqus is trusted by over 3.5 million websites to attract an audience, power comments, and monetise publisher's efforts.
It offers two main services: Engage and Reveal. Engage is a commenting and community platform for publishers. With Engage you can import and export all of your content anywhere. You will also receive analytics for your community. The tool supports 40+ languages – and the best part is that it's free.
Reveal is more focused on improving ad performance. Disqus promises to use clean tactics to drive engagement with higher-quality techniques rather than dated deceptive methods.
Gravity aims to get the right content in front of the right consumers. It calculates what's interesting on the web by crawling, indexing, and analyzing each web page.
Next, content is organized based on interests (relationships, technology, society, entertainment, sports, business, health, lifestyle, etc) and placed on relevant platforms.
The ultimate goal is to deliver personalized recommendations to the right consumers, at the right time. Gravity recognizes the fact that readers want relevant content which is why the Gravity API prefers personalisation over random recommendation.
Digiday ranked Gravity the #1 most disruptive publishing technology.
The ARC engagement platform is part of the parent company PR News Wire.
ARC allows you to update your campaign with the help of an interactive media player. This media player is embedded on to a landing page, allowing mass distribution across thousands of media channels, websites, and video portals.
You can also include a CTA button labeled "contact for more information" or "sign up for a contest" – a perfect conversion tool. Analytics on impressions, click-throughs, and sites where your player appeared will be reported to you.
Adblade currently boasts a reach of over 550 million unique users in the US each month.
The best part about using Adblade is that it will zero in on your target audience based on interests (similar to Gravity). For publishers (premium national and local sites only), Adblade aims to provide sales control, robust reporting, and quick monetisation with content style formats and in-content placement.
Publishers include Fox News, Yahoo, ABC News, Entrepreneur and more. With Adblade you can choose from three options and select your monthly traffic requirement.
Adblade is expensive (ranging from about 50 cents to a dollar per click) but it is definitely one of the most effective content syndication tools you can use.
About Rochelle
Rochelle Ceira loves blogging a lot and in her leisure time she dedicatedly updates insightful posts on latest trends, education, marketing, etc. Besides being a blogger, she's also a social media manager
Bonus 33 Free Templates
Download the 33 free templates from Toby and Adam's book.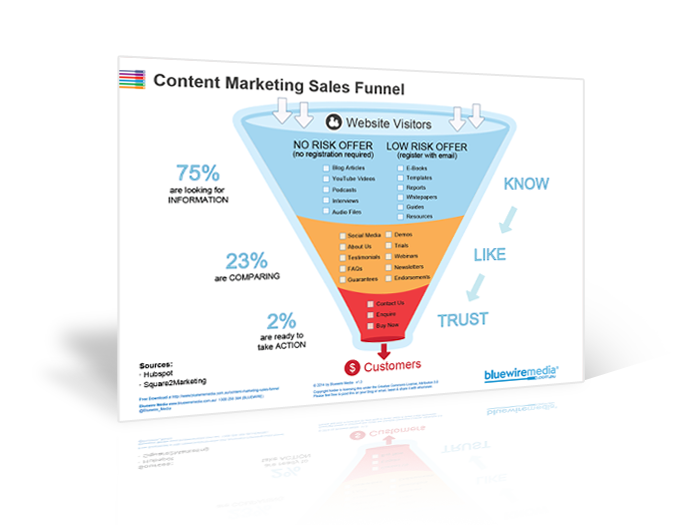 Content Marketing Sales Funnel
Your content marketing sales funnel is all about getting people to know, like and trust you by nurturing them with the right information at the right time.