[9 Tips] How To Achieve 4x Your Kickstarter Goal
Updated on January 12th, 2020
How to achieve your Kickstarter goal
Saul and Josh Cockburn are brothers from Brisbane that left corporate careers to start a company called TOOLETRIES. They decided to use Kickstarter as a way to raise seed capital and awareness of their new product line specifically designed for men. They launched their first product, The TOOLETRIES Bathroom Travel Case on Kickstarter, with an initial goal of $10,000. With 3 days left in the campaign, they have raised $39,896.
In this post, Saul and Josh share 9 tips on putting together a successful Kickstarter campaign.
Enter Saul and Josh Cockburn on how to achieved your Kickstarter goal…
How did we achieve nearly 4x our Kickstarter goal? We would like to share some tips and pointers on putting together a successful Kickstarter campaign.
1. Belief
Believe in yourself and your product.  Don't worry about what anyone else says.  We both had corporate careers before leaving our respective jobs and putting all of our time solely into Tooletries.  Many told us it was a bad decision but we knew we had to take a risk and back ourselves.
2. Product
Come up with an idea that is unique or able to capture the attention of the public.  Your product has to stand out as there are thousands of Kickstarter campaigns running at any one time, and many other crowd funding sites competing for a share in funding.
3. Kickstarter Pitch
A video is a must.  Kickstarter recommends having a video as it increases your chances of being funded. We used professionals to shoot and edit our video but you can do it yourself.  Try to tell your audience a little bit about yourself and why you created the product.  People love a personal touch.  They like to know the story behind the project as much as the product itself.
4. Funding Goal
Do not make it too large.  If your target amount is huge people may not think it is achievable and shy away from backing your project.  It also looks great if you can move above your goal early on in the campaign.  People love to back a winner! Traditional media are also more likely to pick up your story if you exceed your goal.
5. Friends and family
Get your friends and family involved in the Kickstarter campaign. They are probably going to be your most ardent supporters.  Write personal emails to them and follow up on them and don't be afraid to ask them to back you.
6. Overcoming Kickstarter obstacles
Long lead times can be a deterrent when it comes to securing backers. We decided we were not going to shy away from this but rather embrace the lead time by positioning the travel case as the perfect Christmas gift. By preordering a case via Kickstarter before Sunday July 20, you receive it by November – just in time for Christmas. Problem solved.
7. Social media
We used Facebook and Instagram as the primary means of spreading the word and to build a brand personality.  Then we made daily Facebook updates and Instagram posts to sustain brand awareness.  Finally we also asked friends, family and supporters to share our campaign on their social media accounts.
8. Traditional media
Don't pay a PR firm to represent you.  You are not going to be flush with funds to begin with if you are starting your own company and PR agencies charge a lot.  Think about an angle the media will like and prepare a short media release yourself.  Call relevant media outlets and ask to pitch a story to them.  You will be surprised at how willing they are to speak to you. It is important to have a media release that you can send them as they will often ask for this as a matter of course.
9. Social interactions
Be proud of your Kickstarter campaign and tell anyone that will listen about it.  You will be surprised how many people are interested and want to help you achieve your goal.
You can vi
ew on current campaign by clicking on the following link: https://www.kickstarter.com/projects/1568658882/tooletries-bathroom-travel-case.
We hope this advice has been helpful to achieve kickstarter goal and encourage anyone with a great idea to throw caution to the wind and use Kickstarter to fund the capital needed to start a business.
Thank you and good luck!
Saul and Josh
The TOOLETRIES Team
Bluewire Media MARKETING METHODOLOGY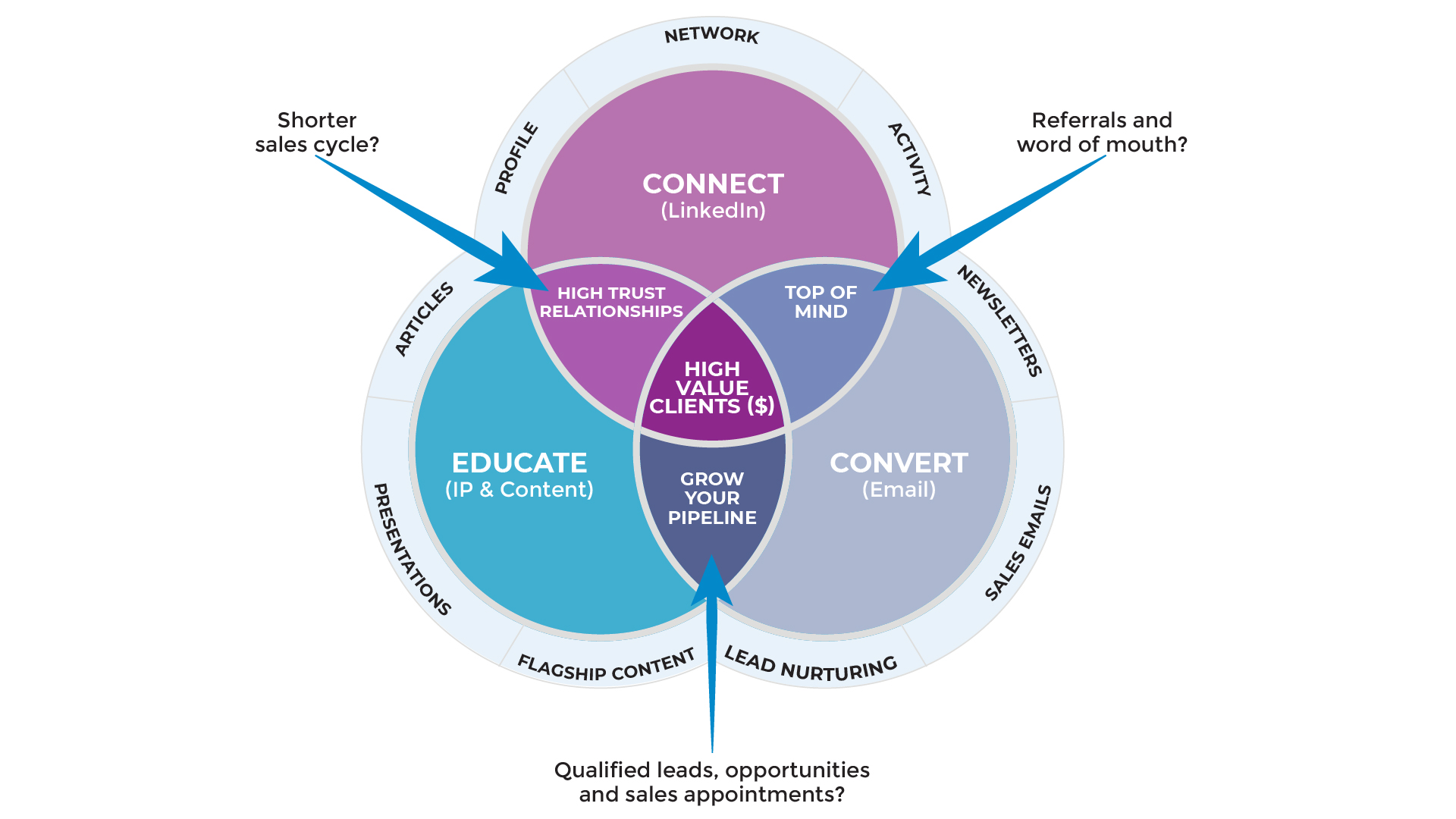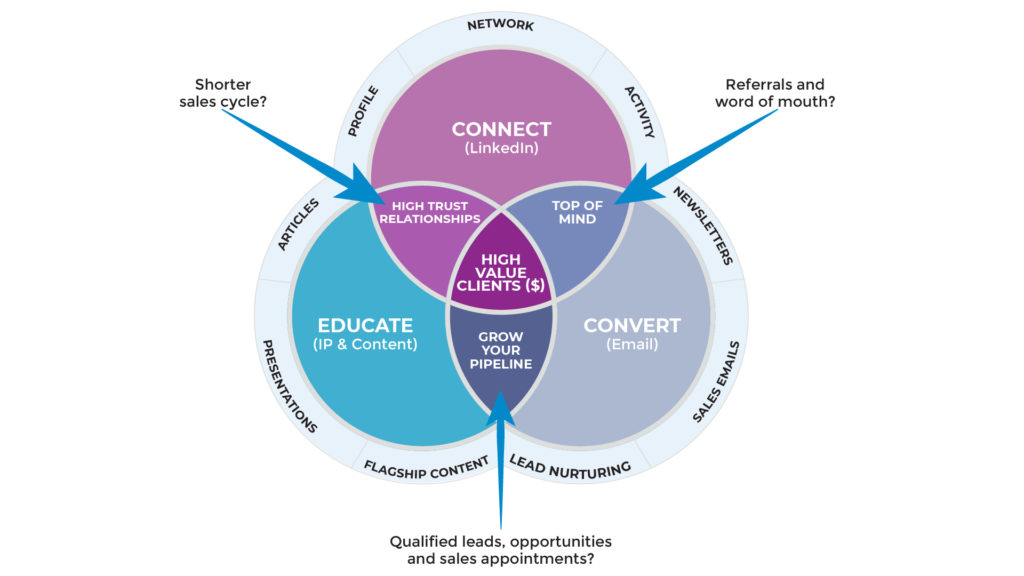 PS. When you're ready, here are 6 ways we help
consultants & advisors

grow:

1. Web Strategy Planning Template (PDF). Our flagship 1-page tool we co-created with David Meerman Scott. It's been downloaded over 1 million times and featured on Forbes.

2. Read a free chapter from our book. Web Marketing That Works --- an Amazon #1 best seller.

3. Join the private group on Facebook. Access free training resources, and hang out with 2,300+ peers.

4. Discover your marketing score. Take the 40 point Marketing Scorecard (in < 6mins) and get a customised report.

5. DIY for $7. Get the Complete 50+ Script Library for connecting with people to winning clients.

6. Let's brainstorm how to fill your marketing funnel.

DM the word "INTERESTED"

via Messenger

 or 

book a 20 min slot to talk

 on Zoom.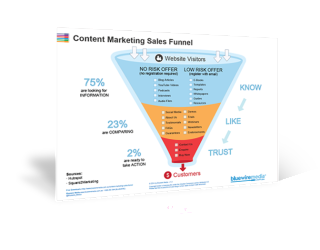 Content Marketing Sales Funnel
Your content marketing sales funnel is all about getting people to know, like and trust you by nurturing them with the right information at the right time.