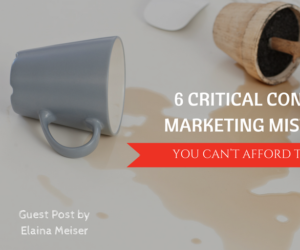 Great content takes centre stage like a lead singer.
The rest? Well it's more like the backup singers – going hardly noticed in the background.
Do you want to be the lead singer or not?
If you do, then you will need to craft your content carefully and creatively. And you will need to avoid some of the worst, and yet common mistakes that content writers make – keeping them in the background.
Let's look at some common content marketing mistakes you can avoid.
1. Poor Grammar
Of course, content has to be engaging and memorable.…
Continue Reading