Create SEO Friendly Content: 5 Cardinal Rules to Follow
Updated on April 7th, 2020
How to write SEO friendly content
SEO is the basis of content's success in the digital world. Your SEO capabilities determine whether your page will be discoverable or not. If you don't optimize your content, even the best-written pages can fall behind.
You don't need to be a digital marketer or SEO expert to optimize your content. What you do need is to know the most important rules of optimization and stay true to them. For that reason, we present you with five cardinal rules that will make your content SEO friendly.
1. Use Long-Tail Keywords
You might already know how important keywords are for SEO. What you maybe don't know is that long-tail keywords will bring you better results.
Long-tail keywords are phrases that consist of a minimum of 3 or four words. They are more specific and therefore, they are better at matching the users' search to your content.
People who use one keyword don't have a certain idea of what they are looking for which means that the chances of converting are low. Not to mention that the competition is endless. That's why long-tail keywords are better for SEO. They account for 70% of all web searches.
Do some brainstorming about keywords that will be the focal point of your content. Additionally, you can do keyword research with a tool such as Google Keyword Planner.
Keep in mind that the keywords need to naturally fit into your content. Better use fewer keywords than to ruin the content's readability.
2. Structure Your Content
Formatting your content helps both readers and search engines to evaluate what your content has to offer. With proper structure, your content will look more attractive, readable, and organized.
There are several aspects of structuring that you need to pay attention to. Employ the following elements in your content writing and formatting:
Recognizable structure (introduction, body, conclusion)
Headings and subheadings
Short sentences
Short paragraphs
Bullets and numbering
Bolded text
Format continuity
When a reader comes across your page they need to be able to take a glance at your content and recognize the value it can provide them. For that purpose and for the purpose of optimization, fit keywords into your title and subtitle. Of course, this applies only if the keyword can be naturally added.
For some extra help with keyword embedding and creating efficient subtitles, you can turn to Studicus writing services. If you just want to edit your content and restructure it, try out Hemingway Editor, an online editing tool.
3. Optimize Title Tag and Meta Description
When browsing through search results, most users will take a look at the title tag and meta description before they decide on which page to click on. This is your chance to win them over with your SEO friendly content.
A title tag presents an HTML element that specifies the title of a web page. It signals the users what they can expect from that page. As the first impression does matter, you need to put some effort into crafting your title tag. Here's what you need to keep in mind when creating a title tag:
Use keywords (if they can be places naturally)
Write the title for people not for search engines
Ensure that your title is unique
Ensure that all pages on your website have a title tag
Use Moz's title tag tool to check out how yours will look. Besides the title tag, digital marketers emphasize that meta description also plays an important role in content optimization.
A meta description is a tag in HTML (up to 155 characters) that summarizes the page's content. If users search for a keyword that is in your meta description, search engines will display your page. This is why the meta description is relevant for on-page SEO.
A few tips that you need to consider for meta description are:
Write in an actionable voice
Match the content
Include a focus keyword
Add a call-to-action (e.g. "find out more!")
4. Write High-Quality and Original Content
Don't even try to fool search engines with poor-quality content boosted with SEO tactics. Search engine algorithms can recognize plagiarism or inadequate content. Users who come across the content will recognize that too and quickly leave your website.
The information you provide to readers must be informative, valuable, original, and relevant. This rule is a consistent element of SEO trends.
To achieve high-quality content you'll need a good writer and regular editing and proofreading of content. Here are a few services that can help you with that:
5. Add and Optimize Visuals
Content's effectiveness and readability also depend on visuals. Visuals make your content more attractive and break up the blocks of text.
Adding images is especially important for longer content. Long text without visuals can seem dull and tiring to readers which will avert them from your website. They will leave exit the page before they even evaluate the value it has.
Visuals keep the users' interest and hold their attention on your content. According to some studies, higher time spent on a website correlates with higher search rankings. That's why visuals are relevant for SEO.
The type of visual content you can include are:
Images
Videos
Infographics
Add SEO value to your visual content by including meta titles, descriptions, alt tags, and description tags. They will define the image and boost its optimization. An extra tip is that you add keywords to alt tags when possible.
Remember that high-quality needs to be remained by adding high-quality images. Another necessary tactic is to compress the images before you add them to the site.
Final Thoughts on Creating SEO Friendly Content
Following these five rules will lead you to well-written content that satisfies the curiosity of readers and signals the value to search engines. Your primary concern still needs to be the creation of informative and engaging content. These tips will just enhance the content's value and turn it into SEO-friendly content.
About Diana Adjadj
Diana Adjadj is a writer at BestEssayEducation and WowGrade. Additionally, she works as a content editor at SupremeDissertations.
By sharing her expertise in the fields of writing and digital marketing, Diana wants to help others to achieve their ambitions. Her busy schedule doesn't stop her to consistently work on improving her skills and knowledge.
She also contributes to Kicksta.co blog.
Next Steps
PS. When you're ready, here are 6 ways we help
consultants & advisors

grow:

1. Web Strategy Planning Template (PDF). Our flagship 1-page tool we co-created with David Meerman Scott. It's been downloaded over 1 million times and featured on Forbes.

2. Read a free chapter from our book. Web Marketing That Works --- an Amazon #1 best seller.

3. Join the private group on Facebook. Access free training resources, and hang out with 2,300+ peers.

4. Discover your marketing score. Take the 40 point Marketing Scorecard (in < 6mins) and get a customised report.

5. DIY for $7. Get the Complete 50+ Script Library for connecting with people to winning clients.

6. Let's brainstorm how to fill your marketing funnel.

DM the word "INTERESTED"

via Messenger

 or 

book a 20 min slot to talk

 on Zoom.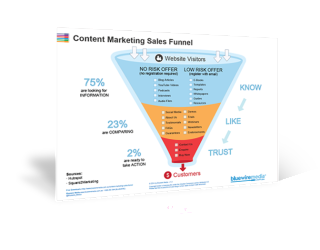 Content Marketing Sales Funnel
Your content marketing sales funnel is all about getting people to know, like and trust you by nurturing them with the right information at the right time.