A Glimpse Into Buffer From The User's Perspective
Updated on June 7th, 2019
This is a guest post — Danielle Gonsalves is a Social Media Manager in Trinidad and Tobago. Connect with Danielle on Twitter.
Welcome Danielle…
I recently saw Adam's blog post about the Buffer meetup and it sparked my interest because I use Buffer often. It's become part of my daily life because I manage many corporate Facebook and Twitter pages as a Social Media Manager. It was kind of like I saw Adam talking about a friend of mine, so I just had to read his post to find out more. I have also read many posts from Buffer regarding their company policies, which I find awesome, including the fact that they have no official office and all work remotely.
Adam's post about Buffer shared information about the recent meetup and about their culture, how the company operates and their transparency, among other things. Now I would like to give a glimpse into Buffer from the perspective of a frequent user. There are many advantages of using Buffer, one is that scheduled posts can be shifted to different dates in Buffer easily. I like that the days and times set for posts can be changed quickly and easily too. I mostly create and schedule posts in Buffer itself and there is the option to add an image. Additionally, I use the buffer button/ extension in my browser to add articles from the internet to my queue. I use the Buffer app on my iPhone as well, mostly when I want to check on my scheduled posts.
Buffer Support
I have been using Buffer every day since June 2013. I've encountered a few issues along the way and reached out to them for support. I have tried other scheduling tools but still prefer using Buffer. No tool is perfect, they each have their pros and cons, but I observe Buffer continuously making improvements. Their support team has always responded to me and been quite helpful. Buffer states their shortcomings in their FAQ, but I'm sharing a couple real examples in case some of you may be able to relate to these situations.
Even Leo Widrich, Buffer Co-founder & Chief Operating Officer, has personally responded to my questions via email & Facebook messenger a few times. It's very impressive that he takes the time to support users.

I'll share two of my concerns & feedback from Buffer support here.
Renaming Accounts in Buffer
Eight Facebook pages that I manage for eight different countries currently have the same name (brand name). They each had a different name before (brand name & country) but after aggregating the page likes, all the page names became the same on Facebook and then also in Buffer. So when there are eight accounts with the same name in Buffer, it makes it difficult to distinguish which page I am scheduling posts for. It would be awesome to be able to rename accounts in Buffer.  See my question to Buffer support and their response below.
Q: Is it possible to rename accounts in Buffer? (22 Oct 2013)
A: Currently it is not possible to rename the accounts you connect to your Buffer. They take the name you have set on each individual social network. If you wanted to change the name then the only way you could currently do it is via the social network itself.
Note: In this case, my client prefers to keep the Facebook page names the same overall (using the brand name)
(Also, the other countries besides the eight that I manage all have the same exact name on Facebook, one standard brand name is used across the board. Persons in each country can only see the Facebook page for their country, not the other pages)
On 7 Feb 2015, I asked Buffer support this question again to see if anything changed. Here's the update… 'Right now we don't quite have a way to do this still.'
Tagging through Facebook
In Buffer, while writing a post, if I were to tag @trinidsocialmedia for example, a prompt shows up and I can click on it to insert into the post. Although I click on @trinidsocialmedia, it does not tag the trinidsocialmedia Facebook page when it posts.  See my question to Buffer support and their response below.
Q: Does Buffer support @ tagging through Facebook? (26 May 2014)
A: We currently can only support tagging through Twitter.
When you share a post across multiple social networks it will tag that person in Twitter and then adjust to their real name elsewhere. I've gone ahead and saved your email so we can let you know pronto if tagging people on Facebook does become an option. Thanks for your patience here!
Even though Buffer is still working on these two issues, they are minor in the grand scheme of things. Overall, Buffer does its job and it's a great scheduling tool. Buffer has many features, so you can use the ones that you are interested in, and keep abreast of changes as they continue to add more features.
It's a good idea to reach out to Buffer or to any company that you use services from because your feedback helps them when they are making improvements. I'm sure Buffer used my feedback as well as feedback from others to enhance the overall experience over time. I appreciate the clear, direct approach in their support, because then I know what restrictions I'm working with and I adjust accordingly.
So take those few minutes to contact them the next time you have a concern about Buffer bothering you. Their customer service team will be sure to give you support and an honest response. All in all, as a Social Media Manager, Buffer saves time and makes my life easier, so I definitely recommend trying it.
About Danielle
Danielle Gonsalves is a Social Media Manager in Trinidad and Tobago. Connect with Danielle on Twitter.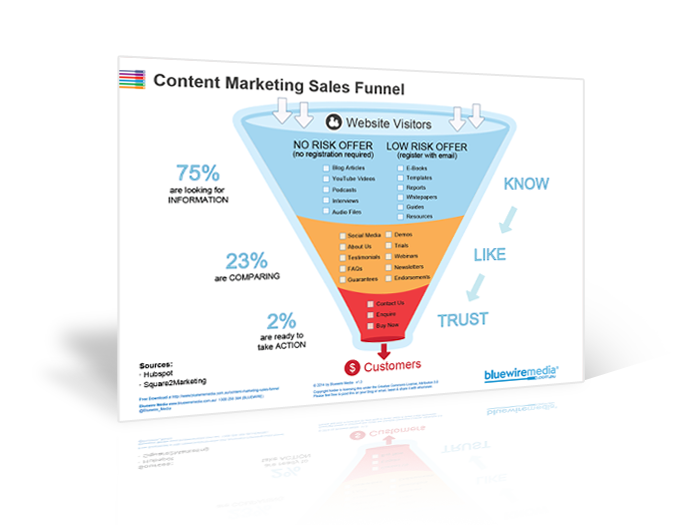 Content Marketing Sales Funnel
Your content marketing sales funnel is all about getting people to know, like and trust you by nurturing them with the right information at the right time.