How to Create Thrilling Content for Boring Industries
Updated on February 14th, 2020
This is a guest post  – Clement Lim is a freelance copywriter and content marketer specialising in B2B and legal niches. When he's not creating thrilling content he enjoys drinking green tea and doing handstand pushups. Find out more at limwriter.com.

Welcome Clement…
Some content marketers have it easy.
In "sexy" industries like food, fashion and travel, there's no end of interesting topics to get excited about.
But what if your industry is not quite so thrilling. What if it's a bit "boring". Like insurance, software, or engineering.
Now you really have your work cut out for you.
Or do you?
In "sexy" industries, there's so much stuff to write about that there's a ton of content being churned out every minute. In "boring" industries, not so much.
But this actually means you have less competition, giving you a better chance of standing out. I didn't say it would be easy.
The key to creating thrilling content for boring industries is to understand your audience and then to think outside the box.
How to Create Boring Content for Boring Industries
If you really want to bore your audience, rely on these timeless staples:
Endless company updates no one really cares about
Endless promotion of your products
Now if you really want to connect with your audience and win new customers, you must engage your readers. This means you must give them content about things they care about. Your content must be about them and their needs and not about you.
Thrilling Content Ideas
As a content marketer specialising in B2B, I'm always having to think of exciting topic ideas. The key is to understand who my audience is and what their needs are. The best content ideas spring from this understanding. Here are some approaches that will work:
Be Helpful
If your audience is facing a tough problem, they'll be thrilled if you can provide them with a solution. It doesn't matter how "boring" the topic is. If you've got a burst water pipe, you'll suddenly find plumbing fascinating.
Find out what your audience needs to know, and see if you can provide an answer. If you can do that, it could be the start of a beautiful relationship.
And that's what content marketing is about. Providing solutions to build relationships and grow your business.
So how do you find out what your audience wants?
Q&A sites like Quora and Yahoo answers are a goldmine of information. Type in your industry keywords in the search bar and scroll down to read an endless list of questions that need answers. Do any of these match your areas of expertise? Well these would be great content ideas.
You can also search for your keywords in industry forums and on social media platforms. You can conduct customer surveys. You could even talk to your customers and ask them.
Neil Patel's KISSmetrics sells a customer analytics platform. The KISSmetrics blog advises readers on how to solve their digital marketing problems. In time readers become customers. In fact, Neil estimates that over 50% of KISSmetrics' revenue comes from their content marketing efforts.
Be newsworthy
News topics in your industry are often trending topics. That means that lots of people will have an interest in them. If you can base your content around these topics, you'll be able to draw an audience. What's more, you'll never run out of ideas.
Proofpoint provides online security against cyber attacks. Keith Crosley, their Director of Market Development, was struggling in his content creation efforts. There was only so much he could say about their security products. Keith had the idea of writing news articles on topics related to their products. For example news articles about data loss prevention, email security and cybercrime. His strategy worked and Proofpoint was able to increase its organic search traffic by 18% after 3 months. Interestingly, Proofpoint's Google Analytics reports showed that visitors who came to their site via their news articles viewed more pages than other visitors.
Be a storyteller
"Storytelling is the most powerful way to put ideas into the world today."
Robert McKee is the author of the "screenwriter's bible" Story: Substance, Structure, Style and the Principles of Screenwriting. After a long career in theatre and film, he worked as a consultant for multinational companies including Microsoft, Nike, Hewlett-Packard, Time Warner and Siemens. Through the power of storytelling, he was able to help these brands spread their message.
The power of stories is that they are about people, not things or ideas. People connect with other people.
Case studies are a great way of employing storytelling in your content marketing. Look through the work your brand has undertaken. Sift through your files to find a suitable case study that showcases your work. Don't worry if you're no Ernest Hemingway. Follow the classic three-part story structure:
The protagonist. Introduce the main character, or protagonist, of the story. This should be a person or company from the same demographic as your target audience.
The conflict. Introduce the problem that your protagonist faces. It should be a problem that your target audience commonly encounters.
The resolution. This is where you come to the rescue. Describe how your protagonist solves their problem with the help of your products and services.
Case studies are not only engaging to read, they provide social proof, one of Dr Robert Cialdini's famous 6 Principles of Influence.
Be creative
Say your industry is super dry and technical. No matter how you rack your brain, you can't think of anything exciting to say about it. Now think about topics related to your industry, even tangentially. Can you come up with some exciting ideas?
Be creative. The secret is to find topics which may be outside your industry but are still relevant to your target audience.
Here are some great examples:
Creating Thrilling Content
Now you have some interesting topic ideas, you can start creating your thrilling content. The way to do this is to engage your audience's emotions. Do this from the get go and take them on a ride they won't want to get off.
Write an Attention-Grabbing Headline
"Your headline is the first, and perhaps only, impression you make on a prospective reader. "
— Brian Clark of Copyblogger
The headline is the most important part of your content. If your headline is weak, you've lost your audience before you've even started. Remember that people are bombarded with information relentlessly. Your headline must make them stop and read further.
Copywriters are masters of the headline, and who better to learn from than master copywriter Bob Bly. In his classic text, "The Copywriter's Handbook", Bob outlines a number of headline formulas. The following three are standbys that will never fail you.
The "How to Headline". Effective content marketing is all about offering a benefit to your audience. With this headline, you're making the benefit crystal clear. And be specific: not "How to Boost Blog Traffic" but "How to Use Pinterest to Boost Blog Traffic Dramatically"
The "Reason why Headline". Give your readers a list of reasons or tips. This is the strategy behind the popular "list" posts in many leading blogs: "8 Reasons Why You Need to Invest in POS Software Now"
The "Testimonial Headline". This is great for case studies. Your headline is even more powerful if you can include figures: "How Social Media Helped Cisco Shave $100,000+ Off a Product Launch"
Write like a real person
Content in many "boring" industries can read like a technical manual full of impenetrable jargon. This kind of writing is only accessible to readers with a high level of expertise. Others will be turned off and stop reading. In marketing, you should be striving to expand your appeal, not restrict it.
If your industry is dominated by dry formal content, take the chance to break the mold. Write like a real person. Use a conversational tone, address the reader directly as "you". Use contractions like "they'll" and "won't" to keep things informal.
Don't be afraid to use colloquial language. You can even drop references to popular culture or sports providing they are congruent with your target audience. Don't namedrop the latest teen pop sensation if your audience is mostly middle-aged executives.
Being informal does not mean being unprofessional. Your professionalism should be demonstrated through your experience and expertise, not through the use of formal language and industry jargon.
Remember, the strongest connections are made between people, not corporate entities. If you can connect on a person to person level, you will drive engagement and win new fans.
Be visual
Striking and beautiful images can draw people to your content and make it memorable. Consider that studies have shown that presentations with visual sides are 43% more persuasive. Take time to choose striking and effective images to accompany your content. Content marketer Jeff Bullas has found that articles with images get 94% more views than those without.
Social media is essential for introducing your brand to a broader audience. On social media, visual images are excellent for capturing people's attention and getting them to click through your website.
Social media experts Buffer analysed 100 of their tweets and discovered:
Tweets with images received 18% more clicks than those without.
Tweets with images received 89% more favorites.
Tweets with images received 150% more retweets.
If you have the funds, image libraries like shutterstock sell a range of professional grade images on almost every topic. If you're on a budget, flickr has a Creative Commons library of copyright free photos you can use for free as long as you credit the author.
Infographics are another powerful way of using images. At KISSmetrics, they generated 2,512,596 visitors, 41,142 backlinks from 3,741 unique domains, 41,359 tweets and 20,859 likes from 47 infographics.
To make your own infographic, you can hire a graphic designer. If you want to make your own, there are a number of tools like Piktochart that will let you do just that.
There are no boring topics, only boring people
If you're passionate, engaging and creative, you can create thrilling content for any industry. In fact the more "boring" your industry, the more chance you have to shine.
Bonus
I've created a "Thrilling Content for Boring Industries Checklist" specially for Bluewire Media readers. This is a practical way of ensuring your content is always compelling and engaging no matter what your industry. To download it now, click here.
About Clement
Clement Lim is a freelance copywriter and content marketer specialising in B2B and legal niches. When he's not creating thrilling content he enjoys drinking green tea and doing handstand pushups. Find out more at limwriter.com.
Bonus 33 Free Templates
Download the 33 free templates from Toby and Adam's book.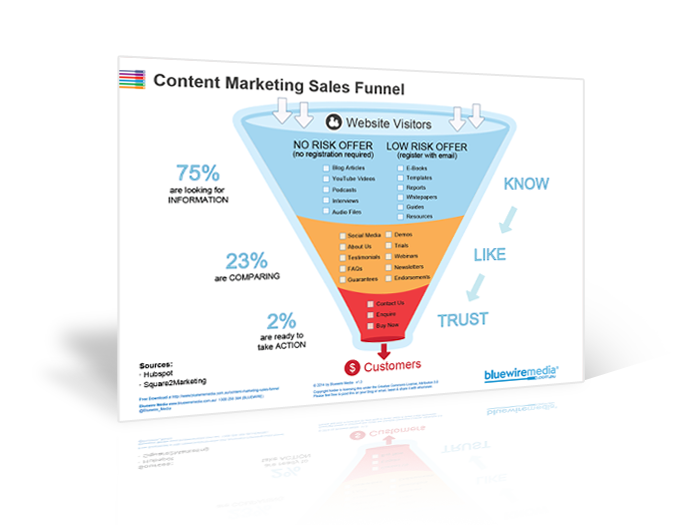 Content Marketing Sales Funnel
Your content marketing sales funnel is all about getting people to know, like and trust you by nurturing them with the right information at the right time.