How to Generate Endless Ideas for Blog Posts
Updated on December 11th, 2017
This is a guest blog post by Rob Greenberg who works as a copyright consultant at a plagiarism checker software company.
Welcome Rob…
Make sure you have a variety of ideas in your back pocket when you are into starting a blog. The search for ideas shouldn't make you stuck before you even get started because there are literally billions of ideas for blog posts. All you have to do is to concentrate. Pay attention to the things that you are passionate about. These exciting parts of your life will provide you with perfect springboards for starting a blog. There are lots of other ways you can make your mind a blog post idea generating machine.
Consider Some Questions:
Searching for the how, who, when, where, what, and other questions that people consult the internet every minute for, can be a useful technique. Starting a comprehensive blog that provides answers and extensive information on a great variety of possible questions on different matters can be engaging for people looking for answers.
1. Consult with others
You can consult with other people, who may not all be willing to write blog posts, but who will definitely have a fresh take on what you could write about.
2. Share the creativity
Sharing the creativity of each member of your team, even if you are not sure if their ideas are useful is an another technique you can count on. You can compile a list of different suggestions and filter and organize them later. Shortlist the ideas which you can research and explore with interest, and then get started.
Welcome and utilize what comes to mind suddenly
Ideas, most of the time, come suddenly and unexpectedly. You can benefit from ideas only if you utilize them into something practical. It is expected that you wait for the idea for several days for it to come into your mind when you are making coffee, lying on the couch, or taking part in some discussion. What you need to do here is to spare a moment and note down the idea to work later on it. When your mind starts generating ideas, whether sudden or as a result of hours of thinking, note them down and take them through the filter, organization, shortlist, and utilization process.
Non-traditional styles open new possibilities
Following the most searched topics or terms is not going to work with the new trends. It may allow you to have a great number of people searching for the title you used, but it won't let you be creative and compelling to your audience. Deviation from the exhausted path opens more possibilities and you can even think outside of your template. You can build tools to go beyond text by including maps, fill in the blank worksheets, questions, instead of simple explanation. Informational images and videos can speak volumes and stand in place of written content.
1. Stop being generic
Instead of presenting a "we" perspective, you can discuss personal experiences and encourage your audience to be personal in commenting, sharing, and asking.
2. Add fun
You can think of unique ways of making your content interactive and engaging. There can be personal experience sharing, quizzes, and other techniques used to add fun to your blog and make it interactive.
Search the trends…what is being sought?
Search for the popular blogs, use the tools to generate blog ideas, and don't hesitate to ask people directly what they'd like to see. There are free tools available that help you find keywords, RSS feed, browse through hundreds of topics, and other support.
1. Answer the burning question
Researching different questions thrown by people at platforms such as Quora, Topsy, Twitter search and others can give you real insights into a wide variety of questions. Answering each question, you should keep in mind that the one who asked is not the only one wondering about the answer; there surely are hundreds of others looking for the answer too.
2. Explore the industry
You can use different tools that help you collect your topic according to contemporary trends. Short listing your favorite ones and using them in your blog can be of great use.
A Tip…
In order to engage your desired audience, you have to give them concrete reasons to pay attention to you. Each of your posts can be a new way for you to be found by someone. The greater the number of ideas you utilize, the bigger the scope of building new audience and engaging them.
About the author: Rob Greenberg works as a copyright consultant at a plagiarism checker software company.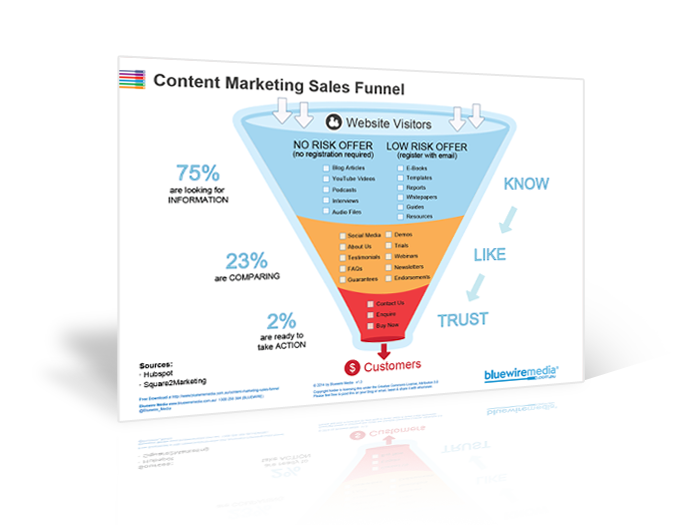 Content Marketing Sales Funnel
Your content marketing sales funnel is all about getting people to know, like and trust you by nurturing them with the right information at the right time.