How to Use Remarketing to Grow Revenue [Infographic]
Doesn't it suck that most people leave your website without converting? (96% in fact)
It takes a regular website visitor 2 to 4 times on a site before they feel comfortable giving up their email address or purchasing a product.
That's why it's so important to get in front of your prospective customers on multiple channels, as regularly as possible.
Remarketing has enabled us to effectively target people who are interested in what we have on offer, but they just need a bit of persuading. (Who doesn't right?)
This form of uber-targeted marketing allows you to show ads to people who have visited your site in the past. You can even tailor the ads based on specific website activity, page views and other factors.
As content marketers we can finally get the MOST out of our blog posts and content creation efforts.
Gone are the days of "spikes" in traffic on the day you publish followed by a plateau. Because now you can attract prospects to content, and remarket ads to them for more content, a lead magnet or a product.
This way you build trust and credibility like you always have – with content – and convert prospects into leads using effective, highly-targeted remarketing campaigns.
Sound good?
Neil Patel kindly put together this awesome infographic over at Quick Sprout about how to effectively use remarketing.
It includes some cool stats, plus 8 tips on what you should do if remarketing is on the agenda.
Here goes…
This infographic was originally published on Quick Sprout.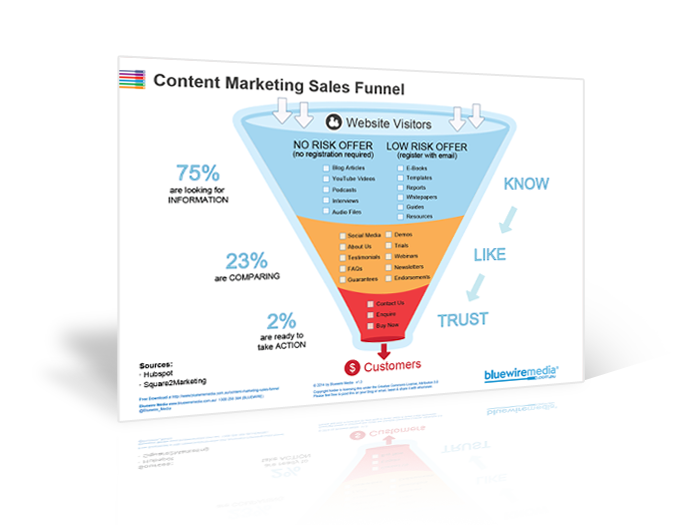 Content Marketing Sales Funnel
Your content marketing sales funnel is all about getting people to know, like and trust you by nurturing them with the right information at the right time.