Smarter in 2015: Increase Your Business Intelligence
This is a guest post — Vernessa Taylor is a small business technology consultant, blogging at CoachNotes Blog about systems that undergird small & micro biz. Connect with Vernessa!
Welcome Vernessa….
Increase Your Business Intelligence IQ Using Social Metrics, Dynamic Pricing, and Content Analytics
Business Intelligence Regardless of Size or Definitions
The realm of business intelligence (BI) is misunderstood and under-represented as a tool for small businesses who are enthusiastically interacting on the social media scene, aggressively pursuing content creation strategies, and lending their voices and faces to podcasting and video marketing.
Participation in those activities naturally demands that their results be tracked, analyzed, measured and justified. The new kids on the block include social media metrics, dynamic pricing strategies, content marketing analytics, and podcasting metrics. We're talking about activities primarily conducted online, so not only do you need a web marketing strategy but also the analytics peculiar to online activities and a strong understanding of what those metrics represent.
At the close of 2013, Gartner predicted business intelligence and analytics would continue to be top of mind for chief information officers through 2017. Outlining four key predictions, chief among them was how BI vendors would shift BI emphasis from "reporting-centric to analysis-centric."
Those predictions are aimed at very large businesses and vendors who supply mission-critical dashboards and software for gathering business intelligence. Medium-sized businesses and large enterprises have long used one form or another of BI to inform their decisions; small- and very small businesses are playing catch-up.
The cost associated with business intelligence has prevented the average-sized business from getting in on the goodness to be derived from BI. But in today's global marketplace, regardless of size or revenues, all types and sizes of businesses can benefit from increasing the business intelligence IQ of owners, teams, and top stakeholders.
How Small is Too Small for BI?
Because there is no one-size-fits-all standard definition of small business, confusion can lead a business to avoid implementing certain practices because it sees itself mirrored in definitions: "your business is too small to utilize business intelligence because only big, big organizations need BI."
BizLender's Joshua Hart reminds us that CEOs of large companies rely heavily on data analysis and business intelligence to measure where they stand and plan for where to go, but assessing those same factors at a smaller level is just as important. In a nutshell, he says "a small business is never too small for business intelligence."
Whether your business actually has "departments" or the critical efforts are divided amongst a few employees who change hats according to the activity, the right business intel is important for HR, marketing, finance, and general operations.
What and How to Measure
By understanding the true spirit of BI, any size business can get past the fallacy that they're too small for it, and get to the need for incorporating it across all important activities.
Asking yourself a few key questions is in order:
Is website traffic the optimal way to measure the effectiveness of content? (Jay Baer asks in the video below.)
Doing ecommerce? Do you know the relevant metrics you should be tracking? (And do you know how to capture them?)
Is there any return on investment for any of the money you've spent on social media?
Let's talk about what can be measured and how to gather those metrics.
Key Performance Indicators (KPIs)
There are major mistakes businesses make and one of the worst is an obsession with making what can be easily measured important and ignoring things that have far more impact because they can't be measured. Gail Gardner, Social Implications
A common problem amongst the smallest of small business is that they don't measure much of anything because they don't know what to measure, don't know how to measure, and don't know how to determine what should be measured.
In this 4 minute video about how to develop key performance indicators (KPIs), Erica Olsen, co-founder of OnStrategyHQ, explains what metrics to watch within your company and how to use them in your reporting to ensure that your strategic plan stays on track.
To sum up the video, measuring KPIs is the natural result of following a deliberate strategy. You decide what's important, from there you can define KPIs, set targets, visualize the resulting information, understand what the information says. Then you can share with relevant stakeholders, get input from them to refine, and make adjustments and/or create new performance indicators.
Gather, Interpret, Use BI
Business Intelligence for Social Media
Social intelligence is a competitive advantage. — Tableau, Top 10 Trends in Business Intelligence for 2015
Even if it is not as well understood as it eventually will be, what small business isn't trying to leverage social media to delight customers and increase revenues? You can increase yur social media intelligence quotient by reviewing and following the advice of these leaders in the field:
Part 7 of The Definitive Guide to Social Marketing, is aptly named "The ROI of Social" and shines a spotlight on the challenges of social media measurement. This free guide by Marketo offers tips to "effectively measure social marketing to determine real business ROI."
Research thinktank, The Altimeter Group, released The Social Marketing ROI Cookbook in order to identify effective "recipes" for measuring the impact of social media on the bottom line. (You can read the report on Slideshare.)
Comprehensive but easy read: Which Stats Matter: The Definitive Guide To Tracking Social Media Metrics. Author Kevan Lee, of BufferApp, says "Among the many superpowers I wish I had, one that would be quite useful is the ability to understand social media metrics."
Fact-based as well as anecdotal research such as these reports help you gain an edge for your small business by focusing on the BI benefits and helping quantify what to measure.
Retail Pricing Intelligence in Ecommerce
So how can retailers push further downfield than they did in 2014? Well one thing they have to do is start putting the customer first (if they haven't already). Offering live chat can clear up any uncertainty that could cause an abandoned cart. And using customer data can help you offer a more personalized experience that would even rival your brick and mortar counterparts, which can really make the customer's day. — from the Quora question: How Online Retailers Can Make Great Strides in 2015, Arie Shpanya, CEO Wiser.com
Our brave new technologically advanced world continues to push the envelope in terms of what intelligence is needed by whom and with what frequency. For example, in addition to marketing and financial intelligence, retailers need retail pricing intelligence and a means to monitor competitors in a world where shoppers have dynamic pricing engines (through their smart phones) at their fingertips at all times. Giants like Amazon, Best Buy and WalMart lead the market every day of the year, but smart SaaS platforms like Wiser have entered the market to bring price analysis software to smaller retailers who need a seamless process that automates the data and price collection activities.
Which metrics?
In an article on Pratical eCommerce, Darryl Collins remarked: "one thing that might be missing is recognition of what the key metrics to track for e-commerce might be." To get the ball rolling on behalf of retailers and ecommerce entrepreneurs, he started this Quora question, What are the most important metrics for e-commerce companies?, and added a list of those metrics. Follow the link to the Quora question to get a good list of those specific KPIs.
The sheer volume of market data a smart retailer collects is amazing. Making sense of the data by using analytic tools developed especially for retailers helps ecommerce businesses keep track of how pricing should rise or fall based on demand, or based on shopping trends that are seasonal, or even based on time of day.
Yes, Content Marketing Yields BI and ROI
Bluewire Media reminds us that your content marketing sales funnel is all about getting people to know, like and trust you by nurturing them with the right information at the right time.
Marketing maven, Heidi Cohen, declares "Content Marketing provides consumers with useful information to aid purchase decisions, improve product usage and entertain them while achieving organizational goals without being overtly promotional. [One of] content marketing's major attributes [is it] provides measurable results through the use of appropriate calls-to-action and promotional codes."
Watch the short video below, which is a segment from the B2B Research Roundtable, Part IV: Measuring Content Effectiveness, hosted by Brightcove's Steve Rotter where content experts Jay Baer, Carla Johnson, Michael Weiss and Ardath Albee discuss the challenges of measuring effectiveness. Says Ardath Albee: "The bosses want to know, for this quarter, did we make our numbers? Prove it right now! Tell me how you helped, contributed to downstream revenue . . ."
The big four key performance indicators expounded upon in any discussion about return on investment (ROI) for content marketing center around consumption, lead generation, social sharing, and sales.
In the words of Content Marketing Institute's founder, Joe Pulizzi, "All content initiatives need to have a goal, and those goals can be measured in a few ways."
Pawan Deshpande's article, The Comprehensive Guide to Content Marketing Analytics & Metrics, adds to the metrics mentioned above, folding in Rebecca Lieb's inverted pyramid and Curata's metrics and analytics model.
Tip of the Iceberg
To fold in all the advice and lists of metrics from the many sources mentioned would have made this article a mile long. So, use it as a reference and follow the links within to build your own analytics strategies for social media, content marketing, and retail/ecommerce.
This is just the tip of the iceberg: new analytics yield a measure of BI previously unheard of for small business. No matter the size, the revenues or the industry, there are numerous ways to use business intelligence to measure the performance of every facet of your business.
Social metrics, content marketing analytics, podcasting metrics and dynamic pricing strategies for ecommerce help move smaller businesses further down the field. When acted upon, incorporating these increase your overall business intelligence IQ and ensure a smarter, well-rounded approach to boosting your business in 2015.
Share your thoughts, questions and suggested resources for small business intelligence in the comment area below.
Vernessa Taylor is a small business technology consultant, blogging at CoachNotes Blog about systems that undergird small & micro biz. Connect with Vernessa on Twitter @CoachNotesBlog!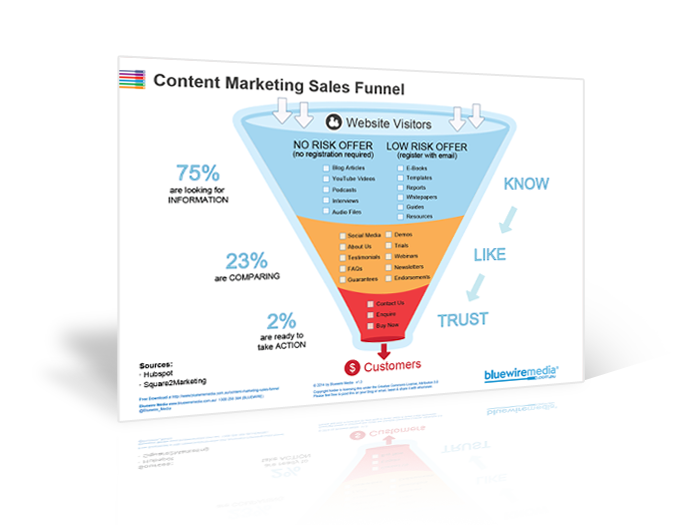 Content Marketing Sales Funnel
Your content marketing sales funnel is all about getting people to know, like and trust you by nurturing them with the right information at the right time.