Local SEO: actionable ideas to bolster your business's visibility.
Updated on February 29th, 2020
This is a guest post — Angus McNicol is a digital consultant at The Affray and based in the UAE. This bloke is hairy, happy and roots for rap over reggae. Between surfing and playing internet, Angus has over 10 years experience inspiring young minds. Connect with Angus on Google+.
Welcome Angus….

There are scores of articles around on local SEO, this article isn't a complete guide or definitive how to. This article will give you five specific tactics for local SEO you can start using straight away.
It's important to remember that your local ranking won't improve overnight.
Like moving to new town, you can't expect to call yourself a local after a few days. You need to spend time making friends, helping little old ladies with their groceries and being "seen" around town. The same goes for local SEO, you need to get actively involved in your community.
To become a valued local, you must act like one.
Research
If you're considering a local SEO campaign, you need to start with some research.
The best research you can do for local SEO is to search for a local service: electrician, gardener, plumber. Make a choice, based on the information provided.
Now ask yourself the question:
"Why did I choose 'Pete's Plumbing' over 'Paul's Plumbing'?"
The next step would be to ask your partner/friend/sister to search for the same service and make a decision based on the search results.
Write down the reasons your sample (albeit tiny) has for choosing one particular business over another.
The online visibility, image and voice of your business helps you attract prospective customers. Your only chance to engage a prospect may come from what shows up in the SERP.
Re-create the elements that made you choose Pete over Paul, on your own site. If you don't, your prospects may choose your competitors instead.
NAP and Citations
If you've read a single sentence from any article on local SEO, you'll have seen the acronym NAP (name, address, phone). Your NAP information must be consistent across all platforms – there are no "ifs or buts" about it. When your NAP shows up on the net it's called a citation.
You could easily:
. Search "local business directory"
. Create a spreadsheet of directory URL's
. Enter your details
. Check them off.
Building citations is mind numbing work, by the tenth citation, eighth password and fifth different keyword you will be screaming bloody murder.
I can't even express to you how bland it is, that's why we're going to outsource this little bad boy.
It's time for fiverr:
It took me one minute and five dollars to build 31 citations.
Citation building is not going to land you on page one tomorrow, but in a competitive marketplace your citations may just get you over the line.
For "fun" I decided to see how many citations I could build in five minutes. A poor result of 2.5 citations and that was with the chrome autofill on full crank.
Pay the five bucks…
Google places and Reviews
For this technique, I'm going to use the search query "driving schools Brisbane" as an example.
After the three paid ads, (which are ignored by up to 80% of searchers) there are the top three organic results. The business' in the top three have outranked their competitors and sit in spots one, two and three on top of Mount Google.
They're one, two and three for a reason, though we'll never be sure exactly why. Google is a discrete young mistress who will never kiss and tell.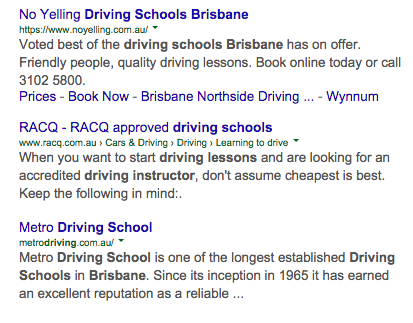 After the three organic results we get to the local fun park:
"driving schools Sydney"                                                               "driving schools Brisbane"
Like all fun parks, you need a ticket to get in. This ticket is a Google Plus page for your business. You get to the top of this listing by being "locally" relevant. You get visitors if you have the most reviews.
I have included Sydney here to show you how successful a Google review strategy can be.
Notice, in Brisbane "No Yelling" has 246 reviews. The top performing Google reviewer in Sydney has 13.
If you're doing something successfully the pack is bound to follow. These numbers suggest the other driving schools in Brisbane have piggy backed this tactic.
How does a driving school end up with more reviews than the XXXX Brewery Tour?
Google Review Cards!
You need to a create a Google Review Card yesterday. It's really important to make it amazing. If you don't have access to a designer or Photoshop, a crowdsource website like 99designs can be a great place to start.
You could get a new business card designed and have the review instructions printed on the back.
There are some strict guidelines when it comes to Google reviews. You aren't allowed to  incentivise or pay for them. You are allowed to ask, beg and plead for them! Make sure everyone who knows you leaves a review. Even hassle the half-friends of your half-friends. The guidelines also state their should be no conflicts of interest. So probably don't review yourself.
Furthermore, No Yelling didn't incentivise their customers (illegal), they incentivised their contactors (legal). They gave away a prize to the instructor who gained the most reviews each month – Genius.
Don't stop when you have plenty of glowing reviews on Google Plus. Your next move will be to build reviews on Yelp, True Local and any other place a customer can leave their mark.
Local Link Building
"White hat" link building has been, is, and always will be (for now) the best way to improve your rankings. Of course, it's also the most difficult and time consuming SEO tactic to deploy.
That being said, local link building is a bit easier.
You need to find your own groove, you need to get creative.
. Perhaps you're an Accountant, surely you have a Lawyer friend! Swap a link or two.
. What does your son's best mate's father do? Proposition him with an idea…
. Find an upcoming local event, do your bit for the community and help out. Now that you're a supporting partner, they will host your logo.
Recently, I tried out the last tactic. A simple, personal email is all it takes. After contacting Byron Bay Surf Festival and offering to help out with some blogging, our logo was placed on their website. There is a definite art to writing a pitch email. Make sure it's a cracker.
We ended up writing four small articles for their blog, all with author links back to The Affray website.
Supporting community events is a fantastic exercise in public relations and everyone wins – Your business, your community and best of all, your link profile.
Blogging
You'll find that in most articles covering the topic of "internet marketing", blogging will almost always rear it's ugly head. I'll spray off some statistics, just to prove how important it is:
. Small businesses with blogs generate 126% more leads than those without a blog.
. Businesses that blog have 97% more inbound links.
. 61% of consumers made a purchase based on a blog post.
Blogging regularly will also help to cement your footprint on the internet; companies with over 50 pages get 48% more traffic.
Now we've got that out of the way, we need to think about how your business could use blogging as part of it's local SEO strategy.
You'll rack your brain considering topics where you can reference your location, but it needn't be so hard.
We're going to use the power of long tail keywords to tweak your blogging strategy for local SEO. A long tailed keyword is basically a question – "How do I relieve flu symptoms?" – as opposed to the keyword "flu relief".
Write down a list of potential queries that searchers may use. Ask your co-workers to conduct the same brainstorm.
Examples:
. "What is the best fish and chip shop in Brisbane Bayside?"
. "Are there any $10 meals in Bayside?"
. "What's the best family outing in Bayside?"
Once you have an exhaustive list, start writing. Don't be afraid to mention your competitors. Customers will see you as an industry leader if you write non-biased, informative articles about the topic they have searched for. Your compelling copy will leave them with no choice but to accept your call to action…
Set yourself a goal of one blog a week for a year. They don't need to be 3000 words long; infamous blogger Seth Godin rarely goes over 300. It may be hard going to start with, but trust me, it will get easier the more you complete.
For this strategy you're looking to exact match long tail keywords. Consider a searcher's delight when they type a query into Google and find it – exactly.
Neil Patel has found that longer posts generate more links, so if blogging for links is what you're up to, length will be key. In our case, we'll be attempting to exact match and answer search queries. These answers don't need to be long, they just need to address the question.
After one year:
. You'll have busted the 50 page threshold.
. You'll have at least 50 more "natural" mentions of your business' locality on your website.
. Your writing skills will be epic.
So what are you waiting for?
After nailing these five techniques you should start to see gradual growth in the strength of your local SEO. All these strategies are no/low cost, so you don't have any excuses not to execute them.
Oh, and don't forget there are other search engines too – Bing, Yahoo and Blekko etc. Google controls 67% of the search market, don't be a fool and ignore a third of your potential customers!

About Angus McNicol
Based in the UAE: Angus McNicol is a digital consultant at The Affray. This bloke is hairy, happy and roots for rap over reggae. Between surfing and playing internet, Angus has over 10 years experience inspiring young minds. Connect on Google+.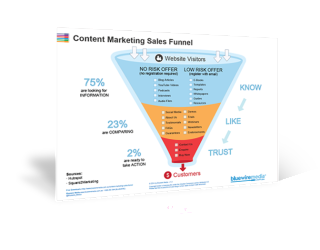 Content Marketing Sales Funnel
Your content marketing sales funnel is all about getting people to know, like and trust you by nurturing them with the right information at the right time.