Marketing experiments: weekly vs monthly email newsletter
At the start of this year, I decided to heed Dan Zarrella's advice, and test sending a weekly email newsletter rather than a monthly one.
Dan told me in an interview that you could email as often as daily without noticing an increase in unsubscribes. The caveat of course is that you are delivering quality content.
Here's what I've learnt from sending weekly newsletters vs monthly.
Open rates: down to 19%, but plus an extra 10%
On the monthly newsletter, open rates were usually 25%.  With a weekly newsletter, open rates have drifted lower to ~19%.
As always I will send a follow-up newsletter on the weekend, that adds another ~10%.  This is consistent with monthly and weekly emails.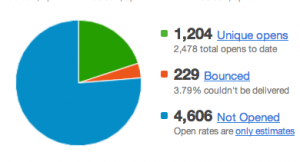 To clarify, I send a follow up email on a Saturday or Sunday, to everyone who hasn't opened the first email. I keep the body of the email the same, since they haven't seen it before, but I change the subject line to something like: Bluewire News on Saturday | Inbound Marketing e-book…
Currently, each week over 1,500 people are reading, (or at least opening) the newsletter.
As for the lower open rate… that is OK with me because:
1. Readers know they'll get an email once a week, so they don't need to open every one. Plus contacting 1,500 people once a week is better than 2,000 once a month.
2. It's better to focus on delivering value to your best subscribers, and grow your thousand true fans.
Click through rates: 10-20%
Click through rates range between 10-20% depending on the content, which is well over the industry standard of 4%. Monitoring click through rates is excellent because it tells you what the most popular content is.
Most popular content
The most popular content is free e-books and then the expert interviews, so we will be releasing more educational content!
In the coming months, stay tuned for 6 new e-books and loads of interviews with people like former global marketing CEOs, Australia's #1 marketing podcaster and many more!
Unsubscribers
I have kept a close eye on this and they've remained a very safe and consistent 0.5%. Best practice says your unsubscribe rate should be under 1%.  Also having people unsubscribe is fine since you can't be everything to everybody and if they are interested they can still keep in touch via Twitter or Facebook or RSS.
Reader interaction
On each Bluewire News I have been running a brain teaser or a riddle, and readers are invited to hit reply and tell me their answer.  Usually there are 20-40 people reply and send me an email.  This has proven a fun exercise and a good way to get chatting with our readers and humanise the relationship.
A free e-book
This 12 page guide should serve as a useful tool if you are using email marketing and social media.  Download a Short Guide to Email Marketing and Social Media.