How and When to Get Into Paid Customer Acquisition
Updated on March 11th, 2020
Paid customer acquisition
Sales are the lifeblood of any business. If you don't have a clear strategy for acquiring customers, then you might as well quit right now. Paid customer acquisition is critical.
For new entrepreneurs looking for ways to market their businesses, online advice is abundant yet contradictory. Learning about the pros and cons of SEO, content marketing, and PPC advertising can quickly lead to paralysis by analysis.
Things get worse when you read posts by zealots from each school of marketing, denouncing other techniques as ineffective.
PPC advertisers say that content marketing takes too long to gain momentum and that every niche is over saturated with boring articles. On the other hand, content marketers say that PPC advertising is a money pit. Even when you're successful, there is no sustainability once your campaign goes through the inevitable attrition.
Is PPC Advertising Worth Trying?
Like every marketing technique, PPC advertising has drawbacks.
There is definitely a learning curve and you will end up losing money before you start profiting. This applies to Facebook ads as well as Google Adwords.
I don't recommend looking at your early unprofitable ads as losses. Instead, you're investing in your PPC education and learning valuable insights about your audience (such as what types of ads, images, and offers resonate with them).
Paid customer acquisition
So long as you're methodical and not reckless, these early investments are more than worth it because they'll give you the tools to run and scale highly profitable ads in the future.
Whether you're just starting up or have been running a profitable business for years, PPC advertising can help you.
Remember that the full potential of your business is invisible. You may be earning a good income using SEO and content marketing to drive traffic to your site, but you'll never know the extent to which paid traffic can move you forward until you actually take action.
Tech entrepreneur, Alex Becker, describes not investing in paid traffic as one of the biggest mistakes you can make as a business owner.
Choose Your Platform
When starting with PPC, I recommend picking either Google Adwords or Facebook and committing to mastering the platform. If you try and learn both at the same time, you're likely to suffer from information overload and have no success with either.
The fundamental difference between the platforms is that with Google, you're advertising to people who have already entered search terms that are relevant to your product, whereas, with Facebook, you're making assumptions about what products a particular audience would be interested in.
While the choice is entirely yours, I recommend starting with Facebook because the learning curve is not as steep. In fact, here is a comprehensive guide on Facebook for business by Jonathan Chan from Insane Growth.
How to Run Your First Campaign
Before you run a campaign, be sure to set up Facebook Pixel. This will allow you to track your user data and remarket to individuals who have visited specific pages on your site.
Remarketing can be incredibly effective when a person has visited a product or opt-in page but hasn't yet converted.
Next, you'll need to find the right audience to market to. If you're selling beard oil, you'll never have luck marketing to a female audience (unless it's a seasonal gift, such as for Father's Day).
You can learn a lot about which interests to target using Audience Insights, but as a general rule of thumb, I recommend targeting interests that only fanatical fans in your niche would know about. Fanatics are usually the people who are most willing to make purchases.
For instance, if you're selling mixed martial arts apparel, you'll have better luck targeting fans of niche fighter Diego Sanchez rather than UFC superstar Conor McGregor.
Finally, learn everything you can about ad copywriting, headlines, ad images, color psychology and landing page design. Be sure to split test each facet of your ad, and use the data as feedback for what resonates with your target audience.
This data will allow you to construct more impactful ads in the future.
For more information about split testing, please check out this article I wrote for Search Engine Journal.
Hybrid Strategies
Content marketing and PPC advertising aren't mutually exclusive, in fact, they complement one another nicely.
Retargeting for paid customer acquisition
Let's say you run an ecommerce store in the fitness niche. If you're doing content marketing, your blog posts probably deliver tips that help people to look good and improve their athletic performances.
Perhaps you've written an article giving dietary and training advice for thinner guys looking to gain muscle mass. With Facebook retargeting, you can send a highly personalized ad to people who have viewed this article on your site, and promote a mass gaining supplement to them.
Because you're targeting people who have a proven interest in this specific issue (indicated by the fact they've viewed the original article), your conversions will be much higher than if you targeted people with generalized interests in bodybuilding and fitness.
Amplify Special Content
Although you can take steps to increase your chances of gaining attention (such as carefully researching your topics and performing influencer outreach), it's always a bit of gamble predicting which pieces of content get engagement and which don't.
If you've put a lot of money and energy into producing a premium piece of content, such as an infographic, it's a huge loss if it doesn't generate attention.
Infographics
Especially when your infographic is related to a trending topic, it's essential that your promotional efforts yield results quickly.
Whenever you produce a special piece of content, I recommend running a Facebook engagement ad to kickstart your outreach. If your targeting is good, accumulating likes and shares can be very cost effective.
If you request for people to tag their friends and share the post, you'll get some additional organic reach in addition to the reach that you paid for. This can be significant (even life-changing) if you've produced a great piece of content that your target audience connects with.
Can you think of any reasons why you haven't given paid customer acquisition a try yet? If so, I recommend suspending your beliefs and taking immediate action – you may be pleasantly surprised by the results.
About Aaron Agius
Aaron Agius is an experienced search, content and social marketer. He has worked with some of the world's largest and most recognised brands, including Salesforce, Coca-Cola, Target and others, to build their online presence. See more from Aaron at Louder Online, his blog, Facebook, Twitter, Google+and LinkedIn.
Bonus 33 Free Templates
Download the 33 free templates from Toby and Adam's book.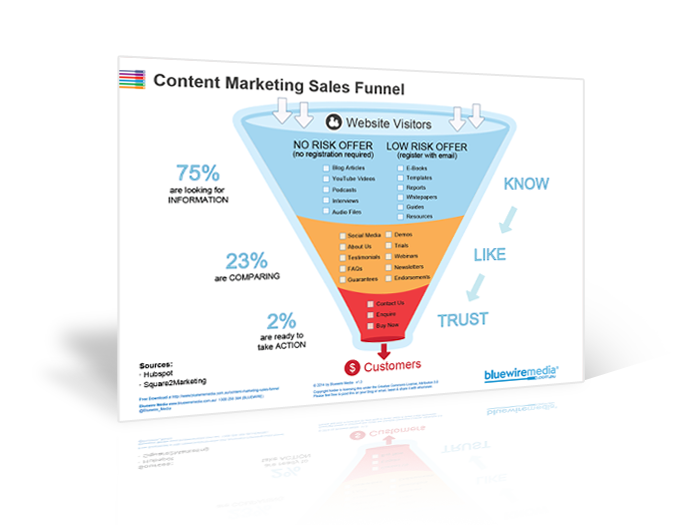 Content Marketing Sales Funnel
Your content marketing sales funnel is all about getting people to know, like and trust you by nurturing them with the right information at the right time.