The Instagram Obsession
This is a guest post  – Danielle Gonsalves is a Social Media Manager in Trinidad and Tobago. Connect with Danielle on Twitter.

Welcome Danielle…
I actually started writing this article back in March of last year when I became intrigued about likes and followers, since then I've been observing how people use Instagram even more.
It seems like some people live for Instagram likes and followers, if you are curious about this trend too, continue reading for my take on the obsession with Instagram.
For companies, I totally understand how important followers and likes are for building brand awareness. When a business is selling a product or service, engagement is important on social media. However, for a personal Instagram account, I wanted to dig deeper to understand the reason why likes are so important to so many people.
There are those out there who are not obsessed with selfies and Instagram, they post photos of the places they go, their family and friends, their pets and various other things. Some post photos everyday and others don't. However, for others, most of the photos they post on Instagram seem to be selfies, especially women. 
There's one type of person on Instagram – every post is a selfie, of either their face or what they're wearing. However, there's another type of person on Instagram – every post is of themselves wearing seductive outfits in provocative poses. In both cases, they maintain hundreds of likes, (even thousands) on every one of their photos.
I became curious about the purpose of these trends on Instagram. At first I wondered if some of these ladies may have low self-esteem and if the likes on their photos actually made them feel accepted, attractive or better about themselves in a way, this may be true in some cases but not all. Some people crave attention and turn to Instagram to showcase themselves. Also, many people tend to copy what they see celebrities doing, so maybe it stems from there. Then I wondered if some of these ladies are aspiring models and do this in hope of being discovered.
Furthermore, companies approach those with the highest number of Instagram followers and offer them contracts to promote their products. They may not be as famous as the Kardashians but they try to do the same thing in essence. The same way that the Kardashians post photos wearing a waist trainer or using certain products that they are paid to promote, people with a large following may aspire to do this too. Obviously a famous celebrity would be offered much more to promote on Instagram than a local celebrity or regular person with thousands of Instagram followers. The majority of Instagram users don't have a chance of being offered that opportunity, only those with the highest amount of followers might have a chance. 
Athletes sometimes include the brand they are sponsored by in their Instagram profile info, whether it may be for supplements or a clothing brand etc. They regularly post photos using the products or wearing the brand. So in the case of athletes and others aspiring to be paid to promote products, that explains their obsession with the amount of Instagram followers they have and why the number of likes they get for their photos is so important to them.
It also feels good to see what your family and friends are up to on Instagram, you feel closer to them. Many of us don't see each other regularly for different reasons, whether it be distance or work, so posting photos of your trip or things you're interested in is a good way to share what's going on in our lives with others. Many women also go on Instagram for makeup and fashion inspiration, we like to see what our friends are wearing and what they're doing.
I like the fact that you can control your privacy on Instagram by choosing if you would like your account to be private or public, by accepting only the followers you are comfortable with and if someone is disrespectful, you can block that person.
Of course, there are those who use Instagram to promote their own work from time to time, like Make-up Artists or Interior Designers for example. Whereas, some people simply aspire to be popular, so becoming famous on Instagram may be what makes them happy. Either way, go for it, use Instagram the way you want to, once it makes you happy.
In conclusion, those with the highest number of Instagram followers tend to attain some level of power that can potentially be used for marketing. The larger their audience grows, the better the chances of turning their Instagram obsession into a source of income. Those who are obsessed with Instagram likes and followers should be free to do so, if it makes you happy, why not… if it doesn't, then do other things that make you happy.
What are your thoughts on this?
About Danielle
Danielle Gonsalves is a Social Media Manager in Trinidad and Tobago. Connect with Danielle on Twitter.
Bonus 33 Free Templates
Download the 33 free templates from Toby and Adam's book.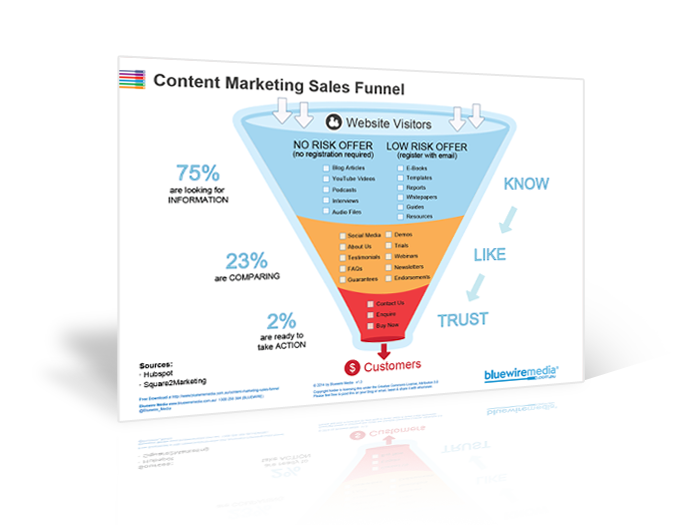 Content Marketing Sales Funnel
Your content marketing sales funnel is all about getting people to know, like and trust you by nurturing them with the right information at the right time.