Video SEO: 7 Ways to Boost Visibility on Google & YouTube
7 SEO Areas That Boost Videos' Visibility
How many of your online sessions start with a search engine? If your answer is most of them, you are not an exception. It's the same for most of us.
That's why doing video SEO to boost visibility on YouTube and Google is somethings no one should dare to ignore. Like it or not, the difference between appearing at the top or bottom of the SERPs can make a massive difference on your bottom line. And that's equally true for all the pieces of your content marketing strategy, including video!
Yes, people favor video over other types of content, and it does lead to higher click-through rates and lower bounce rates. However, video marketing takes more than just embedding a video on your site and forgetting about it.
How can you do SEO for a video?
Without visibility, even the best video piece will fall short of your expectations – Any video company worth its salt would tell you so! Your video marketing benefits from SEO, just like your SEO benefits from video marketing!
So, to make sure your videos are reaching their full potential, we'll explore some of the best strategies to increase their ranking potential.
Shall we start with a video SEO strategy?
1. Choose the Right Hosting Platform
A hosting platform is one of those things that go unnoticed if it's working fine, but you will definitely feel if it fails.
If the user experience on your site is pleasant, the chances of them dwelling longer on it go up, which can only benefit your rankings. However, if big chunks of your page never finish loading – or appear inactive – most users will click away and try their luck elsewhere!
That's why it's crucial to choose a hosting service that excels in terms of speeds and uptime, ensuring a healthy user experience.
Another important aspect to keep in mind when considering hosting platforms is mobile-friendliness. If you are part of today's my-cellphone-is-an-extension-of-my-arm crew, you won't need an explanation.
And if you aren't, well, ignore this at your own peril. Let's just say that you'll be neglecting a huge swath of your potential user base.
How to increase YouTube video views
Lastly, don't forget you could also put your video on popular public-access platforms such as YouTube or Vimeo. Which can be useful for raising brand awareness, and having your videos ranking individually in Google searches.
To answer your question,
"Do YouTube videos help SEO?"
YES.
This is an easy video SEO thing to boost visibility.
2. Thumbnails Can Make Or Break Your Video's Performance
How many times have you entered a shop that you walked by just because of their window display? I know, me too!
First impressions are crucial to a healthy conversion funnel.
Well, a similar effect takes place with your videos' thumbnails. Most audiences, consciously or otherwise, will decide whether to interact with your piece or not based on them.
How to make YouTube videos more visible
Thumbnails make or break YouTube videos. The "perfect thumbnail" is captivating and relevant to the video itself. It has to be, all things considered, visually appealing, and provide an enticing invitation to watch the content.
Symmetrical images and text captions are a great way to go for most marketing pieces, but there are different styles for different niches! Study how successful competitors in your market handle thumbnails, and you'll have a good starting point to guide yours.
3. Optimize Titles & Descriptions
Your video's title and description are also a door to your content that your audience may feel drawn to. Which can open new avenues to engage them, and direct them to the rest of your content. But you need to learn how to use these elements to the fullest!
How to rank YouTube videos on first page of Google
Start by introducing at least one keyword in your headline — one with a proven high search volume related to your content.
That said, nothing gives a headline more punch than conveying a sense of urgency or the clear benefit of watching.
Lastly, another surprisingly effective way of making headlines compelling is to add a number to it. For instance, if this article was only called "Video SEO: Boost Visibility on Google & YouTube" fewer people like you would be reading it right now.
Users online love numbered lists. They give a sense of certainty and structure to a piece of content, and you should definitely take advantage of that.
4. The Power of Transcripts
I can't stress enough the difference that adding transcripts makes for a video's SEO to boost visibility.
For starters, search crawlers can only go through text. Without transcripts or captions, they would "judge" your video's content solely based on what's in your title, description, and tags.
SEO video optimization
Adding a transcription of everything said in your video will also contribute in terms of keyword diversity and density, enabling your piece to match a larger number of queries than the ones you optimized for.
This can be particularly useful in common marketing video styles, such as explainer videos or social media ads, where your most important keywords are bound to repeat a few times!
Moreover, introducing transcripts and captions also improves the user experience with your video. Allowing people with hearing impairment, or who are unable to play it with sound enabled, to enjoy your content.
5. Dedicated Pages for Your Video
Your video should be the star of the page you put it on. Even if there also is text, most of your audience will favor the audiovisual content instead.
So, give your video a place on your landing page where it can be the most effective!
It's not pleasant for any user to click on a video search, and have to scroll down to get to it. This is detrimental for your play rates, and what use is a video if nobody watches it? Keep text light, mostly using them to double down on your video's CTAs.
Lastly, match videos to the purpose of the piece! A product video will be of little use on an "about us" page, just like a company story video will be less effective on your product's profile page.
6. Prioritizing Videos for Embedding
When talking about videos and SEO, less is more.
As a rule, Google crawlers stop indexing after the first find, listing just one video per link. Therefore, even if you include several videos on your page, only the first one will be ranked in the search results.
It stands to reason then that you should prioritize your best piece. That is, the video that's most likely to have more views and drive more clicks.
It goes without saying that your leading piece should be optimized according to the different elements we've talked about so far. But more than that, you should prioritize pieces with content that will appeal to your broadest target audience. Subsequent pieces on the same page can help you segment the ones who visit into more specific groups.
7. Proper Video SEO Is Just the Start!
Beyond SEO, there's an obvious-yet-crucial factor that plays into how well your video performs, and that's the overall quality of your piece.
You could follow every tip and trick there is to boost your videos' SEO. However, if your video is neither compelling nor relevant, people will just leave disappointed. 
The more meaningful your content is, the more likely it is to be shared by the audience, and backlinked by other sites. This helps your video rank higher in the SERPs and builds a notable reputation for your brand as well.
Wrapping Up: Video SEO to Boost Visibility
Videos can be a multiplying factor for most marketing campaigns, but you need to make sure to set the stage for it to shine!
Solid SEO is one of the most effective ways to do so, improving your site and video's visibility.
Once your video ranks at the top of the SERPs, your brand awareness and lead generation will grow accordingly.  And just like a complete cycle, the success of your video will also lead to better SEO performance numbers.
About Victor Blasco
Victor Blasco is an audiovisual designer, video marketing expert, and founder/CEO of the explainer video company Yum Yum Videos.
Besides running the business, he's a lifelong student of Chinese philosophy and a passionate geek for all things sci-fi.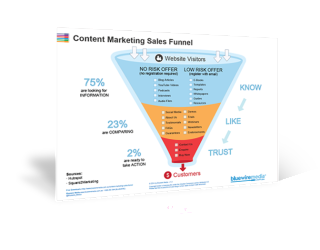 Content Marketing Sales Funnel
Your content marketing sales funnel is all about getting people to know, like and trust you by nurturing them with the right information at the right time.