Why Your Business Needs Digital Marketing in 2020
Updated on October 21st, 2019
Digital Marketing 2020
Is your business prepared for 2020?
With digital marketing having evolved from a potential option to an absolute necessity, you need to be taking steps today to ensure your tomorrow is protected.
Not so long ago, digital marketing was just a different way of marketing. It was the start of a new marketing approach where you could promote your goods and services across new channels.
But in the years since the internet became an avenue of reach and exposure, its importance cannot be overlooked any more.
Digital Marketing in 2020
Digital marketing is no longer one avenue businesses use to reach their customers. It has become a central part of what businesses are to their customers.
Having a generic website or posting occasionally on social media is no longer enough. The age of a scattergun approach is over. If you haven't started using digital marketing strategies in your marketing mix, then time is against you.
Because odds are that your competition have.
As the internet continues to become more connected with everything we do as marketers, business owners and consumers, the importance of digital marketing will only grow.
So if you want to set yourself up for success in 2020, here's why you need digital marketing more than ever.
One – Digital marketing helps you reach 'ready to buy' consumers
As of 2018, the majority of internet users had at least seven social media accounts – this is up from just three social media accounts in 2013.
Considering that a large number of these people visit their social pages at least once daily, social media platforms have become a reliable resource for providing customer care, advertising products and services, and generating conversions.
But this isn't a one way flow of communication from brand to buyer. A reported 30% of people on social sites mention specific brands when referring to their lives' milestones. On top of this, according to current statistics, the average internet user spends over two hours daily on social media.
This shows how social media has provided a channel in which communication and engagement can flow both ways.
Purchasing via social media
This is undeniable proof that people are spending their time on social media. But, do these people actually buy things on social media?
According to recent studies, the answer is a resounding yes.
When surveyed, 29% of people say they are on social media to buy the products and services advertised to them. On average, these people spend about 37% of their time on social media interacting with different branded content.
It has to be said though – just having a Facebook or Instagram account and sharing content now and then is not enough to tap into these 'ready to buy' audiences. To be successful, you need to have a social media marketing strategy.
Having a social strategy is how you reach these 'ready to buy' customers time after time.
And once you know how to maximise your ROI in social media advertising, that's the moment you can start winning big.
Looking to get more value out of your social media strategy? Chat to a Bluewire Media consultant and build a 12 month blueprint in just ONE DAY.
Two – Digital marketing in 2020 is highly targeted
Digital marketing has given businesses and marketers the ability to layer laser-focused targeting on niche audiences and demographics, while reducing wasted spend that is speaking to the wrong people.
Think of it this way, running a billboard or magazine ad are examples of old-school targeting methods that create wasted spend.
Why?
Because they connect with too large an audience. And if you're not reaching your target audience properly, how much of your ad spend do you think is wasted by people who don't care about your message?
Let's go back to the idea of an ad in a magazine. The people who open the magazine and flip past your ad, or who drive past your billboard without looking up, they represent wasted spend.
You have paid to advertise your business, and every person who consumes that ad without being interested is your money wasted.
Digital marketing is different
In contrast, digital marketing comes with an incredible range of targeting options.
In fact, one of the benefits of digital marketing is that it offers you tight control over your reach.
You determine the message.
You determine the audience.
And you control the spend.
Let's look at the example of a magazine ad one more time. While the magazine ad might reach over 1 million readers, what percentage of these readers is actually your target audience?
In comparison, digital marketing allows you to dissect large demographics and shave them down to very targeted groups and that makes it easier to focus on the specific type of audience you want.
By narrowing your focus you will:
a). Reduce wasted spend by only targeting the people most interested in your products and services
b). Increase your likelihood of ROI by targeting the people most likely to buy what you have to sell.
Targeting at this micro level allows you to come up with digital strategies that are highly relevant to the market you are aiming for. As these marketing strategies are so relevant, they connect with your targeted audience on a deeper level than general advertising.
These strategies might involve:
Organic Facebook
Paid Facebook
Email Marketing
Google Ads
LinkedIn Ads
It is this connection with niche audiences on targeted digital channels that gives targeted marketing the ability to sway purchasing decisions.
After all, when you speak to your target audience in the exact way they want to be spoken to, you increase your chances of securing a conversion.
Wondering how to connect with your customers?  Take advantage of these 33 FREE templates and accelerate your success.
Three – Digital marketing in 2020 can be hyper-personalised
Once you have broken your digital strategies down by targeted channel, these channels can then be hyper-personalized.
According to Sydney SEO expert Clarinda Cheon, "the age of mass-marketing is all but over. Consumers expect messages that are tailored to their preferences and desires. Through combining behavioural and real-time data, you can speak to the pain points of your audience in a way that traditional marketing never could. This is the case whether you are optimised for SEO, targeting on social media, or connecting in their inbox. Make it personal or don't make it at all."
The main benefit of hyper-personalisation is to build relationships, nurture prospects and increase your chances of a conversion.
Hyper-personalisation can involve:
Predictive analytics
Content creation/curation
Chatbots
Display advertising
Social marketing
But let's look at email marketing as an example. Email marketing allows you to target your audience down to an almost individual level.
Although getting your email marketing wrong can be a conversion killer, 72% of consumers still prefer companies and brands to use email to stay in touch with them. So there is plenty of room for implementing hyper-personalisation.
By hyper-personalising your email marketing you can make your prospects more comfortable. This increases the likelihood of them buying from you and signing up for future emails and newsletters.
Wondering how to implement your own hyper-personalisation strategy?
Here's how you do it.
#1 – Segmentation
Start off by collecting data about each subscriber (or create customer profiles if you don't have a subscriber list) and use this information to split up your list based on specific behaviours or traits identified via analytics. Once split up, you then send each segment content that is most relevant to them..
#2 – Automation
Next, send your content at the optimal times. This increases your chances of securing a lead or conversion. Using automation tools takes away the repetitiveness of the process.
Over time you'll gradually learn the optimal time for sending out content through data collection. It might be immediately, at a specific time of the day, or sending a particular message before another.
#3 – Personalisation
Finally, recognise people on an individual level. This allows you to recommend products that are most relevant to them since you know what they purchase.
You can also add layers of personalisation by adding tokens to your email marketing methods that auto-fill names, business information and other relevant data.
The more you speak to people like you know them, the more likely they will engage with you.
Bonus Tip – Refer to your prospects by their names
According to psychologist Renee McDonald, "using first names is a simple psychological trigger that tells your prospect you are authentic and not coming at them from a scatter-gun approach that uses generic templates. This tactic will make them feel that you respect them and their individuality."
Businesses that are succeeding today are increasingly using automation, personalisation and segmentation.
Will you be next?
Looking for a proven way to accelerate your digital marketing success? Get your 'Web Marketing That Works' Guide today.
Four – Digital Marketing in 2020 is easy to adapt and scale
As with any form of marketing, there is an initial investment required to get things going.
But what makes digital marketing one of the most effective solutions for small businesses is how easy it is to adapt and scale as your business grows.
For instance, with Google Ads and Social Media Campaigns, you can decide how much you want to spend each day. This allows you to know how much you will spend on your entire campaign and make decisions based on that data.
That also means there is no need to invest time once your ads are running if you are happy with the results; they continue uninterrupted as long as you want them to. As your traffic continues to convert, you can increase your daily spend and scale up your campaigns to enjoy even more revenue.
Or, if you get an overwhelming amount of leads from customers and need to scale back a little to avoid backlogging, that's easy too.
In short, if something about your marketing approach isn't working, digital marketing means you don't have to wait until it's too late to stop.
In this respect, digital marketing is so important as it allows you to get instant results. You can evaluate your data and make changes as soon as possible to avoid wasting ad spend and losing revenue.
Five – Digital Marketing offers great ROI
Did you know that email marketing has the highest returns on investment of any form of marketing?
The ROI for email can reach a massive 3,800% – that is $38 in revenue back for $1 dollar spent.
According to recent data, about 20% of the companies that use email marketing see a return on investment of $70 for one dollar spent.
Email marketing is basically a conversion machine on steroids. Once you find a way to build a subscriber's list comprised of quality prospects, you can deliver highly-relevant content to their inboxes.
This is just one example of cost-effective digital though. The list goes on:
SEO leads have an average conversion rate of 14.6%
Businesses see an average of $3 back for every $1 invested in Google Ads
The average Facebook CPC is just $1.72
Did you know that content marketing can generate three times the leads compared to traditional marketing? All for 62% less. And these leads are not just site traffic. These are people who are more likely to purchase your product and end up being a loyal customer.
Social Media ROI
Social media's ROI can be more challenging to gauge. However, according to a study conducted by Forbes, companies that use social media for marketing themselves outsell 78% of businesses that have never done so.
The likelihood to convert also means that you are spending less time and money trying to convert traffic that'll transform into paying customers.
As a small business owner, cost-effectiveness should be of the utmost importance. You need to be able to stretch those dollars out as your business grows.
Every dollar spent matters.
So you have to make sure that your efforts are going to provide ROI.
And when it comes to investing in digital marketing, there's just no time like the present to get started.
I hope this helps you get prepared for your digital marketing in 2020.
Suggested Reading
Here is a great new book Content Marketing For Traffic And Sales by Daniel Daines-Hutt.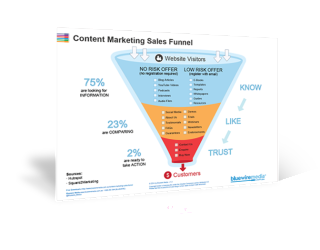 Content Marketing Sales Funnel
Your content marketing sales funnel is all about getting people to know, like and trust you by nurturing them with the right information at the right time.