WMTW 011: Flagship content and uncovering your customer magnet [podcast]
Podcast: Play in new window | Download
Subscribe: RSS
Click to tweet this podcast >>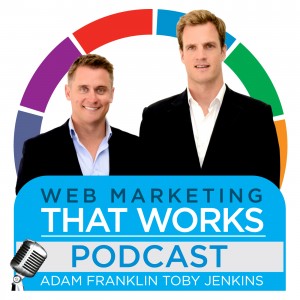 Show notes
The early days
We had mentors, peers and friends all recommend Verne's One-Page Strategic Plan story.
We loved the plan and then read his book and attended his events.
In fact we have travelled the world to see Verne at various event oner the years.
We wanted to emulate Verne
We wanted to solve our own problem which was to help explain to our clients how all the web marketing prices fit together.
We distilled the dozens of conferences, 100s of books and blogs we'd read, and the expert interviews into diagram of the web universe and a template to document buyer personas.
This formed our flagship Web Strategy Planning Template
A stroke of luck with David Meerman Scott
We saw David Meerman Scott via satellite at the Growth Summit in 2010, and he validated what we'd been experiencing with our clients.
We read his book and he provided a language and framework to explain these new rules of marketing and PR.
His ideas heavily influenced the template, so Toby decided to show it to him
David said he loved it and had been working on something similar, so we collaborated on it.
Web Strategy Planning Template
We decided to sketch it our on and paper
Luckily we had a talented designer Sarah who turned into something simple and easy to understand
Toby shared it with David Meerman Scott
He offered to co-brand it with us and release it under Creative Commons and blog about it
Included it in his 3rd edition of The New Rules of Marketing and PR (which has sold over 200,000 copies)
Its impact on Bluewire's marketing
It gave our marketing teeth.
It bridged the gap between our blogging efforts and our email subscribers.
Plus knew us because of the template.
Nearly everyone we've subsequently done business with has downloaded the Web Strategy Planning Template.
Our best clients have said that they did business with us because of the Intellectual Capital we had shared on that template.
Advice to uncover flagship content
Look at what you use with prospects or customers already.
See what you can release on the web for free (to serve as your customer magnet).
Did you like this show?
Please click to tweet the show to your friends on Twitter >>.
Subcribe
And we'd love it if you subscribed and left us a review on via iTunes or Sticher. Thanks.
Bonus 33 Free Templates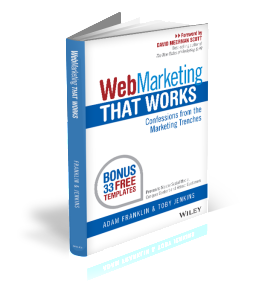 This podcast is brought to you by our new book Web Marketing That Works. You can download the bonus 33 free templates (11.2 MB – zip file).
Read the free, 28 page sample chapter (948 KB – PDF)
Or order the book online: Web Marketing That Works: Confessions from the Marketing Trenches (Wiley 2014).