WMTW 015: Email marketing and 6 surprising discoveries [podcast]
Podcast: Play in new window | Download
Subscribe: RSS
Click to tweet this podcast >>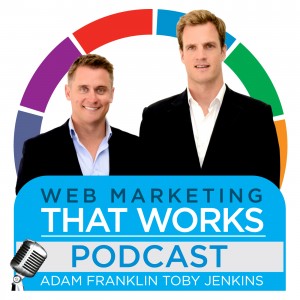 In this episode Toby quizzes Adam about the email marketing he's been doing with the Bluewire News.  What follows are 6 unexpected findings.
Show notes
1. Shorter subject lines work better
Why? They stand out in an inbox full of long subject lines, and they are more reflective of emails from friends. Who writes a 20 word subject line to a friend!
2. You get loads of replies via riddles and brain teasers
Adam discovered that asking readers to reply works well, and asking them to reply to a fun, social thing like a riddle or brain teaser works even better.  It gives you a chance to get to know your readers and vice versa without the pressure of feeling like you're in a sales call.
3. Auto responders work great
What we can deduce from this is that subject lines 'can' convey a lot of info and people do pay attention to them even if they don't click into them. Plus you can earn trust with people in just a few valuable emails.
5. Different formats of the same content have different results
The same content (eg. an expert interview) had a 7% click through as a YouTube video and a 20% click through as an e-book. What we learned is that people prefer their content in different formats that suits them.  Re-purpose your content so you don't leave value on the table.
6. Follow email marketers (like Ramit Sethi)
Ramit Sethi is a personal finance expert (who is also a brilliant email marketer) that Adam is paying particular attention to at the moment. Ramit has 200,000 email subscribers and phenomenally successful online courses.  Learn from people you want to emulate!
Resources
Marketing experiments: Email subject lines that get opened
12 Of The Best Headline Writing Resources On The Web
Did you like this show?
Please click to tweet the show to your friends on Twitter >>
Subcribe
And we'd love it if you subscribed and left us a review on via iTunes or Stitcher. Thanks.
Bonus 33 Free Templates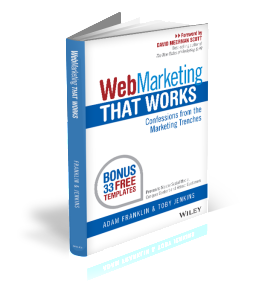 This podcast is brought to you by our new book Web Marketing That Works. You can download the bonus 33 free templates (11.2 MB – zip file).
Read the free, 28 page sample chapter (948 KB – PDF)
Or order the book online: Web Marketing That Works: Confessions from the Marketing Trenches (Wiley 2014).